Free MLB Picks for Best Props Odds: Thursday August 18, 2016
by Chris Vasile - 8/18/2016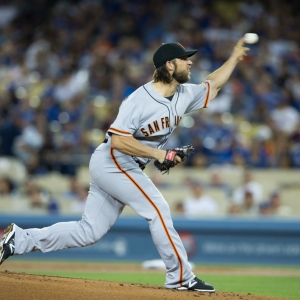 There is no question that home-field advantage plays a big part in professional sports. Fans who bleed team colors fill their home stadiums game in and game out to cheer on their home town players. But what happens when a former player comes back to town dawning the opposing team's jersey? What if he was a fan favorite and helped the club during some great and not so great seasons?
On Tuesday, Chase Utley returned to Philadelphia for the first time since he was traded to the Dodgers last August. Utley spent the better part of 13 season with the Phillies and was a key cog. He was given a minute and a half standing ovation. That's not the part that had some people irked. The problem came to the forefront when Utley's two homeruns, one a grand slam, were met with cheers. I couldn't ever imagine myself cheering for an opposing player to do well in my home ball park. When the Jays traded away Roy Halladay to the Phillies, I was crushed. When he made his return to Toronto, I was ecstatic to see him pitch again. That was until the game started and he dominated the Jays lineup. There is a time and place to welcome a former player home, but in between pitch No. 1 and the last out of the game, all opposing players are enemies. Do you understand, Philly?

Going 1-1 with my free selections isn't the greatest night in the history of sports betting, but when you are hitting winners in the +120 range, there is sure to be a small profit. That's exactly what happened on Tuesday. The Mariners were able to get the job done in the first half of the game before coughing up a 4-1 lead in the sixth inning. In my case, it's how you start. Not how you finish. The loser of the night went to the Miami Marlins and Jose Urena. Urena was hit hard early, and the Marlins never recovered from a 5-1 deficit. Reds' starting pitcher Anthony DeSclafani is slowly proving to be a capable pitcher worthy of having your hard-earned money on. He will be tracked closely the remainder of the season.
Thursday's MLB card offers up almost a full slate of games to choose from. There are 11 games total, with two of those games taking place in the afternoon. Boston travels to Detroit for a 1:10p.m start, while Milwaukee looks to avoid the sweep at the hands of the Chicago Cubs at 2 p.m. Tonight's card features the sputtering San Francisco Giants hosting the New York Mets. The Giants have been putrid in the second half of the season and are now trailing the Dodgers by 1.5 games for the NL West division lead. The Baltimore Orioles, on the other hand, will look to keep pace with the Red Sox and Blue Jays as they play host to the slumping Houston Astros. There is plenty of playoff intrigue surrounding numerous teams, and this weekend of baseball, starting tonight, should be a fun one.
These props are based on the First 5 Inning lines, and I have the utmost confidence in what I expect to happen. As always, odds and lines are courtesy of 5dimes.
Seattle Mariners @ Los Angeles Angels
After finally snapping an 11-game losing streak on Tuesday night, the Angels returned to form and suffered their 12th loss in the last 13 games. The same thing that has been haunting this team all season long continued, as starting pitcher Tyler Skaggs couldn't quite get it together. Skaggs allowed six hits in 3 1/3 innings. He surrendered four earned runs and two walks. By the time he was yanked, the game was already determined.
Tonight's pitching matchup features two pitchers pitching on opposite ends of the spectrum. For the Angels, Matt Shoemaker will take the bump. He is 6-13 on the season with a 4.22 ERA. He was tagged for five runs on 12 hits his last time out in a lopsided loss to the Cleveland Indians. He has lost four of his pas five starts. That's not a situation I feel comfortable putting my money on.
On the flip side of the coin, the Mariners will hand the ball to Hisashi Iwakuma. Iawakuma is 14-7 with a 3.84 ERA. He needs one more win to tie his career high, which he established back in 2014. He enters Thursday's game having won his past three starts and eight of his past nine. During that span, he's collected 41 strikeouts, to keep his ERA hovering around 2.78.
As a team, the Mariners are fighting for the final AL wild-card spot with the Baltimore Orioles and Boston Red Sox. They need this game in order to keep pace. Take the better team. That the team that has everything to play for.
Pick: Seattle Mariners -0.5 - First 5 Innings (+130)
New York Mets @ San Francisco Giants
I am going to make a bold prediction for this series right out of the gate. The Giants will win this series and will use it as a catapult to turn around their abysmal second half of the season around. As of writing this, the Giants are now 1.5 games behind the division-leading Dodgers. They have been playing poorly and just got swept at home by the Pittsburgh Pirates. They are in complete panic mode and know that the desperation level needs to be raised in order to stay in the postseason hunt. Cue Madison Bumgarner.
"MadBum", as he's known, has not allowed a single run against the Mets since 2013. He is also 4-0 with a 1.03 ERA. Ridiculous. MadBum is 11-7 on the season and has a 2.11 ERA. He has pitched well enough to win almost every game he has started but has been done in by a lack of run support or some shaky bullpen play.The Mets lineup has been weak up and down the order for some time now, and I am banking on Bumgarner pitching a gem tonight.
The Mets come to AT&T Park on the heels of dropping two of three against a terrible Arizona team to open up a 10-game road trip. If any team is playing as bad as the Giants right now, it's these Mets. They've dropped seven of 10 against the DBacks' and Padres - two of the bottom feeder NL Teams. They are just 13-18 since the All-star break.
They will send Jacob deGrom to the mound, and he has been the lone bright spot in another inconsistent season. On the season, deGrom has pitched well, to the tune of a 7-5 record with a 2.30 ERA. He has been terrific in his past nine starts. If you throw out his only loss in that stretch, he has allowed just five runs in 56 2/3 innings with an 0.79 ERA. All those numbers sound fine and dandy, but the way his offense is going right now, he must pitch a gem in order to collect the "W". I don't see it happening.
The bottom line here is that both teams have been struggling mightily lately, but I will side with the home-field advantage. Bumgarner should be the difference tonight and this series should propel SF back into the playoff race.
Pick: San Francisco Giants -0.5 - First 5 Innings (+100)