Free MLB Picks for Best Props Odds: Tuesday April 5, 2016
by Chris Vasile - 4/5/2016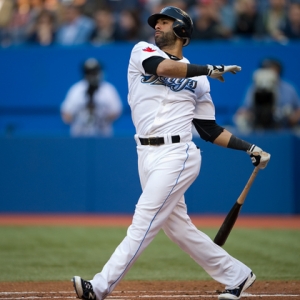 We are but a mere two full days into the regular season, and it seems as if we have picked up right where we left off.
Bryce Harper is being booed and then hitting home runs, the Blue Jays are scoring five runs per game, Clayton Kershaw is dominating hitters, and the Kansas City Royals are handily beating the Mets. Different season, same results.
Many of us bettors have welcomed baseball back with open arms. How long before we wish it would just end already remains to be seen.
There are a few certainties when it comes to betting baseball. You will either win or lose your wager. You will get lucky a few times by a miraculous rally in the ninth inning or you will be pulling out hair when Jonathon Papelbon comes in and blows another save. There is really no way of getting around it. You can do all the research and crunch all the numbers. The fact of the matter is that the bullpens are as much a part of the game as the starting pitchers and position players. And more often then not they are the difference between winning and losing a game.
After much deliberation and research on my end, I have found three prop selections that alleviate the stress of relying on bullpens and get you paid much quicker than having to sit through a four-hour Red Sox - Yankees game.
While I may not be inventing the wheel or revolutionizing a new way to bet baseball, I am focusing on first inning props, which were my bread and butter throughout last season.
The first inning props I will be focusing on are as follows: Will there be a run in the first inning? "Yes"/"No" & Total Hits/Runs/Errors in the first inning.
The third prop I love to wager on are team totals. You can make a lot of money fading gas-cans and riding a hot pitcher.
Let's take a look at three of my favorite prop options that are on the board tonight. As always, odds and lines are courtesy of Bovada.
Detroit Tigers @ Miami Marlins
Total Hits/Runs/Errors in First Inning
"Over" 3 +135, "Under" 3 -165
The first thing you must understand is that this prop takes into account both the top and bottom of the first innings. Three is a winner, not a push.
With that said, the top of the first inning is expected to see Ian Kinsler, Justin Upton and Miguel Cabrera in the batter's box. I would be shocked if at least one, or even two of these three players didn't get a hit off Wei-Yen Chen. Kinsler is batting .417 in 12 at-bats against Chen and Cabrera is betting .250 in four AB's.
The Marlins acquired Chen from the Orioles to help the rotation behind Jose Ferndandez. It's shocking to me that Fernandez isn't getting the opening day nod, but I am never one to shy away from exploiting money-making opportunities.
The Marlins half of the inning is expected to see Dee Gordon, Marcell Ozuna and Christian Yelich due up. On deck is Giancarlo Stanton, who is looking to bounce back after an injury-filled 2015 season.
I am not sold on Justin Verlander being "back," so we will fade him until we see otherwise.
Pick: "Over" 3 +130

Toronto Blue Jays @ Tampa Bay Rays
Team Total: Blue Jays
"Over" 4 -115, "Under" 4 -115
There are going to be a lot of games this season where the Blue Jays' team total is going to be topped.
The Jays are going for their first 3-0 start in 20 years and should be in position to get the win tonight against a pitcher they hit fairly well last season.
Tampa sends Jake Odorizzi to the bump to try and get the Rays in the win column, but he sports a 1-2 record with a 5.71 ERA in three games last season versus Toronto. I watched Odorizzi's last Spring Training start and he looked very shaky and is not to be trusted tonight against a hot-hitting Jays team. I have a feeling that phrase will be repeated many, many times.
The first two games have seen the Jays get production from several different players, with Donaldson, Tulowitzki, Saunders and Thole all hitting home-runs so far this season. I expect more of the same from the Blue Birds tonight and expect them to improve to 3-0 on the season.
Pick: Team Total "Over" 4 -115
Chicago Cubs @ Los Angeles Angels
Will There Be A Run Scored In The First Inning
"Yes" +115, "No" -145
Before the season began, there was a lot to like about the World Series favorite Chicago Cubs. After Game 1 of the season, there is even more to like, in my opinion.
Hitters 1-4 in the lineup combined for seven of the 11 Cubs hits and four of the Cubs nine runs. They were led yesterday by their speedy leadoff man, Dexter Fowler, who went 3-for-4 with a walk and three runs scored. His ability to get on base set the plate for newly-acquired prize players Jason Heyward and Ben Zobrist.
They were able to get a quick run in the first in last night's game, and I expect more of the same tonight against an unproven commodity in Andrew Heaney. Heaney had an OK 3.49 ERA in 18 starts last season but a poor 1.20 WHIP.
I expect Fowler to get on base right out of the gate and use his speed to cause havoc on the base pads and set the table for the middle of the lineup.
Check this out! $60 worth of member's baseball picks absolutely free - no obligation, no sales people - you don't even have to enter credit card information. 2 minute sign up for free baseball picks here.