Free MLB Picks for Best Props Odds: Tuesday August 9, 2016
by Chris Vasile - 8/9/2016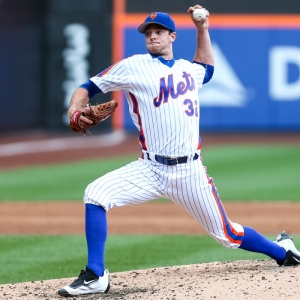 To start my articles, I always like to look at what is happening around the league and which stories are getting the most buzz and attention. Last night, Brandon Crawford of the San Francisco Giants matched an NL record with seven hits in eight at-bats. That's what you call a productive day at the dish. He singled five times and had a double and triple. Because of that performance he was able to raise his batting average a whopping 13 points to .278. Despite this performance, one other performance overshadows everything, and that is Ichiro Suzuki joining the 3000-hit club. On Sunday, Ichiro tripled off Rockies pitcher Chris Rusin during the seventh inning to etch his name in baseball greatness. As a fan of Ichiro, it has been a pleasure to watch him play the game with the grace, dedication and humility every professional should aspire to having. Thanks Ichiro. Cooperstown awaits.

When I last gave you picks on Thursday, I was sure of one thing. J.A. Happ would bring his A-game and propel the Jays to a much-needed victory against the Houston Astros. What did he do? He gave up four hits and fanned six while allowing only one run. He did his part, and thankfully the offense, led by a wild pitch and a groundout, was all that the doctor ordered. Unfortunately, the Rockies could not maintain a 2-1 lead heading into the fifth inning, and my bet was toast after the Dodgers hit for the cycle in the inning and put up three runs. 2-0 was there for the taking, but we didn't get it and now we move on.
Tuesday offers MLB bettors a full slate of games with only one afternoon matinee taking place at Coors Field in Colorado. The night card offers up another edition of the Yankee-Red Sox rivalry. And with Luis "Gas Can" Severino taking the bump for the Yanks, the Red Sox are the definite play tonight. The Blue Jays will look to handle Tampa Bay again tonight to remain at least tied for the American League East lead, while the Baltimore Orioles look to bounce back in Oakland. Over in the NL, the Dodgers are still one game back of the Giants for first in the National League West after the Giants pulled out a gritty 8-7, 14-inning win against Miami last night. The playoff races are heating up, and we should be in for a treat the rest of the way!
These props are based on the First 5 Inning lines, and I have the utmost confidence in what I expect to happen. As always, odds and lines are courtesy of 5Dimes.
New York Yankees @ Boston Red Sox
The New York Yankees are somewhat of a circus lately with all the trade deadline deals and distractions caused by Alex Rodriguez. The Yankees and Rodriguez announced on Sunday that he would be released after playing a final game at Yankee Stadium on Friday night. What an completely unneeded distraction for a team who up until the trade deadline was just a few games back of a wild-card spot.
The Yankees come into this game having alternated wins and losses for the past eight games. They won last time out against Cleveland on Aug. 7, which means they are due for a loss tonight. They will send Luis Severino to the bump, and to say Severino has been poor this season would be an understatement. The 22-year-old righty boasts a 1-6 record with a 6.02 ERA in 43.1 innings pitched. He's walked 13 and only struck out 37. He lost his last meeting with the Red Sox on May 8 in the Bronx and has been hit hard by David Ortiz. Ortiz owns three homeruns in five at bats off him.
The Red Sox definitely have the edge on the mound, especially when Rick Porcello takes the ball. Porcello is 14-3 overall and 10-0 in his 11 starts at Fenway Park. He is scheduled to start twice on this six-game homestand before the Sox head back on the road. Boston comes into this game after a 5-6 road trip that saw them split a series with the Angels, lose a series to the Mariners and lose a series to the Dodgers. The Sox remain very much in the thick of the AL East race and the wild-card race, which means these are the kind of games they can't afford to lose.
Pick: Boston Red Sox -0.5 - First 5 Innings (-115)
Arizona Diamondbacks @ New York Mets
I have made it a personal agenda to bet against Steve Matz in every game he pitches from here on out. Matz has been nothing short of garbage in his last 12 starts, posting a 4.54 ERA and a 1-7 record. His last outing was the roughest as he was touched up for six runs in six innings and took the loss against the Yankees.
Its not just Matz, though, the Mets as a team are playing some terrible baseball. They come into this game with just four wins in their last 12 games. Despite that and despite terrible offensive production, they sit only two games behind the Miami Marlins for the second wild-card spot in the National League. They face a tall task tonight as the Diamondbacks have activated Zack Greinke from the disabled list.
Greinke is 10-3 on the season with a 3.62 ERA, but that is more than twice as high as the 1.66 ERA he sported last year. He appeared to be rounding into peak form in June when he posted a 1.63 ERA in six starts before suffering a left oblique injury on June 28. He rehabbed on Wednesday for Triple-A Reno and gave up five runs in five innings. I am not worried because if you look back at previous rehab stints, they have always been really bad outings.
Pitching aside, if I had to trust a batting lineup with my life, I would choose the Diamondbacks because the Mutts, I mean Mets, always find a way to screw things up.
Pick: Arizona Diamondbacks -0.5 - First 5 Innings (+145)
Great offer! Try $60 worth of member's baseball picks absolutely free - no obligation, no sales people - you don't even have to enter credit card information. Get your winning baseball picks here now.