Free MLB Picks for Best Props Odds: Tuesday June 21, 2016
by Chris Vasile - 6/21/2016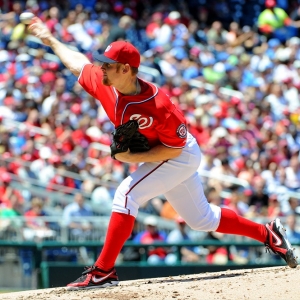 Like much of the baseball world, I was excited to watch a great pitching duel last night between Stephen Strasburg and Clayton Kershaw. Instead, the Nationals scratched Strasburg and claimed he was suffering from a "back strain". This decision has come under some suspicion that it was to keep his perfect record intact for another five days. If Strasburg takes the ball on his next scheduled start and performs like we've come to expect from him this season, MLB fans will have been robbed of the opportunity to witness two of the best pitchers in the game today square off. I understand the Nationals could care less about pleasing the fans and are focused only on what helps their ball club, but the timing just makes me shake my head.
Looking back to last Thursday, the Blue Jays were the team to back, and I was able to capitalize on that and make some really good money. However, the "under" I gave out in the Nationals/Padres game was unable to hit as both teams, somehow, were able to generate early-inning runs. However, we move forward and have some good games to look forward to this week.
Tuesday's MLB card sees all 30 teams in action, and we have a lot of heavy favorites . Toronto, Baltimore, New York Yankees, Cleveland, Miami, New York Mets and Texas are all priced currently above -170, and that's probably with good reason. The Mets, Marlins, Rangers and Jays all have their best pitcher going tonight, which puts their opponent already behind the eight-ball.
These prop bets are all based on the First 5 Inning lines, and I have the utmost confidence in what I expect to happen. As always, odds and lines are courtesy of 5Dimes.
San Francisco Giants @ Pittsburgh Pirates
Last night was one of the most obvious examples of a "public" bet crashing and burning to the ground before bettors even knew what had happened. The Giants strolled into Pittsburgh winners of eight in a row, with their ace on the mound and facing off against a Pittsburgh team that was slumping. The Pirates, on the other hand, landed in Pittsburgh at 2:40 a.m. after getting spanked by the Cubs the previous night. It was their fifth loss in a row and 10 th in their last 11 games.
All signs pointed to a sure-fire San Francisco win. Except one. The line movement. The line opened north of -180 for the Giants and steadily dropped as game time approached. It closed just above -140, and the rest was history. The Giants mustered only six hits and couldn't even muster up one run against a pitcher that had been terrible up until last night. Crazy how this betting game works.
Tonight however, the Giants will be relying on another stud pitcher, Johnny Cueto, to get them back in the win column. He is 10-1 with a 2.10 ERA and has 90 strikeouts in 102.2 innings pitched. With those stats, this line should be right around -170. Except it's not. It's sitting at -139, and I absolutely love it.
Many bettors who were burned last night by the Giants will shy away from this game in fear of the "trap," except those are the square bettors that are a day late to the party. Last night excluded, the Giants lineup has been playing well and hitting the ball all over the park. They will field their best/main players for tonight's game against a rookie pitcher in Wilfredo Boscan.
Boscan has pitched only 12.1 innings has a 2.92 ERA, six strikeouts and five walks. Those aren't exactly the kind of splits that make opposing teams quiver in the batters' box. I understand that unfamiliarity might be an issue, but I am willing to look past that because I fully expect Cueto to silence the Pirate bats.
Pick: San Francisco Giants -0.5 - First 5 Innings (+100)
Colorado Rockies @ New York Yankees
The New York Yankees have no idea what keeping momentum going means. They were able to climb above .500 briefly, only to find themselves sinking and forced to restart the uphill climb. Getting to the break-even point has seemed like a series of stops and starts for this team. They were 4-3 on April 13 and didn't reach .500 until May 24. Then, they followed it up by losing eight of 12 from May 25-June 5. That slump was followed by a five-game winning streak, which led them to a 31-30 record. What happened next? A four-game losing streak.
Are you still with me?
The Yankees come into this series against the Rockies after dropping the finale against the Minnesota Twins last night. If history is any indication, another loss is in store for this streaky team. The Yankees have already been defeated twice by the Rockies this year by scores of 13-10 and 6-3 in Colorado. Tonight's pitching matchup features the exact same starters that the 6-3 game featured. Ivan Nova versus Chad Bettis.
Nova is 4-3 with a 4.66 ERA in eight starts and has allowed at three runs in five straight starts. He will be tasked with facing Trevor Story and Nolan Arenado once again, and these guys have a combined 38 homeruns between them. It's one thing to play at Coors Field, but that short porch in right field at Yankee Stadium surely won't help Nova's cause.
Rockies starting pitcher Bettis is making his ninth start on the road and is 3-3 with a ERA just over five and a half. He was able to pitch well last time out versus New York, limiting them to three runs and seven hits over six innings of work.
The Rockies are averaging four runs per game over their last four games, which isn't the worst number to post.
I just can't trust the Yankees coming off a loss. They have proven time and time again to be streaky. And until they manage to get over .500 for any lengthy period of time, looking to fade them is the best way to bet their games.
Pick: Colorado Rockies -0.5 - First 5 Innings (+180)