Free MLB Picks for Best Props Odds: Tuesday May 24, 2016
by Chris Vasile - 5/24/2016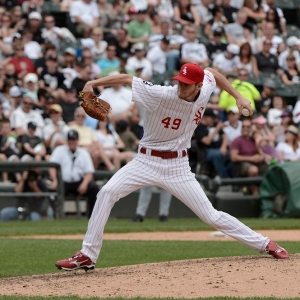 May has been much kinder to me than April ever was. I am on a 7-2 run with my five-inning selections after hitting two of three on Wednesday, and I am looking to do even more damage tonight!
Tuesday's MLB card features all 30 teams in action, including a matinee game at Marlins Park between the visiting Tampa Bay Rays and Miami Marlins. Full slates come with a plethora of betting options for gamblers. At first glance, I was drawn to five games that deserved further research. After putting in my due diligence I have settled on what I feel are the three best prop bets on the board.
These prop bets are all based on the First 5 Inning lines, and I have the utmost confidence in what I expect to happen. As always, odds and lines are courtesy of 5dimes.
Toronto Blue Jays @ New York Yankees
Just when you think the Blue Jays are all but dusted in the division race, they go and take three of four in Minnesota and now face a Yankees squad that is on a five-game win streak after sweeping Oakland in California.
This has the makings of a great series, and it starts off tonight with two pitchers who have been performing well below their standards this season. Taking the bump for the visiting Jays is R.A. Dickey, who is struggling this season - 2-5, 4.50 ERA. He is 0-3 with a 3.43 ERA in six games at Yankee Stadium. Knuckleball or not, this isn't the park to find your groove with that ever-so-short porch looming large in right field. The Yankees are averaging 5.2 runs per game during their win streak and should be ready to distance themselves from the Jays in this series. To make matters worse for Dickey, he should be up against Alex Rodriguez, who plans to be activated during this series. He bats .303 off of Dickey.
The Blue Jays offense will have to contend with Nathan Eovaldi, whose last start provided the spark and the best run of starting pitching the Yankees have gotten all season. Eovaldi (4-2, 4.44 ERA) retired 18 consecutive Arizona hitters after a double in the first inning last time out. He was sharp and in control the rest of that game. He will have to be just as sharp to navigate through a Toronto lineup that hit nine home runs in a four-game set against the Twins.
This series should be fun, and the pitching matchups should spark plenty of fireworks.
Pick: "Over" 4.5- First 5 Innings (-115)
Arizona Diamondbacks @ Pittsburgh Pirates
These two teams have been the best-hitting teams in the NL this past week, and I look for that trend to continue well into this three-game series.
Arizona is batting .297 with 39 runs and an .829 OPS while winning four of six. They are coming off of a 13-hit, 7-2 victory over St. Louis to take two of three. Pittsburgh is batting .314 with 38 runs and a .796 OPS in the first seven of a 10-game homestand. The Pirates earned their sixth victory in eight contests Monday, 6-3 over Colorado, one day after the series finale was rained out.
The Pirates will now try to earn their 10th win in 13 games against the Diamondbacks. They took two of three in Arizona in April, and starting pitcher Francisco Liriano pitched poorly in a 12-10, 13-inning Pirate victory. He gave up four runs in six innings. And in his only other home start versus the DBacks, he was charged with five runs in seven innings. I like trends that point toward higher-scoring games.
Shelby Miller will be the pitcher the hot-hitting Pirates will have to solve, and to be honest it shouldn't be that hard. Miller is 1-5 with a 6.64 ERA and is attempting to avoid his third loss in as many starts. The right hander gave up three runs and a season-high 10 hits in only five innings in his last start. For his career, Miller is 2-6, 4.29 in nine starts against the Pirates. Once again, I like trends that point toward higher-scoring games.
Pick: "Over" 4.5 - First 5 Innings (-115)
Cleveland Indians @ Chicago White Sox
It's okay to think I'm crazy, but the law of averages say that Chris Sale is due for a dud, and I'm willing to bank on tonight being the night.
The pitching matchup is a great one - we have two unbeaten pitchers going toe-to-toe. For Cleveland, Josh Tomlin is 6-0 with a 3.56 ERA and gave up only two runs in 7 and 2/3 innings in a 7-2 win in Cincinnati. The right hander was impressive through his last first two starts with two runs allowed in 11 2/3 innings, but he's been the beneficiary of an 8.33 run-support average. Bottom line - the Tribe hit the ball well when Tomlin is on the hill.
Opposing him will be probable Cy Young winner Chris Sale, who is off to a historic start for the White Sox. Dating to his last outing of 2015, Sale (9-0, 1.58 ERA) has won 10 straight starts with a 1.55 ERA while never giving up more than three runs. Much was the same in his last outing as he took the win versus Houston while giving up one run and getting two runs of support. Sale is in position to be the first pitcher to win 11 straight starts since Justin Verlander went 12 straight in 2011.
While Sale is chasing personal history, the Tribe hope team history comes to fruition tonight and ends Sale's dominant run. The Tribe tagged Sale for three runs and six hits in a 7-3 win on April 9. Sale also holds a career 5-6, 3.98 ERA record in 15 starts against Cleveland.
Let's buck the trend and sell now while the price is high on Sale.
Picks: Cleveland Indians -0.5 - First 5 Innings (+210)
How about $60 worth of member's baseball picks absolutely free? - You can use this $60 credit for any of our top MLB handicappers. Get on board now.