March Madness Betting Trends: Handicapping the No. 1 Seeds
by Chris Vasile - 3/14/2016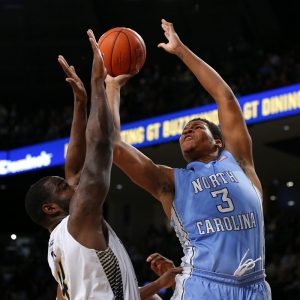 Conference tournaments have come and gone, and to say the top-ranked seeds got their asses kicked would be an understatement.
Twenty-one top-ranked seeds heading into their conference tournaments were upended and left scratching their heads.
For the teams that did win the regular-season and conference tournament, it can be both a blessing and curse.
If you carry the momentum on to the tournament that is a bonus, if you run out of gas early on, questions will be asked of how the team/minutes were handled by the coach.
You're damned if you do and damned if you don't.
Out of the four No.1 seeds handed out by the committee, I believe only one of them, Virginia, was courtesy of another teams failure to win their own tournament.
Had Villanova beaten Seton Hall to claim the Big East title, we would be previewing Villanova's chances of winning the title and not Virginia's.
Let's take a closer look at how these No.1 seeds got to where they are. Odds to win the National Championship courtesy our friends at Bovada.
Kansas Jayhawks (+500)
The Jayhawks are one of the hottest teams in college basketball right now. They are riding an impressive 14-game win streak, with eight of those wins coming against ranked opponents. After winning the Big 12 regular-season title, they put in work and handily defeated West Virginia in the final to claim the Big 12 Tournament championship.
It is safe to say, the Jayhawks (30-4) deserved the No.1 overall seed they were given on Selection Sunday.
When Kansas is at its best, the strengths of their team (while short on first-round NBA talent) include balance and resolve. Having Bill Self patrol the sideline is a strength on its own. Having one of the best coaches in college basketball goes a long way for a successful team. His ability to motivate and make in-game adjustments is critical at this late stage in the season against quality opponents.
The Jayhawks are just one of two teams in the Top 10 nationally in both offensive and defensive efficiency (Virginia is the other).
Not only do the Jayhawks deploy four double-digit scorers, but each of those double-digit scorers also shoots greater than 40 percent from 3-point range.
At their best, the sum of their pieces is superior to a team with only a few pieces to boast about.
As for weaknesses for this squad, they are hard to find. The only setback I see Kansas having is their lack of natural big men in the post. Perry Ellis could find himself in trouble when he is matched up against true power forwards/centers, and buckets could be hard to come by the deeper they go into the tournament.
If history is any indication, Kansas has lost in the Round of 32 for two straight years. If things are bumpy early on against Connecticut (yes, they will beat Colorado), will there be a here-we-go-again deflation?
On paper, this team could have trouble with Maryland or California in the Sweet 16. If they pass that test, they are on a collision course with Arizona or Villanova in the Elite 8, and I would definitely back Kansas against either of those teams. This is a No.1 seed you can bank on reaching the Final Four.
North Carolina (+700)
The North Carolina Tar Heels are fresh off capturing their 18th ACC league title after a hard-fought 61-57 over a tough, highly-ranked Virginia team. In many regards, the championship game is a solid building block as Roy Williams and Co look to return to their accustomed glory come April 4 and the National Championship Game.
The Tar Heels (28-6) enter the tournament after holding Virginia to 37 percent shooting. It's this kind of defensive effort that will aide the powder-blue to its first Final Four and Championship since 2009.
It should be of no surprise to anybody that the offense drives this team. They can put points up in bunches and are one of the most unselfish teams in the entire college basketball landscape. They average 82.9 points per game and a staggering 18.3 assists per game, which is good enough for fifth in the nation.
The beneficiary of all these assists is the team's field-goal percentage. It sits at .476 entering the tournament, which is in the Top 25. They also have an advantage on the boards with the ninth-ranked rebounding team, hauling in 41.5 boards per game.
While the positives sound good, the weaknesses of this team are alarming. Aside from their last game, the defense has been somewhat of a sieve. They rank 146th in points allowed per game at 70.6. They also average 11 turnovers per game, which can be a huge blow to their championship ambitions. Giving good teams extra possessions is a dangerous game to play. Lastly, UNC ranks 311th in the nation for 3-point percentage. Packing the paint and daring UNC to take tough shots has the Tar Heels on upset alert.
With all that information, the Tar Heel's path to the Final Four can prove to be a daunting task. I count eight teams who can beat the Tar Heels in any given round up until the Elite Eight.
This is a No.1 seed I want no part of backing.
Virginia Cavaliers (+1200)
Virginia enters the tournament after losing their ACC title game to the aforementioned Tar Heels. They were held to a season-low shooting percentage, which can be chalked up as somewhat of a fluke given UNC's ability to play defense.
The Cavaliers (26-7) enter the tournament as, in my opinion, the best team in the ACC. Their defensive ability is outstanding, allowing only 59.6 points per game. To use one of the oldest and lamest clichés in the book, "defense wins championships," and this year's squad takes will take that to heart.
In the offensive half court, they're efficient enough to get the job done and score at a 70.7 points per game clip. It also helps that they boast the ACC player of the year in Malcolm Brogdon. The senior guard averaged 18.4 PPG, 4.2 RPG and 2.8 APG, all while shooting 41.4 percent from 3-point range.
While having Brogdon playing out of his mind is a blessing, it can also be a curse. If he is having an off night, the supporting cast must show up and pick up the slack. Basketball has always been a team-first sport, and it will be up to the rest of the team to produce and carry the momentum from game to game if the Cavaliers are to be successful this tournament.
After looking over the bracket and potential matchups, Virginia will run into a speed bump in the Sweet 16. Waiting for them should be a Purdue team who posses amazing big men and excellent guard play. This could be the make-or-break game for them when analyzing their Final Four and National Championship hopes.
I would back Purdue in that game, so I will not be biting on Virginia at these odds to win the title.
Oregon (+1400)
Fresh off handing out a 31-point ass whooping to the Utah Utes in the Pac-12 Championship Game, the Oregon Ducks find themselves a No.1 seed heading into the Big Dance.
The Ducks sit at 28-6. And despite having their best record after 34 games since 1938-39, they are in one of the harder regions for a No.1 Seed. They have won 14 out of 16 games, which in large part should be credited to their defensive presence in the paint.
One does not simply wander into the paint and expect to score against Oregon.
Despite sitting at 95th in the nation in scoring defense (68.9) points allowed per game, the Ducks interior defense is something special. They block a whopping 17.2 percent of their opponent's shots at the rim, which is good enough for 10th in the country. This effort is led by center Chris Boucher, who averages 3.2 blocks per game.
The Ducks are also doing a great job at getting good shots off as judged by their field-goal percentage. They have a 52.1 made field goal percentage, which, when adjusted, is good enough for 10th in the country, according to KenPom.
Where Oregon can get itself in trouble is rebounding. They look helpless at times on the boards and allow the opposition to dominate the boards. They are giving up an average of nine offensive rebounds per game. Just like UNC, giving good teams extra possession is a dangerous game to play.
The Ducks should have an easy flight to the Sweet 16, where I think the winner of Duke/Baylor should end their title dreams.
We are on track to see a Final Four with potentially two or fewer No.1 seeds, and if you are a betting man, which most of you reading this are, you must be chomping at the bit to make some money!
Get free picks from any of Doc's Sports Advisory Board of expert handicappers - and with no obligation or credit card. You can use these free picks for any sport, and you will never deal with a salesman. Click here for your free Doc's Sports picks.