March Madness Bracket Predictions: South Region
by Robert Ferringo - 3/16/2016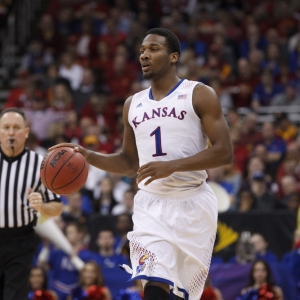 If there is a "Group of Death" in the NCAA Tournament field it would have to be the South Region.
Kansas and Villanova, the top two seeds, enter the Big Dance as two of the favorites to win the tournament. Maryland started the season as the preseason No. 1 in some polls. Miami and Arizona have both been Top 15 staples, and fourth-seeded California has one of the best backcourts in the country.
And don't even get me started on the lower seeds! Connecticut and Temple are the AAC Tournament and regular-season champions, respectively. Iowa swept Michigan State in the regular season. And almost any one of the six small-conference tournament winners are capable of taking a scalp before they head home.
The South Region semifinals and finals will take place on Thursday, March 24, and Saturday, March 26, in Louisville. Here are Doc's Sports March Madness bracket predictions for the South Region (with odds courtesy of Sportsbook.ag):
No. 1 Seed: Kansas Jayhawks (+120 to win South Region)
Kansas started their winning last summer when they, along with a couple other random college players, represented the United States in China for the World University Games. They started then and they haven't stopped, winning their 12th consecutive Big 12 regular-season title and capping it with a tournament championship. The Jayhawks are stacked. They have three excellent guards in Frank Mason, Wayne Selden and Devonte Graham. They have an All-American in power forward Perry Ellis. And they have bodies to burn in the frontcourt, with Carlton Bragg and Jamari Traylor giving them athletic options in the post. And don't forget about X-factors Svia Mykhailiuk and Brannen Greene, two explosive offensive options off the bench. If the Jayhawks have a weakness, though, it would be that they don't have a clear go-to guy. Is it Selden? Is it Ellis? Is it Mason? If they do lose, I'm banking that will be their undoing.
Kansas Tournament Predictions: Somewhat surprisingly, the Jayhawks haven't made it to the Final Four since 2012. Shockingly, they haven't even made it out of the opening weekend each of the past two seasons. And they will have their hands full in Round 2. But I think that Kansas is clearly one of the two or three best teams in the country, and it is going to take a Herculean effort to beat them.
No. 2 Seed: Villanova Wildcats (+250 to win South Region)
Villanova enters the NCAA Tournament with a 91-13 straight-up record over the last three seasons. They are one of several teams that spent time as the No. 1 team in the country this year and fit the mold of some of Jay Wright's best Wildcat teams. Villanova is all guards; they start five guys 6-6 or smaller. They have a very talented, experienced true center in Daniel Ochefu that they bring off the bench. But they play four-out, one-in, and they attack the perimeter on both ends of the floor. Senior point guard Ryan Arcidiacono is one of the best leaders in the country. Three extremely talented wings back him up: Josh Hart, Kris Jenkins and Jalen Brunson. This team is pesky defensively and they can kill teams with their mid-range game on offense. The Wildcats haven't lost to any teams that didn't make the NCAA Tournament this year. They got somewhat screwed with their draw, however, as a slot as the No. 2 seed in the East would've allowed them to play regional games on practically their home turf (Philadelphia). But Nova won't be fazed by the challenge of trying to win a stacked South.
Villanova Tournament Predictions: I think that Villanova has a very favorable draw to the Sweet 16. They beat potential second-round opponent Temple by 16 on the Owls' home court and should carve up Iowa. From there they will likely have to face a team with superior size before a potential date with Kansas. Villanova deserves all kinds of credit. But they have been a horrible tournament team, failing to survive the opening weekend since the 2009 tournament. With such a glaring weakness (size), I think it is a stretch to think this team will win this region.
No. 3 Seed: Miami Hurricanes (+450)
Super-seniors Sheldon McClellan and Angel Rodriguez are the leaders of one of the oldest and most athletic teams in the tournament field. Only one underclassman, sophomore sixth man Ja'Quan Newton, sees much time for the Hurricanes. The rest of the roster is a crop of seniors and juniors that have played in, and won, a lot of games in their careers. Miami was one of the ACC's best this year, and head coach Jim Larranaga is no stranger to NCAA Tournament success. Miami's strengths are its defense and its interior game. Its forwards excel at attacking the basket, and Tonye Jekiri and Kamari Murphy are capable "garbage men" in the paint. Ivan Cruz Uceda offers a stretch-five look for Miami, who uses him to lure opposing big men away from the basket to clear the lane for their slashing attack.
Miami Tournament Predictions: This same group nearly won the NIT last year, losing in the title game to Stanford, and did win a tournament in San Juan this past November. The NCAA Tournament is a different beast altogether. But Miami's experience is a benefit. The Hurricanes will have to battle just to clear the opening weekend. But if Rodriguez and McClellan play well then there's nothing to stop this team from making a run.
No. 4 Seed: California (+800)
I've been driving the Cal bandwagon all season long and I'm glad the rest of America finally caught up. The Golden Bears have one of the best backcourts in the country. Lefty Tyrone Wallace can do everything. Jordan Mathews is a superb shooter. And Jabari Bird is capable of scoring in bunches from anywhere on the court. Mix in two Top 10 recruits in the post in Jaylen Brown and Ivan Rabb and the Golden Bears are as talented as any team in the field. The Golden Bears didn't lose in February and have lost only twice - by three points at Arizona and in overtime to Utah in the Pac-12 Tournament - in their past 11 games. Cal hasn't lost by more than eight points this year and nearly won in Virginia back in December. They are legit. And they should be one of the most entertaining teams in the field - as long as they are there.
California Tournament Predictions: Talent is not the issue with the Golden Bears; winning on the road is. California has been a terrible road team for years. They should have a healthy following up in nearby Spokane. But the Bears are 1-3 on neutral courts this year and 5-10 outside of Berkley this season. Again, they were close. They nearly won at Virginia, Oregon and Arizona. But it is tough to put too much faith in a team that hasn't shown an ability to close the deal.
No. 5 Seed: Maryland Terrapins (+450)
The Terps have to be on the short list of most disappointing teams in the country. Maryland entered the year as a consensus Top 3 team and a national title contender. But that never materialized and they had to settle for just being "good" in the Big Ten. Maryland's makeup is perfect for a March run. They have an NBA talent in point guard Melo Trimble. Two-guard Rasheed Sulaimon and three-man Jake Layman are both talented seniors. The Terps also have power in the post with excellent freshman Diamond Stone and junior transfer Robert Carter. Add in plenty of size off the bench, and the Terps can play with anyone. But their biggest problem is their total lack of overall chemistry. This group was thrown together for this year and just haven't gelled.
Maryland Tournament Predictions: The Terps are a huge X-factor in this bracket. They have enough talent. But they lack chemistry and momentum, two crucial factors for NCAA Tournament runs. They also have an unenviable draw, set in the dreaded 5-12 line and with potential games against Cal and Kansas on deck. Maryland has a long distance to travel, and they haven't shown anything this year to make me think they can pull everything together for a run that would live up to their ample season-long hype.
No. 6 Seed: Arizona Wildcats (+700)
Nothing shows the incredible depth and overall talent of this region like the fact that Arizona is the No. 6 seed. The Wildcats are 25-8, but six of their losses came by four points or less or in overtime. Arizona features a massive front line, with two seven-footers in Dusan Ristic and Kaleb Tarczewski clogging the lane. They are supported by 6-9 perimeter forwards Ryan Anderson, a star B.C. transfer, and Mark Tollefsen, a transfer from San Francisco. Gabe York is the team's primary shooting option, and keep an eye on freshman guard Allonzo Trier, who is going to be excellent. Arizona is a little like Maryland in that they have all the pieces to make a run. But these guys haven't played together long enough to have that championship cohesion. But Arizona can match up with anyone, and coach Sean Miller is a proven winner.
Arizona Tournament Predictions: The Wildcats have made it to at least the Sweet 16 in all four of the NCAA Tournaments that Miller has been at the helm. They have size, they have a lot of options on the perimeter, and the defend for days. Also, this is one of the best perimeter shooting teams that Arizona has had the past few years, addressing a critical former weakness. But their draw is brutal. Wichita State could bump them out in the first round. Or they could win three or four games and be a factor in this tournament. Welcome to March Madness.
Best first-round match up: No. 6 Arizona (+1) vs. No. 11 Wichita State
The Shockers got screwed by having to play their way into the NCAA Tournament. This is one of the 25 best teams in the country, regardless of whether or not their "resume" showed it. But in the end, competing in the play-in game might end up being a positive thing for the Shockers. Wichita State has one of the best backcourts in the country, and Ron Baker and Fred Van Vleet are going to be tough to knock out. But Arizona isn't Vanderbilt, either. The Wildcats are better in every facet than the team that Wichita State already knocked out. And Arizona is the type of traditional powerhouse that has swatted the Shockers out of the tournament in years past. This one should be a dogfight from start to finish.
Best potential second-round match up: No. 4 California vs. No. 5 Maryland
There is going to be a lot of pro talent on the court if these two square off. Both teams are good enough to win this region, and I've seen both of them play at an extremely high level this year. But they have both been suspect on the road, and both have been prone to long lapses in games. The backcourt matchup will be fascinating. And even though these are two excellent man-to-man teams, I don't see how either team will stop the other. These are two of the 15 or 20 best teams in the country, and this one has the potential to be one of the best games of the tournament - as long as both avoid the upset in the first round!
Upset Alert (first round): No. 4 California (-6.5) vs. No. 13 Hawaii
This Hawaii team is relentless. The Rainbow Warriors nearly knocked off Oklahoma back in December, losing 84-81, and they trounced Northern Iowa by 16. Last year Hawaii beat Pitt, Nebraska and Colorado, and the Warriors have an extremely experienced crew. Stefan Jankovic is a 6-11 anchor in the middle and guards Roderick Bobbitt and Aaron Valdes are fearless. The spread on this game says it all. Hawaii doesn't have to travel that far (relatively speaking), and they would love nothing more than to knock off a Pac-12 opponent. Cal has been a consistent postseason disappointment, and if they aren't careful they can absolutely lose this game.
Upset Alert (second round): No. 3 Miami vs. No. 6 Arizona/No. 11 Wichita State
Miami is going to have its work cut out for it just to make it out of the opening weekend. Arizona matches up with them on the interior and can match their talent and experience on the wings. And if Wichita State makes it to this point they are going to have a ton of momentum and confidence. Either way, the Hurricanes could end up being underdogs in this game despite being the higher seed, and they will have their hands full.
Dark Horse team: No. 9 Connecticut
Look, it's not like we haven't seen this out of Connecticut before. This time last week they were on the outside of the tournament looking in. Then they won three games in three days, including a four-overtime classic over Cincinnati, and right now this team has a lot of confidence. Connecticut has four forwards standing 6-10 or taller, so size isn't an issue. They also have a ton of perimeter options with Dan Hamilton, Rodney Purvis, Shonn Miller, Jalen Adams and Sterling Gibbs all capable of going off for big games. The Huskies have been erratic. And they could definitely lose to a very underrated Colorado team. But if they win I think this team could give Kansas everything it could handle.
Team That Makes Me Nervous: No. 5 Maryland
The Terps have played up and down to their level of competition all season long. They lost to Minnesota, for god's sake. They also come in just 3-5 in their last eight games. But they are still so enticing because we've seen this team play at a high level in losses to UNC and Michigan State and wins over Connecticut and Purdue. If the Terps lost in their opening game it wouldn't stun me. If they figured things out and made it to the Final Four it wouldn't stun me. Regardless, it is tough to feel confident about building a bracket this this streaky team lurking over everything.
2016 South Region Predictions: There are, quite literally, seven teams that I can envision winning this region. Villanova, Miami, Arizona, Cal, Maryland and Connecticut all have high-end talent, experience and overall capability to catch fire and string four wins together. But I can't go against Kansas. They were one of my best bets to win the NCAA Tournament at the outset of the season, and they haven't done anything to make me think that they can't take care of business now. But this is clearly the most difficult region in the bracket, and whoever ends up coming out on top will have certainly earned it.
Robert Ferringo is a member of the Basketball Writer's Association of America and a professional sports handicapper for Doc's Sports. He is considered one of the best college basketball handicappers in the country and he is on an unbelievable run right now, more than doubling his clients' bankrolls in the last seven weeks while earning $13,900 in profit! Robert has banked 10 straight winning college basketball regular seasons and he will have his 8-Unit NCAA Tournament Game of the Year available on Thursday this week. There is no better moneymaker in the nation and Robert is looking forward to another amazing March Madness. Click here to get two days of college basketball picks for free - no hassle and no credit card needed.
Read more articles by Robert Ferringo