MLB Betting Advice and Handicapping: Disappointing Starting Pitchers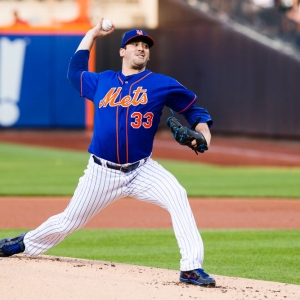 Every year I tend to set expectations in my mind for what I expect for a wide range of starting pitchers in baseball - from the true greats to guys I just like betting on or against. Inevitably, several of those guys disappoint me each year by failing to reach up to those expectations. It's early this year, so we can't yet judge what kind of a season guys are really going to have. Based on the first few starts, though, here are five guys that I am really disappointed by - four because of their play, and one because of the situation they are stuck in.
Ervin Santana, Minnesota Twins: It's hardly fair to be too negative about any pitcher who plays for the Twins - Sandy Koufax in his prime would be 5-20 in a great year for this collection of losers. Still, after Santana showed flashes of his former self in 2014 with the Braves - not exactly a great team, either - and was solid last year in Minnesota in half a season, I guess I let myself start to believe that maybe he could be a source of occasional value on a lousy team. Maybe he could exceed the situation he was in from time to time. What is sad in his case is that he has actually done his part - four solid outings, with few earned runs allowed and decent underlying fundamentals. He has been totally let down by his team, though - they can't score and can't protect a pitcher. Unlike the others on this list, then, I'm not disappointed in how Santana is pitching - in a better situation he'd be delivering juicy value. I am just disappointed that I underestimated just how incredibly bad this Minnesota team was going to be.
Matt Harvey, New York Mets: I was highly skeptical of the hype the Mets pitching staff was getting coming into the season. You may have read me saying that several times before the regular season. Through it all, though, the one guy I had the most faith in was Harvey. I like his experience - at least relative to his team - and his makeup. The start he has been off to, then, qualifies as a major disappointment. He's lost all three of his outings. His usually ridiculous strikeout-to-walk ratios are just pathetic - from better than 5-1 the last two seasons to 9-7 so far this year. He just doesn't look confident, and he doesn't look like he has anywhere near the command we are used to from him. Most glaringly, he was pushed around by the Phillies as a -245 favorite. The Phillies are barely a major league team right now. Things can easily be salvaged, but this is clearly not what anyone hoped to see.
Chris Archer, Tampa Bay Rays: Last year I thought was going to be the year that Archer stepped up and became the ace of this Tampa Bay staff. When that didn't happen I thought that it would happen this year. It still could, I guess, but things aren't promising to start. His three starts - all losses - have been a mixed bag. He was mostly solid in his opener against the Blue Jays but got into a two-run hole in the first inning, which you just can't do against that team. He was just plain bad against Baltimore. Against Cleveland he was decent. But just didn't have the swagger that a guy in his position and with his immense talent should have by this point in his career. Archer will turn 28 before this season ends, so at some point his future has to be now.
Chris Young, Kansas City Royals: I really liked Young in 2014 when he was named comeback player of the year. I liked his play last year in Kansas City, too, and was happy that the Royals rewarded him with a nice three-year deal that worked well for both team and player. I expected him to keep going about his business and providing value. So far, though, things have been pretty ugly. He hasn't made it past the fifth inning in three starts - all losses. He has been beat up in his last two outings. He's throwing way too many pitches per inning. He just doesn't look good - and nothing like he has recently. He's never been overpowering or flashy, so it's not like it seems that his game is totally gone or anything, but this start to the season has been a long, long way from ideal.
Corey Kluber, Cleveland Indians: I have long worshipped Cy Young winners - since when I was a young kid and first learned what the award was. Kluber is one of those winners that I have had to struggle to fit into the groups of greats he is a part of thanks to winning the award. He was disappointing last year following up the win and even more disappointing so far this year. He has lost all three starts, never looked great in any of them, and was really roughed up by the Mets last time out. He's still getting strikeouts while limiting walks, but not much else is working for him at all. I don't want to call him a flash in the pan, but it's getting harder and harder to quiet those voices in my mind.
Want to try a baseball handicapper for free? Doc's Sports is offering $60 worth of member's baseball picks absolutely free with no obligation. Sign up for winning baseball picks here.
Read more articles by Trevor Whenham