Five to Follow MLB Betting: Friday, April 15, 2016, Opening Line Report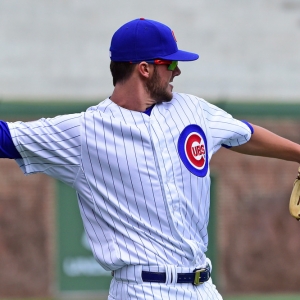 April 15 is Jackie Robinson Day across Major League Baseball as on April 15, 1947, Robinson broke the color line in baseball when he played for the Brooklyn Dodgers. It's a great day and well-deserved, no question, but it's sure hard on those amateur scorekeepers at games because all players will wear No. 42. No future big-leaguer will ever wear that number again every day; the last to do so was former Yankees Hall of Famer Mariano Rivera, who will join Robinson in the Hall of Fame in 2019.
Rockies at Cubs (-185, TBA)
Your lone matinee -- as is custom at Wrigley Field on Fridays -- with a 2:20 p.m. ET start and on the MLB Network. These are two of the highest-scoring teams in baseball in the early going. And I expect plenty of runs here as long as the wind isn't blowing in here considering the starting pitchers. It's Chad Bettis for Colorado. He was roughed up in his first start in Arizona but held the Padres to one earned run over seven innings last time out. But the Padres stink. Bettis didn't face the Cubs in 2015. Just a few have seen him. Jason Heyward is 1-for-5 with a homer. Ben Zobrist is 1-for-2 with a double. Cubs No. 5 starter Kyle Hendricks was solid in his lone start thus far, allowing two runs and four hits in 6.2 innings in a win at Arizona. He was 0-0 with an 8.68 ERA last year in two starts against the Rockies. Carlos Gonzalez is 3-for-8 with a homer and three RBIs against him. DJ LeMahieu is 3-for-7 with five RBIs.
Key trends: The Rockies are 1-5 in Bettis' past six against teams with a winning record. The Cubs are 15-6 in Hendricks' past 21 at home. The "over/under" is 8-3 in Bettis' past 11 vs. teams with a winning record.
Early lean: Cubs.
Mets at Indians (-110, 8)
This is the only interleague series of the weekend so the Mets will add the designated hitter. I'm guessing that would be Michael Conforto since he was in that role the first two games of the season in Kansas City. Rather a shame there is a DH because it's always fun to see chubby Mets 42-year-old Bartolo Colon try to hit. Colon's excellent career began in 1997 in Cleveland and he lasted there until being traded to Montreal in 2002 in what would turn out to be an incredibly lopsided deal for the Indians as they got the likes of Cliff Lee, Grady Sizemore and Brandon Phillips. Colon was strong in his first start this season but lost against the Phillies despite allowing just one run on five hits over six innings and striking out seven. Cleveland's Marlon Byrd is 6-for-14 off him with two homers. Juan Uribe is 4-for-13 with three doubles. It's Cody Anderson for the Tribe. He was very good as a rookie last year, going 7-3 with a 3.05 ERA in 15 starts. And he was good in his 2016 debut, allowing two runs over six innings in a no-decision at the White Sox. He has never faced the Mets.
Key trends: The Mets are 4-1 in Colon's past five on the road. The Indians have won eight straight on Friday. They are 4-0 in Anderson's past four at home. The over is 6-0 in his past six at home.
Early lean: Indians and under.
Blue Jays at Red Sox (-120, 9)
I'm not going to lie, I'm not a Red Sox fan. So it makes me somewhat giddy to see two guys who are owed about a combined $138 million totally go bust on that team. I'm speaking of fat third baseman Pablo Sandoval and Cuban outfielder Rusney Castillo. Both lost their presumed starting jobs in the spring and now Sandoval is on the DL while still having the audacity to say he only wants to stay in Boston if he can play every day. What a tool! Castillo, meanwhile, was sent to Triple-A on Wednesday. This game looks to be a shootout as the Jays start knuckleballer R.A. Dickey and the Sox Rick Porcello. These two squared off last Saturday in Toronto in an 8-4 Red Sox win. Dickey allowed seven runs and eight hits in five innings. Porcello allowed four runs and seven hits in six innings. Jose Bautista homered off Porcello twice in that loss and I highly recommend you take a Bautista hitting prop here as he's 13-for-28 with three homers and nine RBIs career off Porcello.
Key trends: The Jays are 2-5 in Dickey's past seven vs. Boston. The over is 5-0-2 in his past seven overall. The over is 8-2-1 in Boston's past 11 Friday games.
Early lean: Red Sox and over.
Giants at Dodgers (-165, 6)
Also on the MLB Network. And clearly the pitching matchup of the night as lefty studs Madison Bumgarner and Clayton Kershaw face off for the second time in less than a week. Last Saturday in San Francisco, Kershaw allowed two runs and four hits over eight innings in a no-decision, a game the Dodgers won in extra innings. Perhaps most notable was that Bumgarner hit his second homer in two seasons off Kershaw. Only 17 players all-time have hit two homers off the three-time Cy Young winner. Unthinkable that one is a pitcher. It was Bumgarner's 12th career homer, which ties current Oriole Yovani Gallardo for the most among active pitchers. Bumgarner also pitched well Saturday, allowing a run and six hits over six innings with eight strikeouts. He left with the lead.
Key trends: The under is 8-2-1 in Kershaw's past 11 at home vs. the Giants. The under is 12-3-1 in Bumgarner's past 16 vs. L.A. The Dodgers are 2-5 in past seven when Kershaw faces Bumgarner.
Early lean: Dodgers and under.
Diamondbacks at Padres (+105, 6.5)
Are the Snakes having major buyer's remorse on Zack Greinke? He was terrible in his first start against Colorado in allowing seven runs in four innings, and then not a ton better Saturday against the Cubs, allowing four runs and seven hits in six innings. He's 0-2 with a 9.90 ERA. Last year with the Dodgers, Greinke had three total losses and didn't allow 11 runs in any month, much less back-to-back starts. Maybe going to pitcher-friendly Petco Park will help. He was 2-1 with a 1.23 ERA in five starts against the Padres in 2015. Melvin Upton will likely be out of the lineup as he's 4-for-31 with 18 strikeouts off Greinke. The Padres' James Shields gave up way too many homers last year and was dinged for three more on Sunday in Colorado, allowing four runs in seven innings. He's 0-2 with a 4.85 ERA. Shields was 2-2 with a 4.97 ERA in four 2015 starts vs. Arizona. David Peralta is 4-for-8 with two homers off him. Paul Goldschmidt has one in eight at-bats.
Key trends : The Padres are 2-6 in Shields' past eight at home. The over is 10-3 in his past 13 there.
Early lean: Diamondbacks and over.
Read more articles by Alan Matthews