Five to Follow MLB Betting: Friday, May 13, 2016, Opening Line Report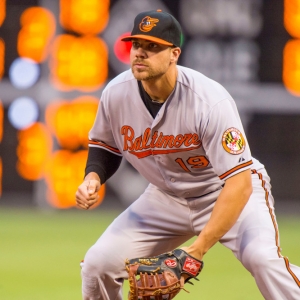 Quite a night for two pitchers in the National League on Wednesday for very different reasons. Washington's Max Scherzer became the fourth pitcher (Roger Clemens twice, Kerry Wood and Randy Johnson) in MLB history to strike out 20 batters in a game, doing it against his former Detroit Tigers teammates. Scherzer had a chance to break the record with two outs in the ninth and against light-hitting Tigers catcher James McCann, who had struck out three times already on just 10 pitches, at the plate, but McCann was able to ground out. Meanwhile, Mets pitcher Noah Syndergaard hit two homers against the Dodgers. He was just the second pitcher in franchise history (Walt Terrell) to do that. The Boston Braves' Jim Tobin holds the modern-day big league record for pitchers with three home runs in a game against the Cubs on May 13, 1942. I am confident in saying we aren't likely to see 20 Ks or a pitcher go deep twice again this season.
Tigers at Orioles (-135, 8.5)
I'm actually a tad surprised that Detroit's Justin Verlander never struck out 20 back when he was in his Cy Young/MVP prime. He was every bit as dominating for a few years as those four guys listed above. Verlander (2-3, 5.40) gets the call here and he comes off easily his best start of the season, throwing seven shutout innings against Texas, allowing three hits and striking out nine. Verlander also clearly gets fired up for Detroit's annual trip to Baltimore as he's from the area and went to Old Dominion. He is 7-0 with a 2.84 ERA in his career at Camden Yards. Adam Jones is 8-for-35 off him with two homers and six RBIs. Chris Davis is 6-for-25 with 11 strikeouts. Baltimore's Chris Tillman (4-1, 3.05) beat Oakland in his last start, allowing three runs over 6.1 innings. The Birds have won his past four overall, all quality starts by Tillman. Detroit's Miguel Cabrera is 5-for-13 off him with a homer and four RBIs.
Key trends: The Tigers are 1-8 in Verlander's past nine vs. the AL East. The Orioles are 6-0 in Tillman's past seven at home. Baltimore is 6-0 in Tillman's past six vs. Detroit. But the Tigers are 8-1 in Verlander's past nine in Baltimore. The "over/under" is 5-1 in Verlander's past six there.
Early lean: Tigers and under.
Marlins at Nationals (-156, 8)
Keep in mind that Washington's Bryce Harper was suspended one game for confronting an umpire following his ejection from Monday's night's game vs. Detroit. Harper is appealing for now and can play until that's heard, but it's possible that he simply drops it during this series and takes a game off. The teams play a doubleheader on Saturday, so that might be a good time. Miami starts Tom Koehler (2-3, 5.83) here. He had his best start of the season last time out against Philadelphia, allowing a run and two hits over seven innings in a no-decision. He is 1-1 with a 2.38 ERA in two starts this year against the Nats. Harper kills the guy, going 9-for-28 with six homers and 11 RBIs. Ben Revere is 10-for-22 against him. It's lefty Gio Gonzalez (2-1, 2.19) for the Nationals. He comes off his worst outing of the young season, allowing five runs and seven hits over 5.2 innings at the Cubs. He hasn't faced Miami this season. Giancarlo Stanton is 4-for-16 off him with five strikeouts.
Key trends: The Marlins are 2-6 in Koehler's past eight following a quality start in his most recent appearance. The Nats are 1-4 in Gonzalez's past five on Friday. Washington is 4-0 in Gonzalez's past four at home vs. Miami. The under is 3-1-1 in his past five in D.C. vs. the Marlins
Early lean: Nationals and over.
White Sox at Yankees (+128, 7.5)
Chicago avoided disaster on Wednesday when third baseman Todd Frazier was hurt after diving into the stands. He quickly ran off the field and it looked bad at first, but it wasn't a hand or wrist injury. Instead, some of Frazier's teeth apparently came through his lower lip when he hit his face on a seat. He needed five stitches but should play here. Frazier is among the AL leaders with 11 homers and 31 RBIs. It's Sox ace and Cy Young leader Chris Sale (7-0 1.79) here in an apparent huge pitching mismatch. He beat the Twins on Saturday, allowing two runs and three hits over seven innings, whiffing nine. Sale allowed three runs in seven innings in his lone 2015 start vs. the Yanks. Chase Headley is 4-for-9 with a homer against him. New York's Luis Severino (0-5, 6.12) hasn't been able to match his rookie year success yet. He was tagged for four runs (three homers) over 6.2 innings last time out vs. Boston but did strike out a season-high nine. He beat the White Sox in his lone start against them last season, throwing six shutout innings.
Key trends: The Sox are 5-0 in Sale's past five vs. teams with a losing record. The Yankees are 1-4 in Severino's past five at home. The under is 3-0-1 in Sale's past four in Game 1 of a series.
Early lean: White Sox and under.
Astros at Red Sox (-136, 9)
Houston's struggling rotation should get a boost here with the season debut of Lance McCullers. He was excellent in 22 starts as a rookie last season, going 6-7 with a 3.22 ERA. McCullers did face Boston twice, not earning a decision and allowing 13 hits and three runs over 10 innings. The Sox hit .325 off him. McCullers began this season on the DL with shoulder stiffness. He allowed two hits and struck out seven over five scoreless innings in his last rehab start Saturday with Triple-A Fresno and then threw a bullpen session Tuesday in Houston and was declared ready to go. It's Boston knuckleballer Steven Wright (3-3, 1.52), who is surprisingly among the AL ERA leaders. He has gone at least six innings in all six starts this season and not allowed more than two earned. On April 22 in Houston, he didn't allowed an earned run over 6.2 innings but walked five. Carlos Correa is 2-for-2 off him.
Key trends: Houston is 1-10 in McCullers' past 11 road starts. The under is 5-2 in his past seven starts. The under is 5-1 in Wright's past six.
Early lean: Red Sox and under.
A's at Rays (-111, 7.5)
Oakland is lacking offensively as it is this season and now the A's have lost one of their leading hitters, second baseman Jed Lowrie, to the 15-day disabled list with a right shin contusion. Lowrie took a hard foul tip off his shin in the seventh inning Monday. He was hitting .302 with 17 RBIs. The A's start lefty Rich Hill (4-3, 2.39) here, and I wouldn't be surprised if he's traded soon while his value is high. The 36-year-old journeyman has allowed more than two earned runs only once in 2016. No Rays batters have seen him a ton. Steve Pearce has the most, going 2-for-8. Evan Longoria is 0-for-4 with two strikeouts. Tampa's Jake Odorizzi (0-1, 3.10) has allowed four combined runs over his past three starts but is getting no offensive help. He is 0-1 with a 4.22 ERA in two career starts vs. the A's. Coco Crisp is 2-for-3 with two doubles off him. Chris Coghlan, who probably gets most of Lowrie's playing time, is 2-for-6 with a double.
Key trends: The A's are 3-8 in their past 11 after an off day. The Rays are 5-2 in Odorizzi's past seven at home. The under is 5-0 in his past five there.
Early lean: Rays and under.
Read more articles by Alan Matthews