Five to Follow MLB Betting: Friday, September 16, 2016, Opening Line Report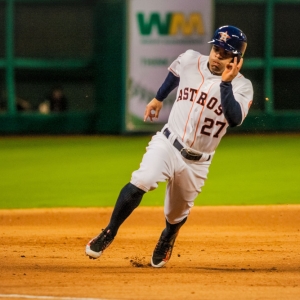 Back in the spring, I predicted a Red Sox-Astros ALCS matchup, and while Boston might get there it's looking grim for Houston to return to the playoffs. Especially after All-Star second baseman Jose Altuve, the AL batting leader, left Wednesday's game with an oblique injury. In the third inning against Texas, replays showed him grimacing after a swing during the plate appearance. Those oblique injuries usually take a while, and if that's true here, Altuve's season is likely over and he won't get to 200 hits, although he'll still win the batting title. It could also potentially cost him the AL MVP Award. Meanwhile, Houston rookie third baseman Alex Bregman left the same game with a hamstring issue, so his season could be in jeopardy too. Bregman is one of the top prospects in the game. The Astros start a six-game road trip on Friday in Seattle.
Yankees at Red Sox (-171, 10)
An MLB network national TV game and should have live betting. New York has lost rookie outfielder Aaron Judge likely for the rest of the season to an oblique injury suffered on Tuesday. He's considered a good prospect but was hitting just .179 with four homers and 10 RBIs in 84 at-bats since being called up in mid-August, so not a huge loss for 2016. Rob Refsnyder should get the bulk of the at-bats in right field. The Yanks are scheduled to start rookie Luis Cessa (4-1, 4.34) on the mound. He comes off that first big-league loss, allowing four runs and five hits (three homers) over 5.2 innings vs. Tampa Bay. Cessa pitched two innings of scoreless relief in Boston on Aug. 11 and got the win. The Red Sox's Clay Buchholz (6-10, 5.31) is still in the rotation because of the injury to Steven Wright, but Buchholz might not be on the playoff roster. He was shelled Sunday in Toronto, allowing six runs in three innings. He has thrown two-thirds of an inning this year vs. New York. Chase Headley is 3-for-8 off him with a homer.
Key trends: The Yankees are 4-1 in Cessa's past five. The Red Sox are 0-5 in Buchholz's past five vs. New York. The "over/under" is 5-2 in his past seven against New York.
Early lean: Yankees and over.
Tigers at Indians (-170, 7.5)
Detroit probably has to sweep this series to have a shot at the AL Central title, although the Tigers still host Cleveland for four games. It's AL Rookie of the Year candidate Michael Fulmer going on six days of rest for Detroit. Fulmer (10-6, 2.76) hasn't won in his past four starts but did pitch very well last time out, allowing two runs and three hits over seven innings against Baltimore. He left with a lead, but his bullpen blew it -- although Detroit won. Fulmer is 1-1 with a 4.91 ERA in two starts this year vs. Cleveland. Mike Napoli is 2-for-6 with a homer and three RBIs off him. Carlos Santana is 2-for-5 with a double. Cleveland's Corey Kluber could add a second Cy Young if he finishes strong. Kluber (16-9, 3.05) overpowered the Twins in his last start with no earned runs and 10 strikeouts over seven innings. He's 2-0 with a 0.53 ERA in two starts this year vs. Detroit. Miguel Cabrera hammers him, going 20-for-42 with five homers. Victor Martinez is 10-for-32 off him with three dingers.
Key trends: The Tigers are 4-1 in Fulmer's past five in Game 1 of a series. The Indians are 8-1 in Kluber's past nine at home. The under is 7-1 in Fulmer's past eight. It is 5-1 in Kluber's past six at home vs. teams with a winning record.
Early lean: Indians and under.
Twins at Mets (-193, 8.5)
Minnesota will lose the DH for this interleague series (usually Miguel Sano, who is a bit banged up anyway), and it's a series the wild-card hopeful Mets should definitely sweep against the sad-sack Twins. This starts a really easy 10-game homestand with the Braves and Phillies to follow. Minnesota goes with its top pitching prospect in Jose Berrios (2-6, 9.27). He has just one quality outing in 11 big-league starts and lasted only 2.2 innings last time out vs. the Indians. But maybe the fact he will hit in an MLB game for the first time (assuming he's still in the game then) will get him going. New York's Bartolo Colon (13-7, 3.27) comes off a third straight quality starts but lost in Atlanta, allowing three runs in six innings. He has not faced the Twins since 2013 when he was with Oakland. Kurt Suzuki is 5-fo13 off him with two doubles. Brian Dozier is 0-for-3.
Key trends: The Twins are 0-6 in Berrios' past six. The Mets are 7-2 in Colon's past nine at home. The over is 8-1-2 in Berrios' past 11.
Early lean: Mets and over.
Nationals at Braves (+216, 7.5)
No-hitter alert! But then I could probably say that whenever Max Scherzer (16-7, 2.78) starts, and he's the guy to beat in the NL Cy Young race since he leads the NL in innings, strikeouts and WHIP. Although if I 'm a voter I am considering he got to face the sorry offenses of the division-rival Braves and Phillies plenty this season. Scherzer comes off 6.2 shutout innings vs. those Phillies with eight strikeouts. So that's five starts against them and this will be his fifth against Atlanta this year. Scherzer is 3-0 with a 4.10 ERA vs. the Braves. Matt Kemp is just 3-for-36 off him career with 10 strikeouts. Ender Inciarte is 5-for-15 with three doubles. Atlanta's John Gant (1-3, 4.40) is off a no-decision vs. the Mets, allowing three runs (one earned) over 4.2 innings. The rookie has thrown one scoreless inning vs. the Nationals.
Key trends: The Nats are 7-0 in Scherzer's past seven vs. teams with a losing record. The under is 11-3 in his past 14 overall.
Early lean: Nationals and under.
Dodgers at Diamondbacks (+118, 9)
One of the reasons the Dodgers signed Japanese right-hander Kenta Maeda this offseason was because they weren't able to re-sign Zack Greinke. Those two are matched up here. Maeda has been way, way better value than Greinke this season as Maeda will make only about $5 million including incentives and might win NL Rookie of the Year honors in many other seasons as he is 14-9 with a 3.28 ERA. Maeda did lose Sunday in Miami, allowing three runs over six innings. But it was his 14th quality start in 28 overall. Maeda is 2-1 with a 3.18 ERA vs. Arizona. Jake Lamb is 7-for-13 off him with three doubles and a homer. Jean Segura is 5-for-14. Greinke (12-6, 4.54) will make a cool $31 million this year. He lost to the Giants on Sunday and gave up three runs over six innings. Greinke is 1-1 with a 7.71 ERA in two starts against his former teammates. Corey Seager is 5-for-6 off him with two homers and four RBIs. Justin Turner is 3-for-8 with a homer.
Key trends: The Dodgers are 4-1 in Maeda's past five vs. the NL West. The Diamondbacks are 5-2 in Greinke's past seven at home. The under is 4-1 in his past five there.
Early lean: Diamondbacks and under.
Read more articles by Alan Matthews