Five to Follow MLB Betting: Friday, September 23, 2016, Opening Line Report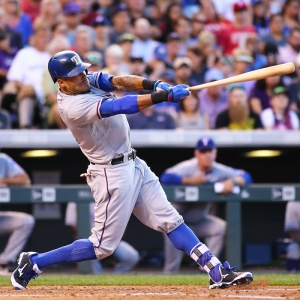 As of Thursday, there's a three-way tie for the two National League wild-card spots between the Cardinals, Mets and Giants. Bit of a long shot that three end up that way by next Sunday night, but here's what would happen if there was an unprecedented three-way tie: On Monday, Oct. 3, the Cardinals would host the Mets and the winner of that is one of the wild-card teams. Essentially, the Giants are the third-place team of the three because they lost the season series to the Mets and Cardinals. And St. Louis, as of now, would be the top seed because it has a better intradivision record than the Mets do (that could change by next Sunday). On Tuesday, Oct. 4, the loser of the Mets-Cardinals game plays in San Francisco for the second wild-card spot. On then on Wednesday, Oct. 5, the winner of Monday's game would play the winner of Tuesday's game. Where that would be would depend on the winners, but it won't be in San Francisco. And then the Wednesday winner opens the NLDS on Friday, Oct. 7 at the Cubs. Got all that?
Cardinals at Cubs (-215, TBA)
The lone matinee with a 2 p.m. ET start and should have live betting with it televised by ESPN. The Cubs could potentially clinch the top seed in the National League on Friday (magic number is 2 vs. Washington), but that's a foregone conclusion. This series obviously means much more to rival St. Louis. The Cards start Mike Leake (9-10, 4.54). He took a no-decision on Saturday at his former Giants team, allowing two runs over six innings. Leake is winless in three starts since returning from the DL thanks to poor run support. He's 0-2 with a 4.26 ERA in three starts this year vs. the Cubs. Chris Coghlan figures to get a spot start as he's 11-for-19 off Leake with four doubles and two homers. Anthony Rizzo hits .342 off him with two homers in 38 at-bats. The lone worry on the Cubs right now is the wildness of Jake Arrieta (17-7, 2.96). He lost last time out vs. the Brewers in allowing four runs over six innings with four more walks. He's third in the National League with 73 passes. Arrieta is 2-1 with a 3.45 ERA in three starts against the Cardinals in 2016. Matt Carpenter is a shocking 0-for-21 off him with six strikeouts. Yadier Molina is 3-for-21 with eight strikeouts.
Key trends: The Cardinals are 5-2 in Leake's past seven on the road. The Cubs are 5-1 in Arrieta's past six at home vs. St. Louis. The "over/under" is 5-0 in his past five against the Cards.
Early lean: Cardinals.
Yankees at Blue Jays (TBA)
ESPN2 game. This is worth watching simply to see what the Yankees' unbelievable rookie Gary Sanchez will do -- could he steal Rookie of the Year honors? Sanchez hit his 17th homer of the season on Tuesday, all coming since Aug. 10. That's the most HRs in a season for a player who did not hit one before Aug. 1 in MLB history. He hit two more on Wednesday to become the fastest in MLB history to 19 dingers. I still don't see how he can win ROY with such a late call-up, but Sanchez has been the AL's best hitter since. The Yanks are scheduled to go with 25-year-old Bryan Mitchell (1-1, 6.00). He made his fourth start of the season Saturday in Boston and allowed four runs over 4.2 innings in a no-decision. His season debut was Sept. 7 vs. the Jays and Mitchell got his first big-league win, throwing five shutout innings. The Jays counter with lefty Francisco Liriano (7-13, 5.08), who lost at the Angels in Saturday in giving up four runs (two earned) over six. He threw two scoreless innings at the Yankees on Sept 5. Brett Gardner is 6-for-13 career off him with five RBIs.
Key trends: The Yankees are 1-4 in their past five against a lefty. The Jays are 1-4 in their past five after an off day. New York is 0-5 in its past five in Toronto. The under is 5-1 in Liriano's past six starts.
Early lean: New York hasn't announced Mitchell officially yet, but it should be him. Toronto will be favored by a fair amount, and take the Jays and over regardless of total.
Diamondbacks at Orioles (-180, 10)
The problem with 15 teams in each league is that there's interleague play every day. The Orioles' playoff fate really shouldn't be determined this late in the season by beating up on a bad National League team. The Diamondbacks will add the DH. Arizona goes with bust Shelby Miller (2-12, 6.90), and I can't imagine facing a stronger AL lineup will help him. He has allowed at least four runs in three straight starts and not lasted more than 5.1 innings. Miller has never faced the Orioles. Mark Trumbo is 0-for-6 off him. Pedro Alvarez is 5-for-20 with three solo homers. Baltimore's Yovani Gallardo (5-8, 5.77) comes off an ugly outing against Tampa Bay, lasting 3.1 innings and allowing six runs and seven hits. He allowed a home run in the first inning for a fourth straight outing. Plenty of Diamondbacks have faced Gallardo. Paul Goldschmidt is 6-for-10 with three RBIs. Chris Owings is 2-for-7 with a homer.
Key trends: The Diamondbacks are 0-8 in Miller's past eight vs. teams with a winning record. The Orioles are 0-4 in Gallardo's past four at home. The under is 8-1 in his past nine at home.
Early lean: Orioles and over.
Phillies at Mets (-162, 7.5)
Some rare good injury news for that Mets rotation? Lefty Steven Matz (9-8, 3.40) is expected to make his first big-league start since Aug. 14 as he's been on the DL with elbow troubles. Matz pitched a bullpen session on Wednesday and felt good. He certainly will be on a very tight pitch count, probably 50 or so. Matz has somehow avoided the division-rival Phillies in his young career. Philadelphia's Jeremy Hellickson (12-9, 3.57) comes off one of the best starts of his career, throwing a complete-game three-hitter against the Marlins. He didn't walk anyone and struck out five. It was Hellickson's his first shutout since May 13, 2011, when he pitched for the Rays. He is 1-2 with a 6.75 ERA in four starts this year against the Mets. Yoenis Cespedes is 6-for-14 off him with three homers and six RBIs. Asdrubal Cabrera is 7-for-18 with a homer.
Key trends: The Phillies are 5-2 in Hellickson's past seven on the road. The over is 4-1 in his past five there.
Early lean: Phillies and under.
Rangers at A's (+132, 7.5)
It doesn't really matter which team Texas faces in the ALDS, the Rangers aren't going to win that series if ace lefty Cole Hamels doesn't get right -- and his Cy Young chances are gone. Hamels (14-5, 3.42) was shelled again last time out for six runs and seven hits (two homers) over six innings against these A's, although Texas would win the game 7-6. Hamels is 0-1 with a 10.50 ERA in his last four starts. He has faced the A's four times this year and is 1-1 with a 3.71 ERA. Khris Davis is 4-for-7 off him with three homers. Danny Valencia is 3-for-12 with a homer. Oakland's Kendall Graveman (10-10, 4.21) was opposite Hamels in that 7-6 Rangers win last week and Graveman allowed four runs and seven hits in 5.1 innings in a no-decision. He had a 6-2 lead entering the sixth inning. Graveman is 1-1 with a 7.47 ERA in three starts against the Rangers overall. Elvis Andrus is 3-for-6 off him with two doubles. Mitch Moreland is 3-for-6 with a homer.
Key trends: The Rangers are 20-3 in Hamels' past 23 vs. teams with a losing record. The A's are 0-5 in Graveman's past five vs. the AL West. The under is 5-1 in his past six at home.
Early lean: Rangers and under. Click here for more free baseball picks for Friday.
Read more articles by Alan Matthews