Five to Follow MLB Betting: Saturday, July 2, 2016, Opening Line Report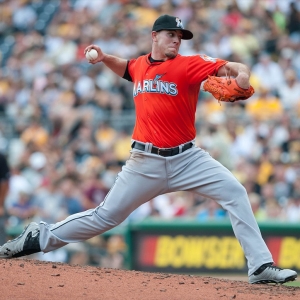 I don't generally write Saturday for Sunday for Doc's, but I want to point out this week's ESPN Sunday night game because it's pretty cool. The Miami Marlins will face the Atlanta Braves at Fort Bragg, the venerable military installation in North Carolina. It's the first regular-season game of a professional sport ever played on an active military base. Of course, Monday is July 4, and this is a way to honor servicemen and women by Major League Baseball. A stadium holding 12,500 fans was constructed at Fort Bragg, the most populated military installation in the USA. MLB and the MLB Players' Association paid for the ballpark (about $5 million), which will be then be used as a permanent softball and multi-purpose facility on the base. Fort Bragg Field's dimensions are 331 feet down the lines, 387 feet in the alleys and 405 to center. The Braves will be the home team. But if you live in that area as a civilian and are hoping to go, forget it. All 12,500 tickets to the game are non-transferable and not for resale. Each military ticket-holder is required to sign documents pledging not to sell or give away the tickets and listing the family members they will bring with them.
Marlins at Braves (TBA)
A 4:10 p.m. ET first pitch. With Clayton Kershaw and Stephen Strasburg now on the disabled list and Cubs ace Jake Arrieta struggling a bit, could Miami's Jose Fernandez now be the NL Cy Young leader? He certainly has a chance over the next few weeks -- or however long Kershaw is out -- to put himself in the lead. Fernandez (10-3, 2.28) takes the mound in Atlanta. He dominated the Cubs in his last start, allowing one run and four hits over seven innings with 13 strikeouts. His 138 strikeouts (third in NL) on the season are already a franchise record for strikeouts before the All-Star break. Fernandez has faced the Braves once this year and took a no-decision on June 21 despite allowing no runs and just one hit over seven innings. He hasn't allowed more than five hits in any of his past five outings. Atlanta's Freddie Freeman is 5-for-17 career off him with a homer. Might we see Fernando Rodney make his Marlins debut in this one? The closer was acquired from San Diego on Thursday. The Braves were to start Bud Norris, and I was going to mention he was a trade candidate. How right I was as Norris was traded to the Dodgers on Thursday for two pitching prospects as L.A. needed a starter because of Kershaw's injury. So Atlanta likely will turn to Tyrell Jenkins. The 23-year-old was recently called up and has pitched in two big-league games this season (and career) with the Braves. He came on in emergency relief of an injured John Gant on Monday vs. the Indians and allowed four runs and six hits in four innings. With Norris gone and the Braves really banged up in their rotation, there's probably not anywhere else to turn.
Key trends: The Marlins are 6-1 in Fernandez's past seven vs. the NL East. The "over/under" has gone under in eight of Fernandez's past 10.
Early lean: TBA until Braves announce a starter but go Marlins and under regardless.
White Sox at Astros (-120, 7.5)
There's really not much of a race in the AL for the Cy Young right now: it's Chris Sale's to lose even though the White Sox are very mediocre. Sale (13-2, 2.79) looks to become the majors' first 14-game winner. His career high is 17 wins, and Sale hasn't topped 13 in any other season. Sale won a third straight start Sunday against Toronto, allowing two runs and five hits over seven innings. He beat visiting Houston on May 19, allowing one run and four hits with nine strikeouts in a complete game. Jose Altuve is 6-for-18 career off him with a double. Houston's Doug Fister (8-4, 3.36) suffered his first loss since April 25 on Sunday against Kansas City, allowing four runs in 6.2 innings. Fister hadn't allowed more than two earned in six straight starts. He won at the White Sox on May 18, allowing three runs in 6.1 innings. Todd Frazier is 4-for-10 against him with an RBI. Jose Abreu is 1-for-3.
Key trends: The White Sox are 4-0 in Sale's past four vs. teams with a winning record. The Astros are 10-1 in Fister's past 11. The under is 8-3-3 in Fister's past 14.
Early lean: White Sox -- fairly shocked Sale opened as a dog -- and under.
Royals at Phillies (+118, 8)
Kansas City is again without the designated hitter here, which is normally Kendrys Morales. However, Royals manger Ned Yost pulled a surprise this week in St. Louis to keep Morales' big bat in the lineup: He started him in right field. Morales hadn't played the outfield in an MLB game in eight years. There's an opening with center fielder Lorenzo Cain on the DL and Jarrod Dyson can move from right to center when needed. So likely Morales is in there again here. The Royals start probably their best current starter, lefty Danny Duffy (3-1, 3.24). He beat the Cardinals on Monday, going a season-high eight innings and giving up two runs. Duffy hasn't faced the Phillies. It's struggling Aaron Nola (5-7, 4.45) for the Phillies. He pitched really well in May and was excellent in his first start in June. But Nola hasn't lasted more than 3.2 innings in four straight starts, all losses, while allowing 25 total runs. He's the first Phillies starter in 34 years to pitch fewer than four innings in four straight starts. Nola hasn't faced Kansas City.
Key trends: The Royals are 2-6 in Duffy's past eight on the road. The Phillies are 2-6 in Nola's past eight on the road. The under is 10-2 in Duffy's past 12 on the road.
Early lean: Royals and under.
Cubs at Mets (+175, 7)
This will be nationally televised to much of the nation on Fox. I mentioned Arrieta above and he goes here. Arrieta (12-2, 2.10) is actually harder to hit this season than last, but his control isn't anywhere near as good. He has walked 40 (in 103.0 innings), which is among the NL leaders. In his 2015 Cy Young season, Arrieta walked 48 in 229.0 innings. Arrieta has lasted only five innings in each of his past two starts because his pitch count has gotten so high with the free passes. Arrieta last saw the Mets in Game 2 of last season's NLCS at Citi Field and took the loss, allowing four runs in five innings. He admitted he was out of gas by that point in the season. Asdrubal Cabrera is 4-for-8 career off him in the regular season with two homers. The Mets won't have Curtis Granderson again for this game as he has been shut down for a few days with a strained calf. New York's Bartolo Colon (6-4, 2.86) was a tough-luck loser on Sunday in Atlanta, allowing one run in seven innings. Colon threw seven shutout innings vs. the Cubs last year in his lone start against them since joining the Mets. Jason Heyward is 7-for-17 off him with a homer. Ben Zobrist is 8-for-14 with four homers.
Key trends: The Cubs are 13-3 in Arrieta's past 16 road starts vs. teams with a winning record. The Mets are 4-1 in Colon's past five. The under is 5-2 in Arrieta's past seven vs. the NL East.
Early lean: Cubs, a Zobrist hitting prop and under.
Yankees at Padres (-128, 7.5)
This game is nationally televised by Fox Sports 1 and should have live betting at sportsbooks. A reminder again that the Yankees are without the DH (Alex Rodriguez). Monitor the status of outfielder Carlos Beltran as well. He injured his right hamstring on Tuesday and hadn't started since through Thursday. He's major trade bait, so the Yankees won't rush him back. They might have hid him at DH if it were available. San Diego, meanwhile, has to find a closer after dealing Rodney to the Marlins on Thursday. It most likely will be Ryan Buchter. New York starts Ivan Nova (5-5, 5.32), another potential trade guy. But his value is sinking with three straight lousy starts, not lasting more than five innings in each and giving up a combined 15 runs. But he has a career 2.88 ERA in 15 career interleague games. Only a few Padres have seen him. Wil Myers is 4-for-13 with a homer. Melvin Upton is 4-for-23 with six strikeouts. The Friars go with trade candidate left Drew Pomeranz (7-7, 2.76). His value is on the rise. Pomeranz shut out the Reds on three hits over seven innings in his last start. His .190 batting-average against is one of the best marks in baseball. The Yankees' Brett Gardner is 1-for-3 career off him with a homer. Former Padre Chase Headley is 1-for-6 with three walks.
Key trends: The Yankees are 2-5 in Nova's past seven on the road. The Padres are 1-4 in Pomeranz's past five after a quality start in his most recent appearance. The under is 9-2 in Pomeranz's past 11.
Early lean: Padres and under (to complete the under sweep).
$60 worth of member's baseball picks absolutely free - no obligation - Free MLB picks here.
Read more articles by Alan Matthews