Five to Follow MLB Betting: Saturday, July 23, 2016, Opening Line Report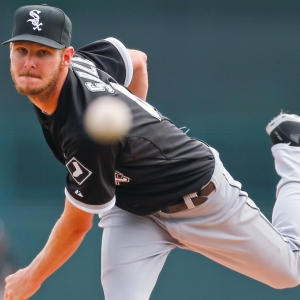 It's tough to be a White Sox fan, especially if you live in Chicago, because almost everything the Pale Hose do is overshadowed by the crosstown Cubs. At least the White Sox have won a World Series since World War I, doing so in 2005. But they have made the playoffs just once since and not finished above .500 since 2012. You have to respect the franchise in that it never totally gives up and does a full-blown rebuild like the Cubs recently did. The White Sox have trouble drawing fans, so they always try to contend. It simply hasn't been working.
Well, things might be changing. GM Rick Hahn admitted on Thursday this franchise is "mired in mediocrity" and that a total rebuild is possible. He said his team won't be trading for short-term rentals but instead anyone is available on the roster other than pitchers Chris Sale and Jose Quintana and rookie shortstop Tim Anderson. Sale would single-handedly rebuild the team's farm system as he'd bring back a ton, but I also understand rebuilding around him.
Giants at Yankees (+101, 9)
Nationally televised matinee (4:05 p.m. ET) on Fox Sports 1 and should have live betting at sportsbooks. The Giants add the DH. Entering Friday's series opener in the Bronx, the Giants were winless in the second half after entering the All-Star break with the best record in the majors. The last team with the first half's best record to lose at least its first five after the break was the 1991 Dodgers, who dropped seven in a row and ended up not making the playoffs. Giants starting pitchers have not been good, and one guy who hasn't been good for a while is Saturday's starter, Jeff Samardzija (9-5, 4.05). He's starting to resemble last year's pitcher while with the White Sox when he was one of the AL's worst. Samardzija has allowed 23 runs over his past five starts, including seven homers. The Yankees' Jacoby Ellsbury is 2-for-6 career off him with a homer and four RBIs. Chase Headley is 5-for-13 with two doubles. It's Ivan Nova (7-5, 4.92) for the Yankees. He had one of his better starts of the year on Monday against Baltimore, allowing one run and four hits over six innings. The Giants' Brandon Belt is 2-for-4 with a double career off him.
Key trends: The Yankees are 11-4 in Nova's past 15 interleague starts. The "over/under" is 5-0 in Samardzija's past five. The over is 3-1-1 in Nova's past five at home.
Early lean: Yankees and over.
Phillies at Pirates (TBA)
Nice matchup of potential futures aces here and for state bragging rights. For the Phillies, it's Aaron Nola (5-8, 4.41), the No. 7 overall pick in the 2014 draft out of LSU. The Phillies have lost his past six, but he was excellent Monday against the Marlins, shutting them out on two hits over six innings. He did take a line drive in the shoulder but initially stayed in the game and checked out OK. Nola's last start had been skipped because he was struggling, so the rest apparently worked wonders. This will be his first career start vs. Pittsburgh. The Bucs go with Tyler Glasnow (0-1, 6.75), the No. 5 overall pick in the 2011 draft out of high school. He made his major-league debut on July 7 in St. Louis and allowed four runs and three hits over 5.1 innings. Glasnow is expected to be called up for this start, although he may not be in the majors too long as he's nearing the team's innings limit for him with minor-league IP included.
Key trends: The Phillies are 0-6 in Nola's past six. The over is 5-0 in his past five on the road.
Early lean: Glasnow hasn't been officially announced as of this writing -- thus the TBA -- but it should be him. I like the Pirates assuming so.
Rangers at Royals (+114, 8)
Also televised on Fox Sports 1. Texas had to put outfielder Shin-Soo Choo back on the 15-day DL on Wednesday and first baseman/DH Prince Fielder joined him. While Choo has been on and off the DL all season, he shouldn't be out much longer than the 15 days. Fielder, however, might need season-ending surgery as an MRI revealed a herniation of discs in his neck just above an area that was repaired two years ago. He missed most of the 2014 season because of the problem. Fielder is having a disappointing season, but I wonder if that means the Rangers might now need to add a lefty bat. Here they start lefty Cole Hamels (10-2, 3.00). The All-Star was brilliant Sunday at the Cubs, allowing one unearned run and four hits with seven strikeouts over eight innings. The Royals' Alcides Escobar is 3-for-8 off him with a triple. Kendrys Morales is 2-for-3 with a homer. Kansas City's Yordano Ventura (6-7, 4.97) hasn't won since June 17. He deserved to Sunday in Detroit, allowing two runs over seven innings but took a no-decision. Adrian Beltre is 4-for-9 off him with three RBIs.
Key trends: The Rangers are 4-1 in Hamels' past five on the road. The Royals are 1-4 in Ventura's past five vs. teams with a winning record. The over is 9-4 in his past 13.
Early lean: Rangers and under.
Mets at Marlins (-145, 6.5)
Pitching matchup of the day here, and, who knows, it could be a wild-card game preview. New York's Jacob deGrom (6-4, 2.38) has won three straight starts and comes off his best one of the year, throwing a complete-game (his first) one-hitter in Philadelphia on Sunday with seven strikeouts. Ironically, the lone hit was a third-inning single by the opposing pitcher. DeGrom faced the Marlins the start before that and allowed two runs over seven innings. Miami's Giancarlo Stanton is 4-for-12 off him with two solo homers. Marcell Ozuna is 6-for-22 with seven strikeouts. The Marlins' Jose Fernandez (11-4, 2.53) also comes off a start vs. the Phillies, allowing two runs and four hits over 6.1 innings against them on Monday with a season-high-tying 14 strikeouts. He became the fastest starter, by innings pitched, to 500 career Ks. Fernandez is 1-0 with a 0.75 ERA in two starts vs. the Mets this year. Asdrubal Cabrera is 1-for-8 off him with four strikeouts. James Loney is 3-for-7.
Key trends: The Mets are 4-0 in deGrom's past four. The Marlins are 17-2 in Fernandez's past 19 at home vs. teams with a winning record. The under is 5-0 in deGrom's past five at home. It is 10-3 in Fernandez's past 13 overall. The Marlins are 5-0 in Fernandez's past five vs. the Mets.
Early lean: Marlins and under.
Dodgers at Cardinals (-102, 8)
Reports are that the Dodgers might be getting close to acquiring Chris Archer from the Rays in the wake of the bad Clayton Kershaw injury news. That would cost plenty to get Archer. The Dodgers go with Kenta Maeda (8-7, 3.25) here. The rookie struggled last time out, allowing five runs and seven hits over 4.1 innings in Arizona. This will be his first look at the Cardinals. St. Louis goes with red-hot Mike Leake (7-7, 4.00). Over his past two starts, vs. the Padres and Brewers, he has gone 13 innings and allowed two earned runs and 12 hits with 21 strikeouts and no walks. He hadn't struck out more than six in a game before this stretch of back-to-back double-digit games. The first 189 times Leake started a major league game, he struck out 10 batters or more twice. Leake and some guy named Bob Gibson are the only pitchers in St. Louis history to record double-digit strikeout games without a walk in back-to-back games. Leake pitched at the Dodgers on May 15 and got the win, allowing one run in six innings. Justin Turner is 7-for-15 career off him. Adrian Gonzalez is 1-for-11. Monitor the status of the Cardinals' Matt Holliday here after he took a pitch off his face on Thursday. Miracle he wasn't seriously hurt and he only was diagnosed with a facial abrasion. Might miss a game or two.
Key trends: The Cardinals are 4-0 in Leake's past four vs. the NL West. The over is 5-1 in Maeda's past six on the road. The over is 4-1-1 in Leake's past six following a quality start in his most recent appearance.
Early lean: Cardinals and over.
Doc's Sports has a great offer for new clients. You can get $60 worth of picks from any Advisory Board handicapper for any sport he handicaps. All with no obligation and no credit card needed. Claim your free picks today .
Read more articles by Alan Matthews