Five to Follow MLB Betting: Saturday, September 3, 2016, Opening Line Report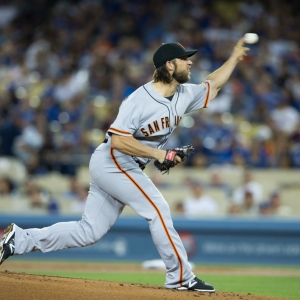 One thing I like about the September call-ups is that it gives you a potential heads-up from a betting perspective on the following season's Rookie of the Year props. Here's the official designation of what makes a rookie in MLB: "A player shall be considered a rookie unless, during a previous season or seasons, he has (a) exceeded 130 at-bats or 50 innings pitched in the Major Leagues; or (b) accumulated more than 45 days on the active roster of a Major League club or clubs during the period of 25-player limit." One guy who will be an AL Rookie of the Year favorite next season is Red Sox infielder Yoan Moncada, who was to be called up Friday. The Cuban Moncada hit .298 with 15 home runs, 61 RBIs, 45 stolen bases and 94 runs scored in 105 games this season in the minors. He generally played second base, but the Sox are set there with Dustin Pedroia so they moved Moncada to third recently, and that's where he should see action the rest of the 2016 season as well as a pinch-runner with his speed. A late-season call-up of a hyped prospect worked well for Boston in 2013 with Xander Bogaerts as he helped to lead the team to the World Series and is now one of the best players in the game.
Giants at Cubs (-148, TBA)
Starts at 2:20 p.m. ET at Wrigley on the MLB Network, and it's a spectacular pitching matchup that could help shape who wins the Cy Young Award this year -- and one we could see again come October. San Francisco starts lefty Madison Bumgarner (13-8, 2.49), who is first in the NL in complete games (four), second in innings (187.2) and ERA and third in strikeouts (207). He had been a bit off in back-to-back starts but beat the Braves on Sunday, allowing three runs and five hits over seven innings. On May 22, Bumgarner dominated the Cubs in throwing three-hit shutout ball over 7.2 innings. Shoot, he even had the RBI double in the 1-0 victory. Anthony Rizzo might get a rare day off as he's 3-for-16 with seven strikeouts off Bumgarner. Ben Zobrist, meanwhile, is 6-for-9 off him with two extra-base hits. Chicago's Jake Arrieta (16-5, 2.84) frankly is only the third-best pitcher on his own team right now. But he's among the leaders in most NL categories. Arrieta wasn't sharp last time out in allowing six runs over 6.1 innings vs. the Pirates but avoided a loss. He beat the Giants on May 20 in allowing one run and four hits over seven innings.
Key trends: The Giants are 0-5 in Bumgarner's past five on the road. The Cubs are 14-5 in Arrieta's past 19 at home. The "over/under" is under in Bumgarner's past four vs. the NL Central. The under is 6-1 in the Cubs' past seven vs. a lefty.
Early lean: Assuming no crazy wind, this should have a total of 6.5. Go Cubs and under.
Astros at Rangers (+100, 9.5)
First pitch of 4:05 p.m. ET and shown on Fox Sports 1 so should have live betting at sportsbooks. Houston entered the weekend 8.5 games back of Texas, so if the Rangers take two of three then the division race is surely over. Houston probably is starting reigning Cy Young winner Dallas Keuchel here. I say "probably" because he was supposed to pitch in Friday's opener but is dealing with some fatigue. So on Friday, Houston manager A.J. Hinch will decide if Keuchel (9-12, 4.55) is OK to go here or will move back to Sunday and rookie Joe Musgrove (2-2, 4.36) will pitch Saturday. It looks to be Keuchel, who is 1-3 with a 5.40 ERA against the Rangers this year. The Rangers were hoping to activate Colby Lewis off the 60-day DL for this game, but he's not quite ready. So instead it's lefty Derek Holland (6-6, 4.68). He has made two starts since a long DL stint of his own and has allowed one run and four hits over six innings in both. Holland beat Houston back on April 19, allowing two runs in five innings. Carlos Correa is 5-for-8 off him with two homers.
Key trends: The Rangers are 6-1 in Holland's past seven at home vs. Houston. The over is 9-2 in his past 11 vs. Houston. The over is 7-1 in Keuchel's past eight in Texas.
Early lean: Rangers and over.
Marlins at Indians (+110, 7)
Miami adds the DH for this interleague matchup -- it's the final AL series of the year for the Marlins. They could use an extra bat as the offense has gone into a funk of late with the Marlins falling back in the wild-card race. And outfielder Marcell Ozuna is battling a wrist injury, so he may or may not play. Miami starts ace Jose Fernandez (13-7, 2.79). He had a rough outing on Aug. 18 in Cincinnati, then got a bit of extra rest and in his past two starts Fernandez has not allowed a run over 13 innings while striking out 15 and giving up nine hits. He doesn't have much history with the Indians. Jason Kipnis and Carlos Santana are both 0-for-3 against Fernandez. Cleveland's Trevor Bauer (9-6, 3.73) threw six shutout innings vs. the Twins in his last outing. Bauer has been rather up-and-down since the All-Star break. He has never faced the Marlins. Ichiro is 1-for-5 off him. Martin Prado is 2-for-2.
Key trends: The Marlins are 1-5 in Fernandez's past six on the road. The Indians are 4-1 in Bauer's past five at home. The over is 13-5 in Fernandez's past 18 on four days of rest. The under is 6-1-1 in Bauer's past eight at home.
Early lean: Indians (Fernandez just isn't the same guy on the road) and under.
Nationals at Mets (+128, 8)
With the Mets' rotation somewhat of a mess at the moment with injuries and skipping occasional starts for guys, New York turns again to rookie Robert Gsellman (1-1, 3.72) for his second start and third appearance. He pitched OK on Sunday in a loss vs. Philadelphia on Sunday, allowing four runs and seven hits over six innings. Gsellman was 4-9 with a 3.99 ERA as a starter this year in the minors. It's his first look at Washington. Max Scherzer and Stephen Strasburg get all the accolades in the Nationals rotation, but Tanner Roark (14-7, 2.87) has thrown seven or more scoreless innings eight times this season, more often than anyone in baseball. He comes off seven shutout innings vs. the Phillies. Roark is 0-1 with a 0.96 ERA in two appearances (one start) this year vs. New York. Yoenis Cespedes -- monitor his status as Cespedes is again battling a quad problem -- is 1-for-9 off Roark.
Key trends: The Nationals are 5-0 in Roark's past five on the road. The under is 8-1-1 in his past 10 vs. teams with a winning record.
Early lean: Nationals and over.
Tigers at Royals (+102, 8)
This follows Astros-Rangers on Fox Sports 1. I think it's fair to say that Tigers AL Rookie of the Year candidate Michael Fulmer (10-5, 2.69) is hitting a wall. He has lost back-to-back starts for the first time and allowed nine runs and 15 hits over 10.2 innings in them. He will be on six days rest here. Fulmer is 0-1 with a 1.98 ERA in two starts this year against the Royals. Kendrys Morales is 3-for-5 off him with two walks. Salvador Perez is 1-for-7. Kansas City's Yordano Ventura (9-9, 4.33) hasn't lost since July 28. But he wasn't sharp Sunday in Boston, allowing four runs and seven hits over 4.1 innings. He is 2-0 with a 1.82 ERA in four starts against the Tigers in 2016. Miguel Cabrera is 5-for-19 off him with three RBIs. Victor Martinez is 7-for-25 with three homers and seven RBIs.
Key trends: The Tigers are 10-2 in Fulmer's past 12 on the road. The Royals are 6-0 in Ventura's past six overall. The Royals are 4-0 in Ventura's past four at home. The over is 5-2 in his past seven at home.
Early lean: Royals and over.
Read more articles by Alan Matthews