Five to Follow MLB Betting: Thursday, August 4, 2016, Opening Line Report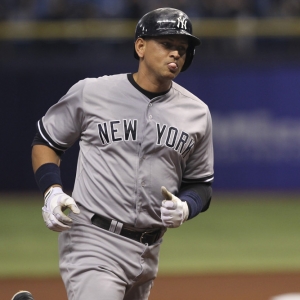 Bovada had released from updated NL Rookie of the Year odds on Tuesday, and Dodgers shortstop Corey Seager was a slight favorite over Rockies shortstop Trevor Story. Well, that's not going to be a race any longer. That's because Story's storybook season is over. He injured his thumb on Saturday sliding into second base against the Mets and then landed on the same thumb when diving for a ground ball. Original X-rays were negative, but MRI results showed a torn ulnar collateral ligament. He will have surgery this week. Quite a shame as Story was on pace to have one of the great rookie seasons for a shortstop in MLB history, hitting .272 with 27 homers (already an NL mark for a rookie shortstop and three shy of Nomar Garciaparra's MLB record) and 72 RBIs. Story actually didn't rule out returning for the postseason, but you can rule out the Rockies making the playoffs. Walt Weiss will use a committee to replace Story.
Twins at Indians (-150, 9)
First pitch of the day at 12:10 p.m. ET and on the MLB Network. This will be the Minnesota debut of lefty Hector Santiago as he was dealt Monday from the Angels in a minor surprise. The Twins gave up free-agent bust pitcher Ricky Nolasco (no loss there) and pitching prospect Alex Meyer. Santiago is 10-4 with a 4.25 ERA in 22 starts this season but leads the AL in walks with 57 in 120 innings. The Angels had won his past seven starts, and he allowed two runs or fewer in five of them. Santiago lost to the Indians on June 10, allowing six runs and seven hits in just 1.1 innings. Jason Kipnis is 6-for-18 off him with three RBIs. Mike Napoli is 3-for-13 with a homer and eight walks. The Tribe go with Mike Clevinger (0-1, 7.71), who has made four big-league appearances in this his rookie season and three starts. He's essentially taking the rotation spot of Danny Salazar, whose MRI came up clean on Tuesday but who still will miss 2-3 weeks. Clevenger is 11-1 with a 3.00 ERA in Triple-A this year. He hasn't faced the Twins.
Key trend: The Twins are 2-5 in their past seven on Thursday. The Indians are 8-1 in their past nine at home vs. a lefty. The "over/under" is 4-1-2 in the Tribe's past seven on Thursday.
Early lean: Twins and over.
Rangers at Orioles (-128, 9)
While the Rangers were the biggest winners on Monday in terms of trades in landing Jonathan Lucroy and Carlos Beltran, I'm stunned the Orioles didn't add a starting pitcher of better caliber than Wade Miley, who was traded from Seattle on Sunday. All the O's did Monday was acquire utility guy Steve Pearce, a former Oriole, from Tampa Bay. The O's do go with the lefty Miley (7-8, 4.98) here. He was very good in his final Seattle start, allowing one run and one hit with nine strikeouts over seven innings at the Cubs. Miley is 0-2 with a 7.41 ERA in three starts this year against Texas. Elvis Andrus is 5-for-15 off him with three doubles. Adrian Beltre is 4-for-15 with a homer. The Rangers go with A.J. Griffin (4-1, 3.99). He got his first win since April 26 last time out, allowing two runs and three hits over 5.2 innings vs. Kansas City. He hasn't faced the Orioles in 2016. Adam Jones is 1-for-3 off him with a homer. Mark Trumbo is 1-for-8 with four strikeouts.
Key trend: The Rangers are 8-3 in Griffin's past 11 starts. The over is 7-2-1 in Texas' past 10 vs. a lefty.
Early lean: Rangers and over.
Mets at Yankees (-127, 8)
MLB Network is also televising this Subway Series finale. It's Bartolo Colon (9-6, 3.58) for the Mets, who will add the designated hitter. Too bad because it's hilarious watching Colon try to hit. He lost Saturday to Colorado, allowing five runs and seven hits over five innings. Colon has now had three really shaky starts in his past five and could be running out of gas at age 43. Alex Rodriguez is a career .442 hitter off Colon with eight homers and 20 RBIs in 52 at-bats, but the Yanks are barely playing A-Rod these days. Mark Teixeira is 12-for-42 with three homers. The Yanks go with Nathan Eovaldi (9-7, 4.78), who was rumored on the trade market. He lost at Tampa Bay on Saturday, giving up three runs and three hits over six innings. He has pitched better since returning from a demotion to the bullpen. The Mets' Curtis Granderson is 4-for-8 against him with two homers. New Met Jay Bruce is 1-for-7. The Mets will be without shortstop Asdrubal Cabrera, who has landed on the DL.
Key trend: The Mets are 5-2 in Colon's past seven interleague starts. The Yankees are 6-1 in Eovaldi's past seven at home. The under is 4-0 in Colon's past four on the road. The under is 4-1 in Eovaldi's past five at home.
Early lean: Mets and under.
Blue Jays at Astros (+110, 8.5)
Have you noticed that Blue Jays lefty J.A. Happ is 14-3 with a 3.16 ERA this season? Wow. Everyone made fun of the Jays when they supposedly overpaid for the free agent this offseason. He struck out 44 of the 121 batters he faced in July (36.3 percent), the highest strikeout rate per batter in all of MLB. Happ dominated the Orioles in his last start, allowing one run and three hits with a season-high-tying 11 strikeouts over seven innings. The Jays have not just won his last nine starts but all of them by at least two runs. Houston's Jose Altuve is 1-for-9 career against him. Evan Gattis is 2-for-9 with a homer and four RBIs. The Astros' Mike Fiers (7-4, 4.42) took a no-decision in Detroit on Saturday in allowing one unearned run and four hits over 6.1 innings. Only a few Jays have faced him. Russell Martin is 1-for-6. Jose Bautista 0-for-3.
Key trend: The Jays are 4-1 in Happ's past five on the road. The Astros are 5-0 in Fiers' past five at home. The under is 5-1-1 in Happ's past seven on the road vs. teams with a winning record. The over is 7-3 in Fiers' past 10 at home.
Early lean: Blue Jays and over.
Red Sox at Mariners (+140, 8.5)
Boston top outfielder prospect Andrew Benintendi -- a guy the White Sox demanded as part of any package for Chris Sale -- was to make his MLB starting debut on Wednesday night (he pinch-hit on Tuesday in his first big-league at-bat) and should be in there again Thursday as he likely will start in left field against right-handers. The 22-year-old 2015 first-round pick was hitting .312 with 31 doubles, 12 triples and nine home runs in 97 games between two minor league levels this season. Meanwhile, Mariners manager Scott Servais has decided to yank a struggling Steve Cishek from the closer's role in favor of rookie Edwin Diaz. The Sox start lefty Drew Pomeranz (8-9, 3.09). He has made three starts since coming over from San Diego and had a second shaky one Saturday at the Angels, allowing five runs in 5.1 innings. I'm starting to think his Padres numbers were a fluke. Pomeranz hasn't faced the Mariners this year. Kyle Seager is 2-for-7 off him with a homer. Seattle goes with lefty Ariel Miranda in his first major-league start. Miranda has made one MLB relief appearance, ironically throwing two innings and allowing three runs in Seattle on July 3. He came over from the Orioles over the weekend in the Wade Miley trade. Miranda had a 4-7 record and 3.93 ERA in Triple-A this season.
Key trends: The Red Sox are 6-2 in their past eight vs. a lefty. The Mariners are 4-10 in their past 14 vs. a lefty. The over is 6-2 in Boston's past eight on Thursday.
Early lean: Red Sox and over.
Read more articles by Alan Matthews