Five to Follow MLB Betting: Thursday, July 28, 2016, Opening Line Report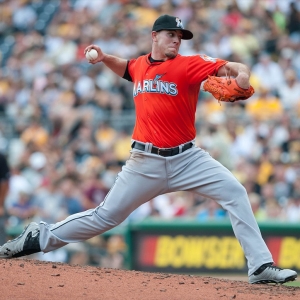 The Miami Marlins are expected to make a trade ahead of the Aug. 1 deadline to add a starting pitcher, but their lineup will get an in-house boost on Thursday with the return of second baseman Dee Gordon from an 80-game PED suspension. But that's the thing, which Gordon is Miami getting? The All-Star from 2015 who led the National League in batting and stolen bases (while perhaps getting some illegal drug support)? Or the guy who was hitting .266 with an awful .289 on-base percentage and six steals in 21 games this year? Derek Dietrich had largely been playing better than Gordon in his spot but has slumped lately so I don't think there will be any type of platoon, although Marlins manager Don Mattingly says Gordon might not play every day until he's back in shape. One thing to consider, however, if the Marlins make the playoffs: that suspension makes Gordon ineligible. As it should.
Rockies at Mets (-200, 7.5)
MLB Network national telecast with a 1:10 p.m. ET first pitch and should have live betting at sportsbooks. New York was swept three games in Colorado earlier this season. The Mets start Jacob deGrom (6-5, 2.73). He comes off one of his worst starts, allowing five runs and a season-high 10 hits over 3.2 innings -- the second-shortest outing of his career -- in a loss in Miami. DeGrom took a no-decision in Denver on May 15, allowing three runs and four hits over 6.1 innings. Nolan Arenado is 1-for-9 off him with a double. Carlos Gonzalez is 2-for-4 with a homer. It's lefty Tyler Anderson (3-3, 3.56) for the Rockies. They may have found something in the 26-year-old rookie as he has held opponents to three runs or fewer in seven of his eight starts. And six of those were in Coors Field. He hasn't faced the Mets.
Key trend: The Rockies are 4-1 in their past five in Game 1 of a series. The Mets are 6-2 in their past eight vs. a lefty. The "over/under" has gone under in three of Anderson's past five. The under is 7-2 in deGrom's past nine.
Early lean: Mets and under.
Cardinals at Marlins (-200, 7)
This could be a wild-card game preview. And if the Marlins were in that game, they surely would be starting ace Jose Fernandez -- unless he was needed on the final day or two of the season -- as they will here. Fernandez (12-4, 2.54) is picking up Cy Young steam. Last time out, he beat the Mets, allowing two runs and seven hits over seven innings with seven strikeouts. He's second in the NL in whiffs. Believe it or not, 12 wins already ties a career high. Fernandez hasn't faced the Cardinals this year. Jedd Gyorko is 2-for-8 career off him with two homers and six RBIs. Matt Holliday is 1-for-5 with a homer. It's Michael Wacha (5-7, 4.37) for the Redbirds. He has three straight no-decisions. One of those was on July 17 vs. Miami, allowing three runs and seven hits in four innings. Martin Prado is 3-for-8 off him with a double. Giancarlo Stanton is 1-for-2 with a double. Ichiro, who is nearing 3,000 hits, is 1-for-4.
Key trend: The Cardinals are 3-7 in Wacha's past 10 road starts vs. teams with a winning record. The Marlins are 5-0 in Fernandez's past five vs. the NL Central. The under is 8-2 in his past 10 at home.
Early lean: Marlins and under.
Royals at Rangers (-170, 9)
Also televised nationally on the MLB Network. Kansas City starts Yordano Ventura, and the Royals have dropped his past five. He lasted five innings and allowed three runs and three hits to these Rangers on Saturday. He left after taking a grounder off his ribs but apparently is fine. Adrian Beltre, who hit that grounder, is 5-for-12 career off him with two doubles and three RBIs. Rookie Nomar Mazara is 2-for-3 off him with a double and homer. Just-promoted Joey Gallo is 1-for-2 against Ventura. The Rangers go with lefty Cole Hamels (11-2, 2.87), who is in the AL Cy Young conversation. He was opposite Ventura on Saturday in Kansas City and got the win, allowing one run and five hits over 5.1 innings. Alex Gordon is 2-for-5 career off him with a double. Kendrys Morales is 3-for-6 with a double and homer.
Key trend: The Royals are 0-7 in Ventura's past seven road starts vs. teams with a winning record. The Rangers are 13-3 in Hamels' past 16 at home. The under is 5-2-1 in his past eight in a series opener.
Early lean: Rangers and under.
White Sox at Cubs (+112, TBA)
Now this will be interesting! Think the Cubs fans will have a bit of fun in this game with Chris Sale's antics in cutting up those throwback jerseys he didn't want to wear last Saturday? Sale returns from suspension for this series finale. I absolutely can't wait to see some of the cleverness in the stands to make fun of Sale, who did act like a spoiled little brat. Might this be his final start with the White Sox? I highly doubt he's traded ahead of the Aug. 1 deadline, but the Sox are at least listening. Sale (14-3, 3.18), who did apologize to the fans and his teammates this week, still is probably the Cy Young favorite and he comes off a dominant start in Seattle when he threw eight innings of one-hit ball but took a no-decision because his bullpen gave up four runs in the bottom of the ninth inning. The Cubs' Anthony Rizzo is 2-for-5 career off him. Ben Zobrist is 6-for-11. Kris Bryant is 0-for-6 with six strikeouts but did homer against Sale in the All-Star Game. The Cubs go with John Lackey (7-7, 3.79). He hasn't won since June 8. Melky Cabrera is 11-for-36 career off him with three doubles and a homer. Todd Frazier is 3-for-20 with six strikeouts and a dinger. The Pale Hose lose the DH here.
Key trend: The Sox are 8-1 in Sale's past nine interleague starts. The Cubs are 1-6 in Lackey's past seven. The under is 8-2 in Sale's past 10 on Thursday.
Early lean: Cubs (call it a hunch that Sale might be distracted).
Nationals at Giants (-151, 7)
Quite possibly a playoff preview as if form held, these would be the No. 2 and No. 3 seeds in the National League behind the Cubs and would play in the NLDS. Both the Nats and Giants are likely to make a move ahead of the deadline as well. Washington starts Tanner Roark (9-6, 3.05). He suffered his first loss since June 21 on Friday against San Diego, allowing five runs and two homers our five innings. The Giants' Brandon Crawford is 1-for-5 against him with a triple and two RBIs. Buster Posey is 3-for-6 with an RBI. It's Johnny Cueto (13-2, 2.53) for San Francisco. He dominated the Yankees last time out, allowing one unearned run and striking out nine in six innings but took a no-decision. Washington's Bryce Harper is 2-for-7 career off him with three walks. Jayson Werth is 7-for-23 with an RBI. Recently activated Ryan Zimmerman is 4-for-14 with a homer.
Key trend: The Nats are 1-5 in their past six in Game 1 of a series. The Giants are 6-1 in Cueto's past seven at home. The under is 5-2 in his past seven there. The Nats have dropped five in a row in San Francisco.
Early lean: Giants and under.
Check this out! $60 worth of member's baseball picks absolutely free - no obligation, no sales people - you don't even have to enter credit card information. 2 minute sign up for free baseball picks here.
Read more articles by Alan Matthews