Five to Follow MLB Betting: Thursday, June 30, 2016, Opening Line Report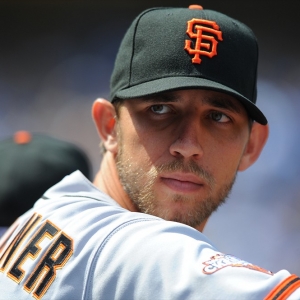 A lost season for the Arizona Diamondbacks might have officially ended on Tuesday night when ace pitcher Zack Greinke left his start after only two innings with tightness in his oblique. Sure, it might be nothing. But oblique injuries also can take several weeks to heal -- especially for a pitcher. Greinke said he thought he hurt himself while driving in a run with a sacrifice fly in the second inning of Arizona's 4-3 loss to the Phillies. Arizona basically has to play out of its mind the rest of the season just to get into the wild-card chase, so any lengthy absence to Greinke pretty much forces the team to look toward 2017 and maybe even sell a piece or two ahead of this year's trade deadline. It's shame because Greinke was just starting to really pitch well, going 4-0 with a 1.47 ERA in his past five starts prior to Tuesday. Greinke (10-3, 3.62) was saddled with the loss vs. Philly, his first defeat since May 12.
Rangers at Yankees (-139, 9)
Earliest game on the board with a 1:05 p.m. ET first pitch as the teams wrap up their series. The Rangers start A.J. Griffin (3-0, 3.08). He returned from about a six-week DL absence -- Griffin's promising early career has been derailed by injuries -- on Saturday against the Red Sox and allowed two runs in 4.1 innings. Griffin has made seven starts this year, and his best was April 26 vs. the Yankees, going a season-high eight innings and allowing a run and four hits. You might not see Alex Rodriguez in the lineup for New York as Joe Girardi has started benching A-Rod against righties. Rodriguez is 2-for-6 career off Griffin with three strikeouts. Jacoby Ellsbury is 1-for-13. New York's Michael Pineda (3-7, 5.51) comes off a quality start vs. Minnesota, giving up one run and two hits over six innings. He didn't face Texas earlier in the season. Mitch Moreland is 4-for-9 career off him with two homers. Prince Fielder is 1-for-3 with a homer.
Key trends: The Rangers are 5-0 in Griffin's past five. The Yankees are 4-0 in Pineda's past four on Thursday. The "over/under" has gone under in three of Pineda's past four at home.
Early lean: Yankees and under.
Cubs at Mets (-101, 7.5)
This will have live betting with the game nationally televised by the MLB Network. Clearly the series of the weekend in a rematch of last year's NLCS, a sweep by the Mets (who were series underdogs). The Cubs' last game at Citi Field was Game 2 of that series, a 4-1 Mets win behind Noah Syndergaard. One guy who wasn't on the Cubs last year was John Lackey (7-4, 3.29), and he gets the call in this one. He has been great this season but not last time out, allowing seven runs and seven hits in 4.1 innings of a loss in Miami. Lackey is 2-0 with a 1.98 ERA in four career starts against the Mets. Curtis Granderson is a career .244 hitter off him with 11 strikeouts in 41 at-bats. New York was to go with Jacob deGrom, but he has been pushed back to Friday. That's because lefty Steven Matz (7-3, 3.29) has been pushed back to here. I told you it wasn't 100 percent that Matz pitched Wednesday vs. the Nationals due to a bone spur in his elbow. Getting one extra day of rest won't solve that but might help make Matz more comfortable so he goes here. He has never faced the Cubs in a regular-season game but allowed one run over 4.2 innings against them in a Game 4 start of the NLCS.
Key trends: The Cubs are 4-1 in Lackey's past five vs. the NL East. The Mets are 1-4 in Matz's past five. The under is 7-2 in Lackey's past nine.
Early lean: Cubs and under.
Marlins at Braves (TBA)
The best pitcher in baseball, at least right at this moment with Clayton Kershaw actually looking mortal and losing his last start, is probably Atlanta's Julio Teheran, who continues to raise his trade stock. Teheran (3-7, 2.46) is working on a career-long 23-inning scoreless streak. He allowed three runs in the first inning of a start against Cincinnati on June 14 and then none in the next six. He has faced the Mets his past two outings and allowed just six hits over 17 innings with 14 strikeouts and no walks. In his last 22 starts dating to 2015, Teheran has held opponents to a .195 batting average and registered a 2.23 ERA. Teheran is 0-4 at home this year despite a 2.80 ERA. No one gets worse run support. He lost at home to Miami on May 29, allowing three runs in 5.1 innings. Christian Yelich is a career .321 hitter of him in 28 at-bats. Marcell Ozuna hits .367 off him in 30 at-bats. Miami goes with lefty Wei-Yin Chen (4-2, 5.00) on an extra day of rest. He took a no-decision last time out vs. the Cubs, allowing two runs in seven innings. Chen is 0-0 in two starts vs. Atlanta this year with a 2.38 ERA.
Key trends: The Marlins are 1-4 in Chen's past five vs. the NL East. The Braves are 0-9 in Teheran's past nine at home. The under is 5-1-1 in his past seven at home.
Early lean: Teheran finally wins at home -- this is TBA because there was some talk that Atlanta might push him back to Friday, but that's not likely now. But there won't be a line until official.
Giants at A's (+161, 7)
The Giants add the DH in this one and go with ace lefty Madison Bumgarner (8-4, 1.99) in the series finale. He has lost two straight starts despite allowing four runs and 10 hits over 14.1 innings in them. The Giants just aren't scoring for him. Bumgarner has thrown at least 100 pitches in 12 straight starts, the longest current active streak in the majors. Bumgarner might pitch angry here because he loves to bat. Oakland's Josh Reddick is 2-for-3 career off him with a homer. Oakland goes with lefty Dillon Overton, a 2013 second-round pick who already has had Tommy John surgery. Overton made his big-league debut Saturday at the Angels and allowed three runs (all solo homers) and seven hits over 5.2 innings. He became the first A's pitcher to start and win his debut since Bobby Cramer on Sept. 13, 2010. Obviously he hasn't faced the Giants. Overton is more of a finesse pitcher and projected as a back-end guy.
Key trends: The Giants are 17-5 in Bumgarner's past 22 road starts vs. teams with a losing record. The under is 5-0 in his past five.
Early lean: Giants and over (because of Overton, not MadBum).
Orioles at Mariners (-114, 8)
Thursday is obviously the final day of June, and the Orioles might be able to set a big-league record in this one. That would be most homers in June, which is 55 set by the 1996 Oakland A's. The most for any month is 58, set by the 1987 Orioles and 1999 Seattle Mariners. Baltimore had 54 homers in June entering Wednesday. The Orioles will face Seattle starter Taijuan Walker (3-6, 3.45). He last pitched June 19 in Boston, throwing five shutout innings. Walker was diagnosed with tendinitis in his foot after that but felt good after a recent bullpen session. He lost in Baltimore on May 18, allowing four runs (two homers) in five innings. Matt Wieters is 3-for-4 with a homer against him. Adam Jones is 1-for-9 with two strikeouts. The O's start ace Chris Tillman (10-1, 3.52). That loss came way back on April 14. Tillman deserved to lose last time out in allowing six runs and 10 hits over five innings vs. the Rays, but his offense bailed him out. Tillman won vs. Seattle on May 18, giving up two runs in 6.1 innings. Robinson Cano is a career .412 hitter off him with two homers and eight RBIs in 34 at-bats.
Key trends: The Orioles are 11-3 in their past 14 on Thursday. The Mariners are 1-7 in Walker's past seven. The over is 7-3 in his past 10 at home vs. teams with a winning record.
Early lean: Orioles and over.
Want to try a baseball handicapper for free? Doc's Sports is offering $60 worth of member's baseball picks absolutely free with no obligation. Sign up for winning baseball picks here.
Read more articles by Alan Matthews