Five to Follow MLB Betting: Thursday, September 1, 2016, Opening Line Report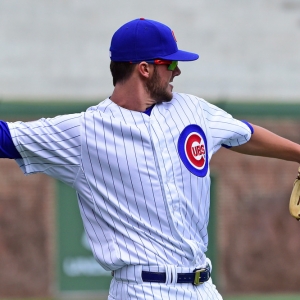 I believe this is a first since I've been doing these stories for the past few years at Docs: there aren't five games to preview on a given day. It's partly why I don't write Sunday for Monday because Monday is usually the slowest day of the week on the schedule, but there are only four games on Thursday, the first day of September. Teams won't be getting much time off the rest of the way as we officially hit the stretch run. Also keep in mind that some managerial strategy will change starting Sept. 1 because that's when rosters expand from the 25-man active roster to the full 40-man if so desired (it's rare to see a big-league active roster with more than 35 at a time). Thus managers can use relievers or pinch-hitters/runners much more freely because you don't have to worry about running out of bodies in a game. The games will thus take longer because of more pitching changes. You are also going to see a lot more young guys get playing time on those teams that are out of the playoff race.
Padres at Braves (-142, 8.5)
Lone matinee on the schedule with a 12:10 p.m. ET start. I'm trying to come up with an angle that makes this matchup between bad teams even remotely interesting, and here's what I got: It's the Padres' final game ever at Turner Field. And the next time the Braves see San Diego it will be on April 13, 2017, to open SunTrust Park in the Atlanta suburbs. Here, San Diego goes with Jared Cosart (0-1, 4.23), who has made five starts with the team since coming over from Miami. Cosart hasn't allowed more than one earned run in each of his past three outings. He took a no-decision vs. the Braves while with Miami on April 17, allowing five runs in 5.2 innings. Freddie Freeman is 4-for-11 career off him with a homer. The Braves are expected to go with Mike Foltynewicz (7-5, 4.30) instead of calling up lefty Jed Bradley, a former first-round pick who has flourished in the minors since being acquired from the Brewers in June. Foltynewicz pitched Saturday at the Giants and allowed a run and five hits over 7.2 innings, his best outing in weeks. He hasn't faced the Padres this year.
Key trends: The Braves are 3-10 in their past 13 vs. a right-handed starter. The "over/under" is 4-1 in Cosart's past five starts.
Early lean: Braves and under.
Marlins at Mets (-179, 7.5)
Miami goes with Jose Urena (2-5, 5.83) in the series finale. He lost to San Diego on Saturday, allowing a run and four hits over 5.2 innings. Urena has now allowed two runs or fewer in four of his last six starts. He is 0-1 with a 4.00 ERA in three outings (one start) in his career against the Mets. Yoenis Cespedes is 0-for-4 off him with two strikeouts. Neil Walker is 1-for-3 with a homer. With the rosters expanding, New York was planning to activate lefty Steven Matz (9-8, 3.40) off the DL for his first start since a brilliant game against San Diego on Aug. 14. But this isn't the first time a possible activation has been pushed back, and now you have to wonder if Matz will pitch again this season. He can't shake shoulder tightness as he felt it again after a bullpen session Monday. So Jacob deGrom (7-7, 2.96) has his start moved up from Friday. He has been shelled over his past two starts, allowing 13 runs and 25 hits over 9.2 innings, so maybe he's not 100 percent, either. He had his normal start in the rotation skipped Monday. DeGrom is 1-1 with a 5.91 ERA in two starts vs. Miami this year. Christian Yelich is 9-for-24 off him with two doubles. Marcell Ozuna is 7-for-24 with two doubles.
Key trends: The Marlins are 2-9 in Urena's past 11. The under is 5-2 in Urena's past seven on the road.
Early lean: Mets and over.
Giants at Cubs (-155, TBA)
MLB Network game and should have live betting. Also a potential NLDS preview if the Giants are one of the wild-card teams and then win that game behind ace Madison Bumgarner (assuming he's available). I know the Cubs wouldn't mind facing San Francisco if Bumgarner was available just for one game. The Giants go with former Cub Jeff Samardzija (11-9, 4.00) in the series opener. The Cubs traded him and Jason Hammel in July 2014 and got Addison Russell (and a prospect) back in a total heist for Chicago. Samardzija comes off his best start in weeks, shutting out the Braves on seven hits over seven innings. "Shark" hasn't faced his former team this year. Kris Bryant is 2-for-3 off him. Jason Heyward is 1-for-11 with six strikeouts. Hammel was originally to pitch against his former teammate but he was moved up to Wednesday and lefty Mike Montgomery (1-1, 3.50) shifted back a day to here. He has made two straight starts for the Cubs in place of the injured John Lackey; his return on Sunday is part of the reason this flip-flop was made. Montgomery hasn't faced the Giants this year.
Key trends: San Francisco is 8-1 in its past nine on Thursday. The Giants are 0-4 in their past four in Chicago. The over is 7-3 in the past 10 meetings.
Early lean: Giants.
White Sox at Twins (+117, 8.5)
Probably plenty of good seats available for this series opener between the fourth-place White Sox in the AL Central and the plummeting Twins (12 straight losses entering Wednesday). I can pretty much guarantee you there will be at least three times as many fans at the Vikings home preseason finale on Thursday night -- even after Teddy Bridgewater's devastating injury news on Tuesday. White Sox lefty Jose Quintana (11-9, 2.77) is second in the AL in ERA. He beat the Mariners on Saturday in giving up one earned run and five hits over 7.2 innings. Quintana is 2-1 with a 3.26 ERA in four starts against the Twins this year. Brian Dozier hits .256 off him with four homers and nine RBIs in 43 at-bats. Joe Mauer is 11-for-34 with two homers. Minnesota's Ervin Santana (6-10, 3.54) comes off one of his worst outings of the year, giving up six runs with four walks over 6.2 innings in Toronto. He still has a 2.65 ERA since the All-Star break. Santana is 1-2 with a 3.86 ERA in 2016 vs. Chicago. Ex-Twin Justin Morneau is 7-for-32 off Santana with four homers. Melky Cabrera hits .313 against him in 32 at-bats.
Key trends: The Twins are 0-4 in their past four in Game 1 of a series. The Sox are 9-3 in the past 12 meetings. The over is 5-2 in Chicago's past seven on the road.
Early lean: White Sox and under.
Read more articles by Alan Matthews