Five to Follow MLB Betting: Thursday, September 22, 2016, Opening Line Report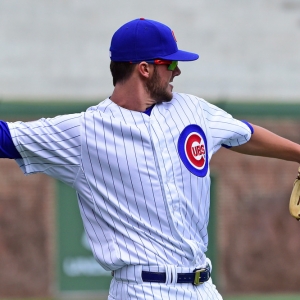 I'll admit that I'm a Cubs fans so I'm a little biased here, but it sure seems like the National League is totally opening up for them. Washington's Stephen Strasburg is hurt. The Mets can barely cobble together a healthy rotation. The Dodgers also are missing a few pitchers (one returns Thursday). And now comes news that San Francisco's Johnny Cueto was to have an MRI on Wednesday. He left Tuesday's start against the Dodgers in the sixth inning with a groin strain. The team doesn't think it's anything major, but you can't mess around with those types of things -- especially as a pitcher. In addition, excellent shortstop Brandon Crawford left with a dislocated left pinky suffered while sliding headfirst into third base. It's great news for the Giants it's only a dislocation and not a break and also that it's on his glove hand. So Crawford is likely to only miss a game or two.
Red Sox at Orioles (+128, 8.5)
Should have live betting with it televised on the MLB Network. Presumably the Orioles will do something to honor David Ortiz as this will be his final regular-season game at Camden Yards, a place he has always hit well. It's possible the Red Sox and Orioles could face off in the playoffs. Boston throws lefty David Price (16-8, 3.91). His streak of seven straight winning decisions ended Saturday vs. the Yankees as Price had his worst start in a while by allowing five runs and nine hits in six innings, but Boston would win the game. Price is 2-1 with a 3.67 ERA in four starts vs. the Orioles this year with a complete game. Chris Davis is 9-for-31 off him with two homers and 15 strikeouts. Adam Jones hits .254 off Price in 59 at-bats without a homer and 17 strikeouts. Baltimore's Chris Tillman (16-6, 3.72) was beaten by the Rays on Saturday in allowing three runs in 5.2 innings. He has faced Boston once this year and won at Fenway on June 14 with one run given up over seven. Ortiz is 7-for-36 against him with a homer.
Key trends: The Red Sox are 4-0 in Price's past four on the road. The Orioles are 13-3 in Tillman's past 16 vs. the AL East. The Orioles are 7-1 in Tillman's past eight at home vs. Boston. The "over/under" has gone under in 10 of his past 14 vs. the Sox.
Early lean: Red Sox and under.
Royals at Indians (-155, 9)
It's Kansas City's final game in Cleveland this year. The Royals are close to being eliminated and turning their attention to next year, and one guy in their rotation plans for 2017 is lefty Jason Vargas. He made his first start in about 14 months off Tommy John surgery on Saturday and went three innings and allowed a run and two hits. He was on a pitch count and will be here. Cleveland's Mike Napoli is 12-for-32 off him with four homers and six RBIs. Jason Kipnis hits .333 against Vargas in 21 at-bats. Cleveland rookie Mike Clevinger (2-2, 4.76) is suddenly pretty important as he will be a part of the postseason rotation in some form due to injuries. But he hasn't gone more than 5.2 innings this year and has yet to face Kansas City.
Key trends: The Indians are 2-5 in Clevinger's past seven. The under is 4-0 in his past four. The over is 5-2 in Vargas' past seven vs. Cleveland.
Early lean: Royals and over.
Tigers at Twins (+133, 8.5)
Pretty much one of those must-win games for the wild-card chasing Tigers as they finish up their season series with the sorry Twins and have ace Justin Verlander (14-8, 3.22) on the mound. He hasn't won in four starts even though three of them have been quality. He threw seven shutout innings with one hit allowed Saturday in Cleveland but the Tigers lost 1-0. Verlander is 1-0 with a 2.35 ERA in two starts this year vs. the Twins. Joe Mauer hits .333 off him in 75 at-bats with four homers. Brian Dozier is 4-for-21 against Verlander. Minnesota's Ervin Santana (7-10, 3.38) has been one of the better pitchers in the AL since the All-Star break with a 2.82 ERA. He also comes off a start of seven shutout innings, at the Mets, but also got a no-decision in a game his team lost. Santana is 0-0 with a 1.50 ERA in two starts against the Tigers. Victor Martinez is 11-for-35 off him with two homers. Miguel Cabrera is 7-for-27 with a homer.
Key trends: The Tigers are 6-2 in Verlander's past eight in Minnesota. The under is 5-1 in his past six on the road overall. The under is 6-2 in Santana's past eight vs. teams with a winning record.
Early lean: Tigers and under.
Angels at Astros (-171, 8.5)
Houston isn't dead in the wild-card chase yet as it opens a four-game series against the terrible Halos. The Astros need a sweep in the worst way, though. They go with Mike Fiers (11-7, 4.46) on Thursday. Fiers comes off six shutout innings in Seattle, throwing first-pitch strikes to 16 of 21 batters. He is 1-1 with an 8.44 ERA in two starts against Los Angeles. Mike Trout is 3-for-10 against him with a homer and two doubles. Albert Pujols is 1-for-10 with a dinger. The Angels' Ricky Nolasco (6-14, 4.78) certainly proved me wrong last week when he beat Toronto with six scoreless innings, striking out seven. His ERA with the Angels is 4.03 compared to 5.13 with the Twins before the trade. Nolasco hasn't faced Houston this year. Jose Altuve is 0-for-2 career against him.
Key trends: The Astros are 11-3 in Fiers' past 14 at home. The over is 3-0-1 in his past four vs. Los Angeles.
Early lean: Astros and over.
Rockies at Dodgers (-175, 8)
The Dodgers could wrap up the NL West Division this weekend depending on what San Francisco does. This four-game series closes out L.A.'s regular-season home slate. The Dodgers go with lefty Brett Anderson (0-2, 24.75) here. He has been hurt basically all year, starting the season on the DL following back surgery and then dealing with a blister. Anderson has pitched only four-big league innings and not since Aug. 20 in Cincinnati. The Rockies' Nolan Arenado is 5-for-10 career off him with a homer. Carlos Gonzalez is 1-for-10. Colorado's Tyler Chatwood (11-9, 4.13) was shelled last Friday at home by San Diego, allowing seven runs in five innings but avoided the loss. Chatwood has given up at least six runs in three of his last four outings. He is 1-2 with a 4.00 ERA in three starts against the Dodgers. Corey Seager is 2-for-8 off him with a homer. Justin Turner is 2-for-10 with two doubles.
Key trends: The Rockies are 10-2 in Chatwood's past 12 on the road. The under is 9-2-1 in his past 12 vs. teams with a winning record. The under is 4-0 in his past four vs. the Dodgers.
Early lean: Rockies (Chatwood has been excellent on the road this year) and under.
Read more articles by Alan Matthews