Five to Follow MLB Betting: Tuesday, April 19, 2016, Opening Line Report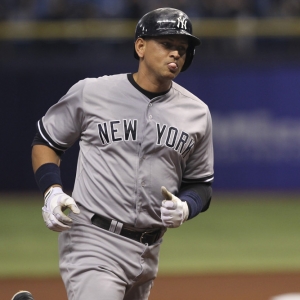 If I'm a non-AL East team playing the New York Yankees in April and getting them out of the way for at least a series, then I'm thankful. That's because that New York bullpen is going to be ridiculous once lefty Aroldis Chapman comes off suspension early next month. It's already filthy with right-hander Dellin Betances and lefty Andrew Miller. Those two each struck out the side in their one inning pitched against Seattle on Sunday. Of the 33 outs gotten by the duo combined this season, 27 have been by strikeout. They have faced 38 batters allowed an aggregate five hits, no earned runs and walked two. In seven of their 11 combined appearances, either Betances or Miller has struck out the side. Beat the Yankees now folks because it's going to be much tougher soon. Note: no trends available for Tuesday's games as of this writing.
A's at Yankees (-160, 8)
New York was able to avoid being swept at home by the Mariners on Sunday thanks in part to a two-run homer by Alex Rodriguez. Manager Joe Girardi was hitting A-Rod in the No. 3 hole but he had been struggling mightily. He was moved to sixth on Sunday and Carlos Beltran up to No. 3. Rodriguez's homer ended a 19 at-bat hitless streak, two shy of the longest drought of his career. It was career dinger No. 689. He's still not close to the Mendoza Line at .118 on the season. The Yankees were just 1-for-35 with runners in scoring position in the series. They go with Michael Pineda (1-1, 6.55) here. He struggled in his debut but was good last time out, allowing two earned runs over six innings in Toronto. He has faced Oakland three times in his career but those were all five years ago while he was still with Seattle. It's lefty Eric Surkamp (0-1, 4.00) for the A's and I doubt he's in the rotation much longer. Surkamp has yet to last more than 4.2 innings in two starts. He has never faced New York.
Early lean: Yankees and over.
Mets at Phillies (+100, 7)
How will young Phillies right-hander Vincent Velasquez (2-0, 0.00) follow the most dominant outing of his career? Last Thursday, he threw a three-hit shutout with 16 strikeouts and no walks against San Diego. That's a game score of 97 and it could hold up as the best of the season. There were only seven better games in 2015, topped by Max Scherzer's 17-strikeout no-hitter that had a score of 104, the second-highest in MLB history. There have been only 13 game scores of 100 or higher in a nine-inning game. Velasquez was the fifth-youngest pitcher to finish with at least 14 strikeouts and no walks, joining Kerry Wood (he has highest game score), Vida Blue, Dwight Gooden and Jose Fernandez. The Padres swung at 38 of the 79 fastballs Velasquez threw and put just six in play. Last year as an Astros rookie, Velasquez allowed three runs in 8.1 innings vs. the Mets. New York goes with Logan Verrett with Jacob deGrom still out. Verrett blanked the Marlins on three hits over six innings on Wednesday in deGrom's spot.
Early lean: Phillies and under.
Dodgers at Braves (+121, 7.5)
Last July, the Dodgers were involved in a 13-player trade with the Marlins and Braves in which Los Angeles got pitcher Alex Wood, among others. He faces his former teammates for the first time here. I was really high on Wood (1-1, 4.50) while with Atlanta but he's been uneven in Dodger blue. He wasn't good in start No. 1 this year but was last Wednesday against Arizona, allowing just one run on five hits over seven innings. Only a few Braves have faced him and obviously with other teams. Atlanta started 0-9 but won three straight in Miami over the weekend so the Braves try for home win No. 1. They were scheduled to start Matt Wisler, but he was needed to pitch in relief in the 10th inning Sunday in the Braves' 6-5 win. So now it's expected to be Julio Teheran (0-2, 6.35). He has gotten progressively worse in his three starts this season. The Dodgers' Adrian Gonzalez is 4-for-12 off him with a homer and four RBIs. Yasiel Puig is 4-for-6 with a homer.
Early lean: Dodgers and over.
Angels at White Sox (-125, 8.5)
Who will be the best Matt/Mat? It's Matt Shoemaker (1-1, 6.00) for the Angels. He was crushed in his season debut against Texas in Anaheim but shut out Oakland on one hit over six innings last Wednesday on the road. Shoemaker really struggled on the road in 2015 with a 5.04 ERA in 15 outings. Shoemaker faced the White Sox once last year and allowed seven runs -- three homers -- in 5.2 innings. Avisail Garcia is 2-for-3 off him with two dingers. Brett Lawrie is 6-for-12 with a homer. It's Mat Latos (2-0, 0.75) for the Pale Hose and he has been a terrific free-agent signing thus far. Latos has gone six innings in both starts and allowed just four total hits. This will be his home debut. Andrelton Simmons hits him well, going 5-for-9 with two doubles. Mike Trout is 1-for-6 with two strikeouts. Trout has done very little this season.
Early lean: White Sox and under.
Cubs at Cardinals (-118, 7.5)
This is nationally televised on the MLB Network and should have live betting at sportsbooks. This probably will be the best rivalry in baseball this season with the Cubs stealing away Jason Heyward and John Lackey this offseason from the Cardinals and Heyward saying he left because he expected the Cards to start slipping because of their collective age. There has been other chirping back and forth. Chicago starts Jason Hammel (1-0, 0.75), who looks like a different guy than the one that was really bad at the end of 2015. Hammel has allowed only eight hits over 12 innings. He was 1-1 with a 5.73 ERA in three starts a year ago vs. the Cardinals. Randal Grichuk is 2-for-6 with a homer and three RBIs off him. Yadier Molina is 6-for-13 with three doubles. Cards lefty Jaime Garcia (1-0, 2.40) comes off the best of his career, a complete-game one-hitter against the Brewers with a career-high 13 strikeouts. The lone hit was a single in the sixth inning. Garcia didn't face the Cubs in 2015. Heyward is 2-for-12 off him. Dexter Fowler is 0-for-9.
Early lean: Cardinals and under.
Read more articles by Alan Matthews