Five to Follow MLB Betting: Tuesday, August 16, 2016, Opening Line Report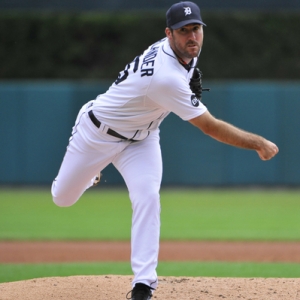 When previewing Saturday's MLB games, I mentioned I hoped the Marlins would now miss the playoffs because they were skipping ace Jose Fernandez's spot in the rotation on Sunday and thus depriving us a terrific pitching matchup against the White Sox's Chris Sale (who wasn't very good on Sunday). Apparently the MLB gods were listening. Star slugger Giancarlo Stanton suffered a serious groin strain -- believe me, I wish that upon no one -- in Saturday night's game while running the bases, was placed on the disabled list Sunday and is expected to miss the rest of the regular season. That obviously puts a big hurt on Miami's playoff chances; starting pitcher Adam Conley joined him on the DL on Sunday. Stanton ranks first on the Marlins in home runs (25), RBIs (70) and slugging percentage (.496). This is the third straight year Stanton's season has been cut short due to injury. In six full seasons, Stanton has played in more than 123 games only twice. Now there's talk the team might sign Alex Rodriguez (please don't!), although he obviously can't play the outfield. But first baseman Justin Bour is also injured and presumably A-Rod could play there. Ichiro Suzuki should play every day in the outfield with Stanton out.
Brewers at Cubs (-180, TBA)
Your lone matinee of the day and it's an unusually early one in Chicago with a 1:20 p.m. ET start. That's because it's the first game of a day-night doubleheader. This one is a makeup game of an April 27 rainout. Former Cub Matt Garza (4-4, 4.83) is on the mound for Milwaukee. He beat the Braves last time out, allowing two runs and seven hits over six innings; the Brewers have won his past four outings. Garza got a late start to the season due to injury and thus hasn't faced Chicago in 2016. Jason Heyward is 3-for-18 off him career but with two homers and five RBIs. Miguel Montero likely will get the start behind the plate in this game as he's 8-for-21 off Garza with a homer. The Cubbies go with Trevor Cahill (1-3, 3.07) in a spot start. He has been on the DL since July 9 with a knee injury but has made six starts in Triple-A. He had a 4.58 ERA in those. Cahill has thrown 5.1 innings of relief this year vs. Milwaukee and not allowed a run. Ryan Braun is 1-for-4 career off him with two RBIs.
Key trends: The Brewers are 1-6 in Garza's past seven on the road. The Cubs have won five straight after an off day. The "over/under" is 5-1 in Garza's past six on Tuesday. The under is 6-0 in his past six vs. Chicago.
Early lean: Brewers.
Red Sox at Orioles (-114, 10)
This will be nationally televised by the MLB Network and should have live betting at sportsbooks. This could be a wild-card game preview; it would be if the season ended today. The Orioles have won six of 10 against Boston this year. The Orioles go with Yovani Gallardo (4-4, 5.17). He comes off perhaps his best start of the year but still lost, allowing a run and four hits over six innings in Oakland. He faced Boston on April 11 at Fenway and gave up five runs and seven hits over five innings in a no-decision. David Ortiz is 5-for-10 career off him with a homer. Jackie Bradley Jr. is 2-for-5 with two doubles. The Sox go with lefty Eduardo Rodriguez. (2-5, 5.43). He comes off perhaps his best start of the year in a no-decision vs. the Yankees, allowing a run and three hits over seven innings. Rodriguez is 1-1 with a 6.10 ERA in two starts this year vs. the Birds. Adam Jones is 4-for-11 off him with a homer and five RBIs. Manny Machado is 4-for-13 with two doubles.
Key trends: The Sox are 1-5 in Rodriguez's past six vs. teams with a winning record. The Orioles are 5-0 in Gallardo's past five at home. The under is 5-0 in those five. The over is 4-1-1 in the past six meetings in Baltimore.
Early lean: Red Sox and over.
Royals at Tigers (-135, 8)
Clearly the pitching matchup of the night. It's lefty Danny Duffy (9-1, 2.82) for the Royals. They won his ninth straight start Thursday as Duffy threw a complete game, his first career, against the White Sox, allowing one run and seven hits. He now leads the American League in ERA and has a 1.73 ERA in his past five starts. Duffy has made four appearances this season vs. Detroit, two of them starts, and is 1-0 with a 6.75 ERA in 13.1 innings. Victor Martinez hits him well, going 9-for-28 with two homers and five RBIs. J.D. Martinez does not, going 1-for-14 with eight strikeouts. Detroit's Justin Verlander (12-6, 3.42) took a no-decision last time out in a duel with Seattle's Felix Hernandez, allowing one run and seven hits over seven innings. It was Verlander's eighth straight start allowing two earned runs or fewer. He is 2-0 with a 3.21 ERA in two starts this year vs. the Royals. Kendrys Morales is a career .325 hitter off him with two homers in 40 at-bats. Salvador Perez is even better, batting .469 off Verlander with eight doubles, two homers and 14 RBIs.
Key trends: The Royals are 5-0 in Duffy's past five vs. teams with a winning record. The Tigers are 4-0 in Verlander's past four vs. K.C. The under is 4-0 in his past four at home.
Early lean: Tigers and under.
White Sox at Indians (-171, 7.5)
Another good pitching matchup, and these two guys were All-Stars this year unlike Duffy and Verlander, but I rank this showdown below the Royals-Tigers. The Sox go with lefty Jose Quintana (9-8, 2.85). He's Mr. No-Decision and took one last time out despite allowing just a run and four hits over 7.1 innings in Kansas City. He left with a 1-0 lead, but that lousy Chicago bullpen quickly blew that. Quintana is second in the AL in ERA and 0-1 with a 3.29 ERA in two starts this year vs. the Tribe. Jason Kipnis is a career .244 hitter off him in 41 at-bats. Mike Napoli is 3-for-15 with a homer. Cleveland's Corey Kluber (12-8, 3.21) won a fourth straight start Thursday, allowing three runs and four hits over six innings vs. the Angels. He beat the White Sox in his lone start against them this year, allowing one earned over 7.1 innings on May 25. Jose Abreu is 12-for-31 off him with three homers. Todd Frazier is 1-for-15.
Key trends: The under is 6-0 in Kluber's past six vs. Chicago and Quintana's past six vs. Cleveland. The Tribe are 5-0 in Kluber's past five at home.
Early lean: Indians and under.
Twins at Braves (+125, 8.5)
Plenty of good seats available for this one! This is the worst series of the rest of the year, but it might mean something toward getting the No. 1 overall pick in next year's draft. Atlanta swept two games in Minneapolis from July 26-27. The Twins lose the DH here. Minnesota's Ervin Santana (5-9, 3.62) has won back-to-back quality starts since taking a loss against the Braves on July 27 when he threw a complete game and allowed two runs. Minnesota was shut out in that one. Santana pitched for the Braves in 2014 and had a good season. Freddie Freeman is 0-for-9 career off his former teammate. Atlanta goes with Joel De La Cruz (0-5, 4.09). He left his last start Wednesday after being struck on the knee by a comeback grounder but apparently is good to go here. He had allowed four runs and seven hits before leaving. De La Cruz has never faced the Twins.
Key trends: The Twins are 1-8 in Santana's past nine in Game 1 of a series. The Braves are 1-11 in their past 12 interleague home games. The under is 9-1-1 in Santana's past 11 in Game 1 of a series.
Early lean: Can I pass? Twins and under.
Read more articles by Alan Matthews