Five to Follow MLB Betting: Tuesday, August 9, 2016, Opening Line Report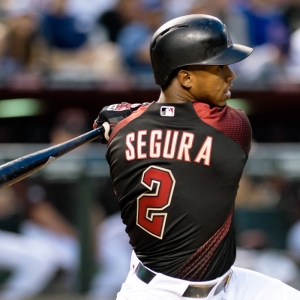 Great moment Sunday in watching lock first-ballot Hall of Famer Ichiro Suzuki become the 30th member of the 3,000-hit club, and in perfect Ichiro fashion he did it on a triple. It's still amazing to me that guy got to 3,000 hits despite not arriving to Major League Baseball until he was 27. Since Ichiro's debut, 13 Japanese position players have made the move to MLB. I've actually read that Ichiro has tremendous power and that he could probably hit 25-30 homers in a season if that's all he focused on. The only thing lacking from his career now -- Ichiro was the AL MVP and Rookie of the Year in 2001, holds the all-time single-season hits record (262 in 2004) and set a record with at least 200 hits in each of his first 10 seasons -- is a World Series ring as he has never played in one and I doubt the Marlins get there this fall. If you are wondering, the next active player likely to reach 3,000 hits will be Texas third baseman Adrian Beltre. He has 2,878 hits as of Monday, so it won't be until next year.
Rangers at Rockies (-116, 12)
This is your lone matinee of Tuesday with a 3:10 p.m. ET start, and the Rangers will lose the designated hitter in the interleague matchup. That's generally newly acquired Carlos Beltran, but he also can play the outfield. That said, Beltran has been injured by a quad injury, so he might be limited to pinch-hitting. Texas goes with A.J. Griffin (5-1, 4.05). He won at Baltimore last time out, allowing three runs -- all solo homers -- over 5.2 innings. Griffin has never faced Colorado. Mark Reynolds has seen him, going 0-for-3 with a strikeout. Colorado's Tyler Chatwood (10-7, 3.63) lost to the Dodgers in his most recent start, allowing four runs and nine hits over six innings. He has been way, way better on the road than at home this season. Beltre is 2-for-5 career off him with two RBIs. Beltran, if he plays, is 1-for-3 off him with three RBIs.
Key trends: The Rangers are 6-0 in Griffin's past six in Game 2 of a series. They are 5-2 in his past seven on the road. The "over/under" has gone under in seven of Chatwood's past eight at home.
Early lean: Rangers and under.
Yankees at Red Sox (-183, 9.5)
This game is nationally televised -- of course it is being Yankees-Red Sox -- on the MLB Network and should have live betting at sportsbooks. New York is of course in full youth mode, and reportedly catcher Brian McCann passed through waivers over the weekend so he can now be traded anywhere. The Braves had some interest in bringing him back but only if the Yankees ate some of the money remaining that's owed to McCann, who also has a full no-trade clause. I'll be curious if Yankees manager Joe Girardi lets the retiring Alex Rodriguez play in any of these games at Fenway and I'd be curious to see the reaction A-Rod gets in Boston, where he was nearly traded by the Rangers way back when. The Yanks go with youngster Luis Severino here as he takes the rotation spot of the traded Ivan Nova. Severino (1-6, 6.02) last pitched in relief vs. the Mets on Wednesday, allowing an unearned run in 4.1 innings. He lost to Boston in a start on May 8, giving up four runs in 6.2 innings. David Ortiz is 3-for-5 off him with three solo homers. It's Rick Porcello (14-3, 3.46) for Boston. On Saturday in Seattle he allowed three runs over eight innings in losing for the first time since May 17. He's 1-1 with a 1.93 ERA in two starts vs. the Yankees this season. Jacoby Ellsbury is a career .429 hitter off him with four solo homers.
Key trends: The Yankees are 0-8 in Severino's past eight starts. The Sox are 14-3 in Porcello's past 17 at home. The over is 4-1 in his past five on Tuesday.
Early lean: Red Sox and over.
Indians at Nationals (-205, 7)
Cleveland will lose the DH in this interleague matchup of division leaders. Nationals manager Dusty Baker sounded confident that Bryce Harper would play here. He sat Sunday after leaving Saturday's game with a stiff neck. Harper is hitting .233 with 20 homers and 57 RBIs, quite disappointing numbers after his epic 2015 season and terrific April. Washington starts Max Scherzer (12-6, 2.87) here, and he has dominated since June with a 1.84 ERA. He won in Arizona on Wednesday in allowing three runs and four hits over eight innings with 11 strikeouts. Scherzer didn't face the Indians in the teams' earlier series in Cleveland. Jason Kipnis is 6-for-31 career off him with 11 strikeouts. The Indians' Trevor Bauer (7-5, 4.08) hasn't won since July 1. He was shelled for eight runs in 2.2 innings last time out vs. the Twins. Bauer has never faced the Nationals.
Key trends: The Indians are 1-4 in Bauer's past five on the road vs. teams with a winning record. The Nats are 5-1 in Scherzer's past six vs. teams with a winning record. The under is 6-1 in his past seven.
Early lean: Nationals and under.
Diamondbacks at Mets (-117, 7)
Not that it will salvage Arizona's terrible season, but ace Zack Greinke (10-3, 3.62) will make his return from the disabled list Tuesday. Greinke has been sidelined since July 3 with a left oblique strain. Greinke had won his last seven decisions before the injury. He did make two rehab starts in the minors. Greinke hasn't faced the Mets this year. Curtis Granderson is a career .192 hitter off him with 11 strikeouts in 52 at-bats. Jay Bruce is 6-for-35 off him with 10 strikeouts. Mets lefty Steven Matz (8-8, 3.63) has lost his past two. He was roughed up for six runs and six hits over six innings last Wednesday at the Yankees. This will be his first career start against Arizona.
Key trends: The Snakes are 7-0 in Greinke's past seven on the road. The Mets are 1-5 in Matz's past six at home. The under is 5-1 in Greinke's past six.
Early lean: Diamondbacks and under.
Tigers at Mariners (-114, 8.5)
Detroit will call up young lefty Daniel Norris (1-0, 4.85) from Triple-A for this start, taking the place of the injured Jordan Zimmermann, who went back on the DL this weekend. Norris hasn't pitched in the majors since July 4 but allowed one run over seven innings last Thursday for the Triple-A Toledo Mud Hens. Norris did face Seattle on June 23 and allowed three runs -- all solo homers -- over five innings in a no-decision. Leonys Martin, Nelson Cruz and Chris Iannetta all went yard in that game. Seattle goes with lefty Wade LeBlanc (1-0, 4.31). He took a no-decision last Tuesday vs. Boston, allowing three runs and five hits over six innings. LeBlanc hasn't faced the Tigers this season. Justin Upton has seen him the most, going 2-for-19 with five strikeouts. Ian Kinsler is 1-for-2 with two RBIs.
Key trends: The Tigers are 5-2 in Norris' past seven on the road. The over is 5-1 in his past six vs. teams with a winning record.
Early lean: Tigers and over.
Read more articles by Alan Matthews