Five to Follow MLB Betting: Wednesday, July 20, 2016, Opening Line Report
by Alan Matthews - 7/19/2016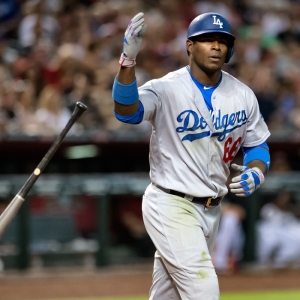 The Aug. 1 trade deadline – it was moved off July 31 this year because that's a Sunday – is rapidly approaching and a new, interesting name has apparently been made available: Dodgers outfielder Yasiel Puig. The Cuban has superstar potential but apparently is a bit of a diva and isn't having a great season, batting .257 with seven homers and 31 RBIs entering Tuesday. His performance has declined since his 2013 rookie year. He's also only 25 and owed just $14 million combined over the next two seasons. The Dodgers have had a ton of outfielders get injured so it's curious they would trade one. But apparently they'd like an OF back that has a bit more power. Perhaps Puig to Cincinnati for Jay Bruce? That kind of deal might help both clubs.
Mets at Cubs (-171, TBA)
This is a 2 p.m. ET first pitch, will be televised by ESPN and have live betting at sportsbooks. If these teams play again in 2016, it most likely will be in the NLDS. The Cubs are going to win the NL Central and I think finish with the best record in the NL. Thus they would then get the wild-card winner in the division series and there's a solid chance the Mets get to that game. New York starts All-Star Bartolo Colon here. Colon (8-4, 3.11) was perfect thought 4.1 innings Friday at Philadelphia but ended up allowing three runs (none earned) in 5.2 innings in the victory. He also beat the Cubs on July 2, allowing two runs and four hits over six innings. Jason Heyward is a career .350 hitter off him with a homer and four RBIs in 20 at-bats. Ben Zobrist is 8-for-16 off him with four homers. The Cubs go with Kyle Hendricks (8-6, 2.41). He came out of the break with a win over Texas on Friday, shutting out the Rangers over six innings on three hits. He didn't face the Mets earlier this year. Hendricks is 6-1 with a 1.50 ERA in 10 home games in 2016.
Key trends: The Mets are 1-10 in Colon's past 11 on Wednesday. The Cubs are 4-0 in Hendricks' past four at home vs. teams with a winning record. The "over/under" has gone under in seven of his past nine at home vs. teams with a winning record.
Early lean: Cubs and under (total likely 8 if wind not blowing out).
White Sox at Mariners (-180, 8)
A 3:40 p.m. ET start. Perhaps Seattle can get back into the wild-card/AL West race now that ace Felix Hernandez (4-4, 2.86) is set to return from a long DL stint on Wednesday. He hasn't started since May 27 due to a strained right calf. It was the longest DL stint of the normally durable Hernandez's career. King Felix says he's 100 percent and will have no restrictions. He's 4-6 with a 3.80 ERA in 16 career starts vs. the White Sox. Newly activated Justin Morneau can't hit him, going 5-for-37 with 10 strikeouts. Brett Lawrie is 8-for-22 against him with a homer. The sliding White Sox go with No. 5 starter Miguel Gonzalez (2-5, 4.40). He lost Friday at the Angels, allowing four runs and five hits over six innings. He hasn't faced Seattle in 2016. Nelson Cruz is 4-for-11 off him with a homer.
Key trends: The Mariners are 6-1 in Hernandez's past seven on Wednesday. The under is 4-1 in Gonzalez's past five. The under is 4-1-2 in Hernandez's past seven at home.
Early lean: Mariners and under.
Giants at Red Sox (-170, 10)
This is an ESPN game and also will have live betting. It's the Boston debut of former Padres All-Star lefty Drew Pomeranz (8-7, 2.47), acquired last week for one of the Red Sox's top pitching prospects. It's the fourth time in Pomeranz's career he has been traded. He hasn't lost since June 14 and shut out the Dodgers on two hits over seven innings in his most recent start back on July 7. Pomeranz has made only three appearances (all in relief) at Fenway Park in his career. He is 0-2 with a 2.60 ERA in three starts against the Giants, who add the DH, this year. Buster Posey is 6-for-13 off him with two homers career off him. Brandon Belt is 0-for-6. The Giants will activate Matt Cain (1-5, 5.34) off the DL. He hasn't pitched since June 13 with an injured right hamstring. The Red Sox's Hanley Ramirez is 13-for-47 off him with two homers and 10 strikeouts. David Ortiz is 0-for-2.
Key trends: The Giants are 1-6 in Cain's past seven on the road. The over is 7-2-1 in his past 10 away from home.
Early lean: Red Sox and over.
Orioles at Yankees (-140, 9.5)
Baltimore will be holding its breath on X-ray results on the right foot of catcher Matt Wieters. He had them Monday night following the Orioles' loss to the Yankees and the results haven't been released as of this writing. Wieters was hit by a pitch in the first inning but did play the entire game so that's encouraging. Wieters, who played in his fourth career All-Star Game last week, is hitting .250 with nine homers and 38 RBIs. The Birds start Yovani Gallardo (3-1, 5.77) on the mound. He took a no-decision on Friday at Tampa Bay, allowing three runs in five innings. Gallardo hasn't faced the Yankees this year. Starlin Castro is a career .390 hitter off him in 41 at-bats. Chase Headley is 9-for-25 against Gallardo with a homer. The Yanks go with Michael Pineda (3-9, 5.56). He was roughed up Friday by Boston, allowing five runs and five hits (three homers) in five innings. Pineda hasn't faced Baltimore this year. J.J. Hardy is 7-for-15 career against him with three homers.
Key trends: The Orioles are 5-1 in Gallardo's past six. The Yankees are 1-8 in Pineda's past nine vs. the AL East. The over is 4-0-1 in Pineda's past five against Baltimore.
Early lean: Orioles and over.
Marlins at Phillies (+110, 8)
If Jeremy Hellickson (6-7, 4.03) pitches well here for the Phillies, there's a pretty good chance it will be his last in their uniform as there's little doubt he's going to be traded by Aug. 1. And one team you often hear after him is the club he faces here: Miami. Hellickson had a streak of four straight quality starts end Friday vs. the Mets, allowing four runs in six innings. He is 1-0 with a 3.97 ERA in two starts this year against the Marlins. Marcell Ozuna is 4-for-9 off him with a homer. Giancarlo Stanton is 1-for-10 with a homer. Marlins lefty Wei-Yin Chen (5-3, 4.90) comes off a no-decision on Friday in St. Louis, allowing four runs and six hits over six innings. He is 0-1 with a 4.91 ERA in two starts against the Phillies this year. Peter Bourjos is 3-for-6 off him with three RBIs. Tommy Joseph is 3-for-3 with a homer.
Key trends: The Marlins are 5-1 in Chens' past six. The Phillies are 2-5 in Hellickson's past seven at home. The over is 5-1 in Chen's past six on the road.
Early lean: Marlins and over.
Read more articles by Alan Matthews