Five to Follow MLB Betting: Tuesday, September 20, 2016, Opening Line Report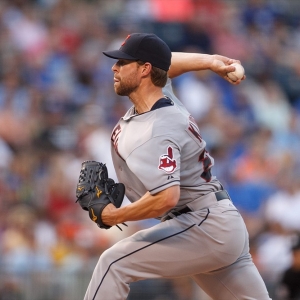 It was not a good weekend for the World Series chances of the Cleveland Indians and New York Mets. The Tribe, who recently lost All-Star right-hander Danny Salazar likely for the rest of the season with a forearm strain, did say goodbye for 2016 to another very good righty, Carlos Carrasco. He broke his right pinkie finger on Saturday when Carrasco was hit by a line drive off the bat of Detroit's Ian Kinsler. Carrasco (11-8, 3.32) missed six weeks earlier this season with a strained left hamstring. So now it's Corey Kluber and a bunch of question marks in that rotation. Meanwhile, the Mets have said right-hander Jacob deGrom is done for the season as he will need elbow surgery. The good news is that it's not a second Tommy John surgery. The 2014 NL Rookie of the Year is 7-8 with a 3.04 ERA this year. So now that New York rotation is Noah Syndergaard and a bunch of questions.
Red Sox at Orioles (-127, 9)
Nationally televised by the MLB Network and should have live betting. Obviously a huge series this week. The Sox go with lefty Eduardo Rodriguez (2-7, 4.98) in Game 2. He lasted only 2.1 innings Thursday vs. the Yankees and allowed four runs and eight hits but avoided the loss as Boston won 7-5. Rodriguez had been pitching well before that. He is 1-1 with a 4.40 ERA against Baltimore, his first big-league organization. He was dealt to Boston in the Andrew Miller trade in July 2014. Adam Jones is 4-for-13 off him with a homer and five RBIs. Chris Davis is just 2-for-14 with six strikeouts. Baltimore's Kevin Gausman (8-10, 3.43) was brilliant in Boston last Wednesday, throwing eight shutout innings and allowing four hits, beating likely Cy Young favorite Rick Porcello. Gausman did throw a career-high 120 pitches, so keep an eye on his stamina here. Boston's Mookie Betts is 6-for-17 off him with two homers. David Ortiz is 8-for-21 with two homers.
Key trends: The Red Sox are 3-7 in Rodriguez's past 10 vs. teams with a winning record. The Orioles are 7-0 in Gausman's past seven at home. The "over/under" has gone under in four of his past six vs. Boston. The under is 4-0 in Rodriguez's past four vs. Baltimore.
Early lean: Orioles and under.
White Sox at Phillies (-127, 9.5)
This game means nothing in the grand scheme of things, but it's one of the worst pitching matchups of the season -- which means I naturally have to go under the total because it will probably end 1-0. That's baseball for you. The White Sox's James Shields (5-17, 5.84) still has a shot at a rare 20-loss season but should avoid it if he can simply get a no-decision here as Shields probably only has two starts left. Chicago's five-game losing streak in Shields starts ended Thursday against Cleveland as Shields allowed one run and three hits in a no-decision. He hasn't won personally since July 26. Shields faced the Phillies on Aug. 24 and allowed four runs over six innings in a loss. Tommy Joseph is 2-for-3 off him with a solo homer. Ryan Howard is 2-for-15 off him with a homer and four strikeouts. Philadelphia had lost five straight starts by rookie Jake Thompson (2-5, 5.64), but he beat Pittsburgh on Wednesday in giving up two runs over six innings. The worst start of his eight was Aug. 23 at the White Sox when Thompson allowed seven runs and eight hits in five innings. Jose Abreu is 2-for-2 off him with a homer and three RBIs.
Key trends: The White Sox are 1-6 in Shields' past seven on the road. The Phillies are 1-5 in Thompson's past six. The under is 4-1 in Shields' past five vs. teams with a losing record. The under is 3-0-1 in Thompson's past four.
Early lean: White Sox and under.
Nationals at Marlins (-150, 6.5)
This could be not just Jose Fernandez's final start of the season but perhaps in a Marlins uniform as there will be some teams like the Dodgers and Yankees making huge offers for him this offseason. The Marlins aren't going to let Fernandez (15-8, 2.99) make his next start if they are out of the wild-card chase. He comes off a win in Atlanta, allowing four runs and six hits over seven innings. Fernandez's three strikeouts were a season low. He is 3-0 with a 1.42 ERA in three starts this year against Washington. Bryce Harper is 4-for-16 off him with six strikeouts. Jayson Werth is 1-for-16 with seven whiffs. The Nationals' Tanner Roark (15-8, 2.75) has to be the team's No. 2 pitcher in the playoffs with Stephen Strasburg hurt. Roark beat the Mets last time out with seven shutout innings. Roark has a 1.08 ERA over his past four. He is 1-3 with a 6.23 ERA in four starts vs. Miami this year, however. Martin Prado is 10-for-21 off him with a homer and five RBIs. Giancarlo Stanton is 5-for-23 with two dingers.
Key trends: The Nationals are 5-1 in Roark's past six on the road. The Marlins are 20-4 in Fernandez's past 24 at home vs. teams with a winning record. The under is 5-2 in Roark's past seven at home. The under is 10-4 in Fernandez's past 14 at home.
Early lean: Marlins and under.
Giants at Dodgers (-153, 7)
ESPN2 national TV game and a spectacular pitching matchup. San Francisco's Johnny Cueto (16-5, 2.86) beat the Cardinals in an important game on Thursday, throwing a complete game and allowing two runs and five hits. He now leads the NL with five complete games, and it wasn't too taxing as Cueto finished it in 105 pitches. Cueto is 2-1 with a 3.18 ERA in four starts this year against the Dodgers. Chase Utley is a career .323 hitter off him in 31 at-bats. Corey Seager is 3-for-14 with four strikeouts. Dodgers lefty Rich Hill (12-4, 2.06) had his worst start of the season on Thursday in Arizona, allowing four runs over 5.1 innings in his first loss with Los Angeles. Hill was hit on the left index finger while attempting a bunt in the fifth inning -- then for some reason barked at Arizona pitcher Archie Bradley, causing the benches to briefly empty -- but he was OK and there was no brawl. Hill's first start as a Dodger was six shutout innings against the Giants on Aug. 24. Buster Posey is 2-for-3 off him. Hunter Pence is 3-for-10.
Key trends: The Giants are 12-4 in Cueto's past 16 on the road. The under is 5-1 in his past six road starts vs. teams with a winning record.
Early lean: Giants and under.
Blue Jays at Mariners (+108, 7.5)
When J.A. Happ pitched for Seattle the first half of the 2015 season, he was still a journeyman lefty who was 4-6 with a 4.64 ERA that year with the M's. He was dealt around the 2015 deadline to Pittsburgh, something clicked and Happ has been great since. Happ (19-4, 3.27) can become the second 20-game winner in the majors in 2016 as he pitches in Seattle for the first time since the deal. Happ comes off a win at the Angels on Thursday, allowing one earned and three hits over six innings. Happ did face the Mariners in Toronto on July 24 and threw six shutout innings. Nelson Cruz is 8-for-17 career off him with two RBIs. Kyle Seager is 4-for-11 with two homers. Seattle's Hisashi Iwakuma (16-11, 3.87) has gotten a decision in 22 straight starts, which is pretty amazing these days. He is 2-1 with a 2.70 ERA in three starts this month. Iwakuma won in Toronto on July 23, allowing two runs over six. Josh Donaldson is 3-for-21 against him with five strikeouts. Edwin Encarnacion is 4-for-12 with a homer.
Key trends: The Jays are 7-1 in Happ's past eight on the road. The Mariners are 8-2 in Iwakuma's past 10 at home. The over is 6-2-1 in Happ's past nine on the road. The over is 7-0 in Seattle's past seven vs. a lefty.
Early lean: Mariners and over. Click here for more free baseball plays.
Read more articles by Alan Matthews