Five to Follow MLB Betting: Tuesday, September 27, 2016, Opening Line Report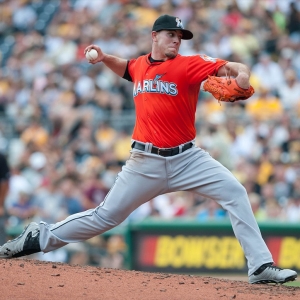 What utterly devastating news for the Miami Marlins franchise early Sunday morning when the team learned that All-Star pitcher Jose Fernandez was killed in a boating accident off Miami Beach. Fernandez was originally to start Sunday and thus probably wouldn't have been out so late at night before a start, but he had been pushed back to Monday. He is the youngest-ever All-Star to die in Major League Baseball. Just a gut punch as Fernandez was off to a Hall of Fame-caliber start to his career, and I've seen a lot of comparisons of him to a young Tom Seaver. From a baseball perspective, this is something the Marlins franchise is going to take perhaps years to recover from. Fernandez, the 2013 NL Rookie of the Year, was easily one of the five best right-handed pitchers in baseball and eventually the Marlins were likely to trade him ahead of free agency and get a mega-haul from some big-market team in terms of prospects. I don't mean to be crass here, but this is a betting site. I would imagine the Marlins are going to mail it in the rest of the way following Fernandez's death. Can't say I would blame them.
Red Sox at Yankees (+177, 8.5)
National TV game on ESPN2 and thus should have live betting. The Red Sox, on a season-high 11-game winning streak, can clinch the AL East with a win. They won't want to let off there, though, as the top seed in the AL is still to play for. Boston goes with red-hot lefty David Price (17-8, 3.91). He comes off a win in Baltimore, allowing three runs and six hits over seven. The Sox haven't lost one of his starts since Aug. 7. Price is 1-2 with an ugly 7.71 ERA vs. New York this season. Brian McCann is a career .345 hitter off him with three homers and seven RBIs in 29 at-bats. Gary Sanchez is 1-for-3 with a homer. New York rookie Luis Cessa (4-3, 4.30) suffered his third straight loss Thursday at Tampa Bay, allowing two runs over six. He is 1-1 with a 3.86 ERA in two appearances (one start) vs. Boston. Hanley Ramirez is 2-for-2 off him with a homer.
Key trends: The Red Sox are 10-1 in their past 11 after an off day. The Yankees are 1-6 in their past seven vs. a lefty. The "over/under" is 10-1 in Price's past 11.
Early lean: Red Sox and over.
Orioles at Blue Jays (-135, 8.5)
These two could meet again next Tuesday in the wild-card game. Baltimore's Kevin Gausman (8-11, 3.57) was roughed up last Tuesday vs. Boston in allowing five runs and 10 hits over 6.1 innings to end a streak of five consecutive quality starts. He was to then pitch Sunday but had a minor intercostal issue and thus pushed back. Gausman is 0-1 with a 7.71 ERA in two starts vs. Toronto this year. Jose Bautista is 1-for-10 against him with a homer. Josh Donaldson is 4-for-14 with two RBIs. Toronto's Aaron Sanchez (13-2, 3.12) has taken a no-decision in his past three, all Jays losses. Yet two of those were quality stats. He is 3-0 with a 3.38 ERA in four starts against Baltimore. Chris Davis is 6-for-14 off him with three homers and eight walks. Adam Jones is just 2-for-17.
Key trends: The Orioles are 1-5 in Gausman's past six in Game 1 of a series. The Jays are 7-1 in Sanchez's past eight in a series opener. The under is 9-2 in his past 11 on five days of rest.
Early lean: Blue Jays and under.
Indians at Tigers (TBA)
Surely the Tigers will be scoreboard watching the Orioles-Blue Jays on Tuesday as it directly affects Detroit. The Indians could help the Tigers by basically punting on this series since they have the AL Central wrapped up (magic number of one entering Monday). Detroit goes with Justin Verlander (15-8, 3.21), and he was a winner as I projected Thursday in Minnesota in allowing two runs and four hits over six innings with a season-high-tying 11 strikeouts. It was his seventh double-digit strikeout game of the season. Verlander is 0-3 with a 6.46 ERA in four starts vs. Cleveland despite throwing seven shutout innings against them on Sept. 17. Jason Kipnis hits .120 off him with 15 strikeouts in 50 at-bats. Carlos Santana has seven homers but 15 strikeouts in 63 at-bats against Verlander. Cleveland continues to try and stretch out rookie Mike Clevinger (2-2, 4.65) as he will be needed as a starter in the playoffs. He took a no-decision vs. the Royals on Thursday, going five and giving up two runs. Clevinger has pitched two scoreless innings of relief vs. the Tigers.
Key trends: The Tigers are 9-7 in Verlander's past seven vs. Cleveland. The over is 14-6 in his past 20 at home vs. the Tribe.
Early lean: No line because the Tribe might sit half their team if they clinch Monday night. I'd go big, big on Detroit if so.
Rays at White Sox (-164, 8)
These two playing out the string. Could this be the final home start for Chris Sale in Chicago? If I were to give odds that he's with the White Sox next year, I'd say it's 60/40 yes. But if GM Rich Hahn gets a mega-offer he wants, I think Sale is in Queens or Dallas or Los Angeles or Boston in 2017. Sale (16-9, 3.19) comes off one of his worst outings of the season, allowing six runs and seven hits in four innings at the offensively-challenged Phillies. Sale's an emotional guy and he might just be going through the motions at this point with the Pale Hose missing the playoffs again. Sale pitched at Tampa Bay on April 15 and threw a complete-game two-hitter with nine strikeouts and no walks. The Rays' Evan Longoria is 1-for-18 career against him with eight strikeouts. Tampa's Alex Cobb (1-1, 6.16) was plastered by the Yankees on Wednesday in his fourth start of the season, allowing seven runs and nine hits in 1.1 innings. The White Sox's Todd Frazier is 1-for-3 career against him. Alex Avila is 4-for-10 with a double.
Key trends: The White Sox are 6-0 in Sale's past six vs. the AL East. The under is 4-0 in Tampa's past four vs. a lefty. The under is 5-2 in Sale's past seven at home.
Early lean: White Sox and under.
Reds at Cardinals (-215, 8.5)
St. Louis has pushed back Adam Wainwright from Monday for this start. Thus, that would line up him for Sunday in a game the Cards might have to win to get into the playoffs -- or win to get into a one-game playoff to get into the playoffs. Or if the Cards are in by Sunday, they could save Wainwright for the wild-card game. Wainwright (12-9, 4.57) didn't just win in Colorado last Tuesday in allowing four runs over 5.1 innings but he also had a career-high four RBIs. He is 0-1 with a 6.06 ERA in three starts this year against the Reds. Joey Votto is a career .225 hitter off him with one homer in 40 at-bats. Tucker Barnhart is 2-for-5 with a homer. Cincinnati rookie Robert Stephenson (2-2, 5.59) makes his seventh big-league start. He has allowed exactly four earned in each of his past three and not lasted more than five innings. Stephenson hasn't seen the Cardinals.
Key trends: The Cardinals are 1-5 in Wainwright's past six at home vs. the Reds. The over is 9-3 in his past 12 overall.
Early lean: Cardinals and over.
Read more articles by Alan Matthews