Five to Follow MLB Betting: Wednesday, July 6, 2016, Opening Line Report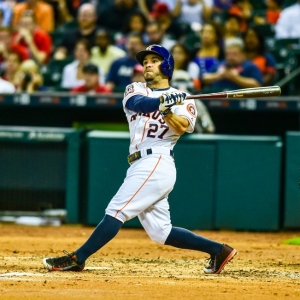 So how desperate are Cubs fans to win the World Series? The All-Star Game is next Tuesday in San Diego, and the rosters were to be unveiled this Tuesday night. The managers are Ned Yost of the Royals and Terry Collins of the Mets. But I mention the Cubs fans for two reasons. For one, they are stuffing the ballot box. The entire Chicago infield of first baseman Anthony Rizzo, second baseman Ben Zobrist, shortstop Addison Russell and third baseman Kris Bryant are expected to be voted starters. So is center fielder Dexter Fowler. Rizzo and Bryant should be, Zobrist is a solid choice, but Russell, although a fine young player, shouldn't be starting. I don't have a huge problem with Fowler, but he's hurt. But there was also a big movement in the Windy City to have fans vote for lousy players in the AL so the National League has a better chance of winning the game. Of course, the winning league gets home-field advantage in the World Series. What a scene a Game 7 of a World Series would be at Wrigley Field.
A's at Twins (+100, 9)
A 1:10 p.m. ET start time. It seems like the A's will be forced to hang onto ace Sonny Gray (3-7, 5.42) this season if they were even thinking about trading him as Gray's value is really low right now and he has spent time on the disabled list. Gray was torched for seven runs over six innings last time out against Pittsburgh. Gray hasn't won in his last 11 starts. He hasn't faced the Twins this year. Brian Dozer is 3-for-7 career off him with a homer and two RBIs. The Twins go with potential trade candidate Ervin Santana (2-7, 4.50). He took a no-decision vs. Texas in his last outing, allowing two runs and three hits over 6.1 innings. Santana lost in Oakland on May 30, allowing three runs in seven innings. Billy Butler is really hit or miss against the guy, going 8-for-37 with five homers, nine RBIs and eight strikeouts.
Key trends: The A's are 1-5 in Gray's past six on the road. The Twins are 1-8 in Santana's past nine at home. The "over/under" is 8-2 in Gray's past 10 on the road. The over is 4-1 in Santana's past five at home.
Early lean: Twins and under.
Reds at Cubs (-173, TBA)
A 2:20 p.m. ET first pitch. You will want to monitor the status of Chicago's Bryant, my pick as this year's National League MVP, for a few days. Bryant left Monday's game with a leg contusion after colliding with teammate Albert Almora Jr. Of course, the Cubs lost left fielder Kyle Schwarber to a season-ending injury very early on in a similar collision with Dexter Fowler. But Bryant's injury isn't serious. He leads the NL with 24 homers -- a whopping third of them vs. the Reds -- and is among the RBI leaders. The Cubs are recalling Adam Warren (3-1, 4.56) to start this game. They sent him down to Triple-A to get stretched out as a starter from a reliever. Manager Joe Maddon is going with a six-man rotation for a while to save wear-and-tear on his guys. Warren has pitched two scoreless innings vs. the Reds this year. Cincinnati goes with Anthony DeSclafani (2-0, 1.78). He took a no-decision last time out vs. Washington, allowing two runs in six innings. He was 1-2 with a 3.10 ERA in five starts last year vs. the Cubs. Bryant, if he plays, is 4-for-12 off him with two RBIs. Anthony Rizzo is just 1-for-17 against him.
Key trends: The Reds are 1-6 in DeSclafani's past seven on the road. The under is 6-2-2 in his past 10 away from home.
Early lean: Cubs.
Mariners at Astros (-160, 8)
Tough not to root for a guy like Mariners lefty Wade LeBlanc (1-0, 1.50). He beat the Orioles on Friday, allowing two runs and three hits over six innings for his first MLB victory since Sept. 23, 2014. His last win was with the Los Angeles Angels against Oakland at the end of his 2014 season. He played for the Seibu Lions in Japan last season and signed a minor-league deal this year with the Blue Jays. He was in the minors when the Mariners acquired him in trade on June 22. Houston's Evan Gattis is 2-for-3 career off him with a homer. Jose Altuve is 1-for-1. The Astros go with Mike Fiers (6-3, 4.12). He hasn't lost since May 27. He was very good Friday in beating the White Sox, shutting them out on four hits over six innings. Fiers hasn't faced Seattle this year. Robinson Cano is 1-for-2 off him with a homer.
Key trends: The Astros are 7-1 in Fiers' past eight at home. The over is 12-5 in his past 17.
Early lean: Astros and over.
Rangers at Red Sox (-191, 10.5)
ESPN game and should have live betting at sportsbooks. These teams could easily play in the postseason. Texas has the AL's best record and a huge lead in the AL West. The Red Sox would be a wild-card team if the playoffs started today, although I still expect them to win the AL East. Texas goes with lefty Martin Perez (7-4, 3.39). He hasn't lost since May 18. Perez took a no-decision Friday at the Twins, allowing two runs over seven innings. The start before that, he beat Boston in allowing one run in six innings. David Ortiz is 2-for-6 off him with a homer. Xander Bogaerts is 0-for-8. It's knuckleballer Steven Wright (9-5, 2.42) for Boston. He has been a little shaky in his past two but did beat the Angels on Friday, allowing four runs and eight hits over five innings. The start before that, the Rangers got him for eight runs (three earned) in 4.2 innings. Elvis Andrus is 1-for-2 off him with three RBIs. Prince Fielder is 3-for-6.
Key trends: The Rangers are 8-0 in Perez's past eight. The Sox are 4-1 in Wright's past five at home. The over is 3-1-1 in Perez's past five on the road. The over is 5-2 in Wright's past seven at home.
Early lean: Rangers and over.
Rockies at Giants (-210, 7)
San Francisco probably wants the All-Star break to get here ASAP as they have three regulars on the DL in outfielder Hunter Pence (torn hamstring), second baseman Joe Panik (concussion) and third baseman Matt Duffy (strained hamstring). Now likely set to join them is center fielder and leadoff man Denard Span (neck). San Francisco goes with Johnny Cueto (12-1, 2.57) in this game, and he certainly should be an All-Star and perhaps the NL's starter with Clayton Kershaw hurt. Cueto actually hasn't been all that sharp his past two outings, though, allowing 10 runs and 15 hits over 13 innings. He is 0-1 with a 0.63 ERA in two starts vs. Colorado this year. Carlos Gonzalez is 7-for-23 career off him with a homer and six RBIs. The Rockies throw lefty Jorge De La Rosa (5-5, 5.98). In four starts since rejoining the rotation after a bullpen demotion, De La Rosa is 3-1 with a 2.25 ERA. He is 1-0 with a 3.12 ERA in two appearances (one start) vs. the Giants in 2016. Buster Posey hits .278 off him with a homer and eight RBIs in 36 at-bats.
Key trends: The Rockies are 0-4 in De La Rosa's past four on Wednesday. The Giants are 12-0 in Cueto's past 12 vs. teams with a losing record. The under is 6-2 in his past eight vs. the NL West.
Early lean: Giants and under.
Read more articles by Alan Matthews