Five to Follow MLB Betting: Wednesday, June 8, 2016, Opening Line Report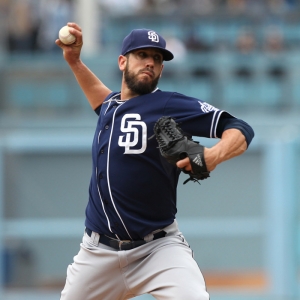 The first big trade of the 2016 season was finalized over the weekend when the Chicago White Sox got some stability for their rotation in landing right-hander James Shields from the San Diego Padres for minor-league pitcher Erik Johnson and shortstop prospect Fernando Tatis Jr. Shields is still owed about $58 million over the rest of his contract, but he can opt out after this season. I somewhat doubt he does because Shields hasn't been very good and he's not going to get that in free agency. The White Sox will only be on the hook for somewhere between $27 million and $31 million on that deal if Shields keeps it. So that seems like a pretty good trade for Chicago. Shields is a very nice No. 3 starter, and that's all the White Sox wanted. He's ultra-durable too. Shields is the only pitcher to exceed 200 innings in each of his past nine seasons. He makes his White Sox debut on Wednesday. Chicago is currently +1100 to win the pennant.
Braves at Padres (-143, 7)
Don't be surprised if one (or both) of the starting pitchers in this 3:40 p.m. ET game is dealt before the July 31 trade deadline as both are definitely available for the right price -- the Padres would pretty much trade anyone at this point. It's Julio Teheran (1-6, 2.92) for Atlanta, and I've heard him linked to the Red Sox and Cubs; Boston needs pitching way more than Chicago does right now. Teheran gave up three solo homers over 5.2 innings in his last start at the Dodgers. He didn't get a decision in two starts last year vs. San Diego with a 2.77 ERA. The Padres' Yangervis Solarte is 5-for-6 off him with a homer. It's lefty Drew Pomeranz (5-5, 2.22) for the Friars, and his value will never likely be higher. He would fetch more than Shields because he's only 27 and is left-handed. Only Pomeranz and Cubs ace Jake Arrieta have five starts without allowing an earned run this year. Just a few Braves have seen him. Freddie Freeman is 0-for-2. Ender Inciarte is 1-for-1.
Key trends: The Braves are 0-5 in Teheran's past five vs. teams with a losing record. The Padres are 1-4 in Pomeranz's past five vs. teams with a losing record. The "over/under" has gone under in five of Teheran's past six. The under is 6-1 in Pomeranz's past seven.
Early lean: Padres and under.
Mets at Pirates (+128, 7.5)
The last thing the Mets can afford is another injury, but outfielder Juan Lagares has been diagnosed with a partially torn ligament in his left thumb. He was hurt making a diving catch in Miami on Saturday. The team hasn't actually put him on the DL yet as there's hope he can play through it, but that seems rather unlikely. Lagares is hitting .276 this season and is a very good defensive player. The Mets start ace Noah Syndergaard (6-2, 1.91) here. He beat the Marlins on Friday, allowing two runs and whiffing nine in seven innings. Syndergaard has faced the Pirates once, in his third career start last year, and gave up four runs (one earned) in six innings. The Pirates have called up their top pitching prospect and one of the highest-rated in baseball in righty Jameson Taillon to make his big-league debut. Taillon, the No. 2 overall pick in 2010, has had some injury issues in his career. This season at Triple-A, he's 4-2 with a 2.04 ERA in 10 starts with 61 strikeouts and only 44 hits allowed in 61.2 innings. Taillon didn't pitch in 2014 or '15 due to Tommy John and then hernia surgery. The Pirates were scheduled to start Francisco Liriano here, but the struggling lefty has been pushed back to Saturday.
Key trends: The Mets are 4-1 in Syndergaard's past five on the road. The under has hit in six of his past nine vs. the NL Central.
Early lean: Mets and under.
Angels at Yankees (-168, 9)
This is nationally televised by the MLB Network (outside the L.A. and New York markets) and will have live betting at sportsbooks. The Angels start Jered Weaver (5-4, 5.18). He beat the Pirates on Friday, allowing two runs and six hits over six innings. But he usually doesn't fare too well against the Yankees with a career 5.83 ERA in 15 career starts against them. Alex Rodriguez is a career .379 hitter off him with five homers and eight RBIs in 29 at-bats. Brett Gardner is only 4-for-22 against Weaver with 11 strikeouts. New York could decide to trade Nathan Eovaldi (6-2, 4.09) if the Yankees fall out of the race. He didn't help his value on Friday, giving up five runs in 5.1 innings in a loss in Baltimore. But he hasn't personally lost since April 20. Mike Trout is 4-for-10 off him with an RBI. Yunel Escobar is 3-for-7.
Key trends: The Halos are 4-10 in Weaver's past 14 on the road. The Yankees are 4-1 in Eovaldi's past five at home. The over is 5-1 in Weaver's past six vs. New York.
Early lean: Yankees and over.
Nationals at White Sox (+142, 8.5)
Washington adds the DH here. With Shields (2-7, 4.28) in tow, the White Sox have shifted Miguel Gonzalez to the bullpen. Shields comes off maybe the worst start of his career, allowing 10 runs in 2.2 innings in Seattle on May 31. He was ripped publicly by one of the owners on a radio show soon after. It was the third game this season that Shields allowed at least two homers. He also has a career-worst 2.11 strikeouts-to-walks ratio, but I still believe it's a solid move for the Pale Hose. Shields has a 4-1 record and a 3.00 ERA over 11 career starts at Chicago's U.S. Cellular Field. The Nationals' Bryce Harper is 1-for-3 off him with a double. Anthony Rendon is 2-for-4. Washington's Max Scherzer (6-4, 3.87) beat the Phillies last time out, allowing two runs and striking out 11 in eight innings. He has made 23 career starts vs. the White Sox and has a 2.54 ERA in them. Jose Abreu is 5-for-17 against Scherzer with a double.
Key trends: The Nats are 8-3 in Scherzer's past 11 on the road. The White Sox are 1-7 in their past eight in Game 2 of a series. The under is 3-0-1 in Scherzer's past four interleague starts.
Early lean: Nationals and under.
Red Sox at Giants (-131, 6.5)
Boston loses the DH for this game. If David Ortiz doesn't start Tuesday's game, he's expected to this be in there for this one at first base. But if he did start Tuesday, he won't Wednesday. How does a David Price-Madison Bumgarner showdown in Game 1 of the World Series sound? Certainly possible and they oppose one another here. All Bumgarner (7-2, 1.91) did last time out was shut out the Braves on four hits over 7.2 innings while striking out 11 to win his sixth straight decision (tying career high) and homered for the second time this season. Over his last 190 plate appearances, Bumgarner has homered 11 times. Thursday was the third time Bumgarner has homered and struck out 10 batters in the same game in his career. The only player with more of those type of games in the divisional era (since 1969) is Hall of Famer Steve Carlton with five. Bumgarner has 13 career homers, two shy of the franchise record for a pitcher. The most for any pitcher in the divisional era is Carlos Zambrano with 24. Bumgarner, who wants to compete in the Home Run Derby at the All-Star Game (but the Giants aren't going to let him and risk injury), has never faced Boston. Price (7-2, 4.88) has shaken off a rough start to the season by allowing three earned runs or fewer in five straight starts. Buster Posey is 3-for-7 with a homer off Price.
Key trends: The Red Sox are 4-1 in Price's past five on the road. The Giants are 9-2 in Bumgarner's past 11 at home vs. teams with a winning record. The under is 8-3 in those 11.
Early lean: Giants and under.
We would like to give you $60 worth of member's baseball picks absolutely free - Sign up for free baseball picks today.
Read more articles by Alan Matthews