MLB Handicapping: How to Bet on Surprising White Sox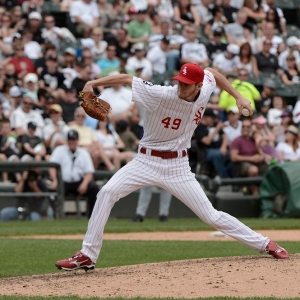 There are always a few surprises in baseball as April turns into May and baseball shifts into a higher gear. This year few teams are any more surprising than the White Sox. We knew that there was going to be a very good team in Chicago, but it was supposed to be the one that plays in Wrigleyville. The Cubs are indeed as advertised the best team in baseball at this point, and they are showing no signs of slowing down. What's truly shocking, though, is that the White Sox are just one win behind them - they have 19 to the 20 for the Cubs.
It would be very difficult to believe anyone who tried to tell you that they saw this coming. They are currently on pace for a ridiculous 110 wins. Their season win total was set below .500 at 80.5 before the season. There were 10 teams in the American League with a higher win total, but at this point there isn't a team with more wins in the League - or any team within three wins, for that matter.
So, how is it happening? Can it keep happening? And what does it mean for bettors? Here are four factors to consider when pondering those questions:
Pitching: The story of the starting pitching is very odd. Two of their five starters have been brilliant at an almost certainly unsustainable level. Jose Quintana (1.40), Chris Sale (1.66), and Mat Latos (1.84) all have very low ERAs. They each have had quality starts in all but one outing, and they are a combined 14-1. Sale is the most successful of that group, but even he is performing at an unsustainable level over the long term. The top end of this rotation is certain to adjust downward going forward. That's an issue.
Then there is the other two starters. John Danks is 0-4 in four starts with a hideous 7.25 ERA. Carlos Rodon is 1-4 in his six starts with a 4.36 ERA. Those two are both not performing nearly as well as they should be capable of. It has been clear so far that the team isn't as comfortable and confident in front of those two as with the top three. That's a real problem.
In the longer term, though, the team is likely to get better performance going forward from these two roster spots than - Rodon or the replacement in the case of Danks who was just released - than they are now. That's a good thing, though likely not enough to overcome the decline up top. Short answer - the pitching isn't likely to be what it has been so far.
Hitting: The success so far has come more from the defense than the offense. They have not been bad at the plate by any means, but seven AL teams have scored more runs than they have. That's actually relatively good news. When you look down the list of hitters and their stats, there isn't a guy who seems to be performing at a level he couldn't at least theoretically maintain. Their best hitter is hitting just .287. The top OPS is .879. The best RBI total is 19 - on pace for 109. I could go on, but the point is simple - this is an offense playing at a reasonably sustainable level, with more players with potential for improvement than decline. This is a reason for optimism, though likely not enough optimism to offset the pitching issues.
The division: The AL Central is not off to the best overall start, and that's probably an issue for the White Sox. They have so far played just five games against their division - going 4-1. The Tigers, Royals and Indians are all likely not playing as well now as they are capable of. That means that games are going to get tougher for the White Sox as things go along -- especially the key divisional games.
The schedule has skewed things in other ways for this team so far, too. They are a fat 8-3 against the struggling AL West so far. They are a much-less-impressive 7-5 against the stronger AL East. They have yet to play an interleague game, too. In other words, they have been flattered by a helpful schedule, and that is obviously going to level out as things go forward.
Harmony: So far the drama of the Adam LaRoche sudden retirement and the challenges that followed it at the time haven't been an issue this year. We know, though, that relations between the players and the front office aren't as strong as they could be - trust isn't in serious surplus here. Winning solves all issues, so right now there isn't reason for tension. If success becomes harder to find, though, then there is a decent chance that issues could flare up and become a problem - the kind of distraction that can derail a season.
Read more articles by Trevor Whenham