MLB Handicapping: Money Doesn't Buy Happiness - or Success - for Dodgers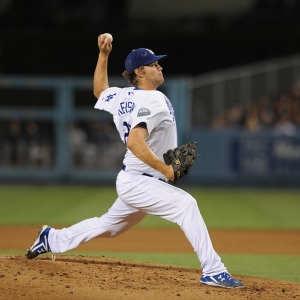 Money just doesn't buy what it used to anymore. The Los Angeles Dodgers have more than $245 million in salary commitments for 2016, which is the highest in the league - $18 million more than the chronically overpaid Yankees and nearly four times as much as the lowest payrolls in the league. Despite that massive spending, they are limping along at just 16-16. Now, that's good enough for a tie for first in the pathetic NL West right now, but it's a long way from acceptable in the bigger picture.
So, what's going on? Why has this team struggled to be more than barely adequate despite the bottomless pockets of their ownership? And can it change in any hurry? Here are six factors to consider when pondering those questions:
Disabled army: The Dodgers currently are paying more than $66 million to guys who are on the disabled list. That is more than the entire payrolls of the Rays and Brewers. Now, part of the reason why that is so high is that the team loves overpaying guys. Still, with Andre Ethier and three starting pitchers - Brett Anderson, Brandon McCarthy and Hyun-Jin Ryu - on the sidelines for 60 days, and several others out for shorter periods, the team is going to face some issues. None of those guys by themselves are the difference between average and outstanding for this team, but the injury bug has been a factor.
Pitching: This Dodgers have been carried by their pitching for years, but this year that isn't going quite as well - predictably given the loss of Greinke and the injuries. Clayton Kershaw has certainly been solid - though perhaps a bit off his best - and Kenta Maeda has been shockingly, and probably unsustainably, good. Ross Stripling has only been okay, though, and Alex Wood and Scott Kazmir have both been disappointing. Add it all up and you have a team trying to get by with two and a half decent starters. It only makes sense, then, that they are winning half their games. Indeed, the team is doing exactly what their pitching suggests that they should.
Age: Many would suggest that the sweet spot for baseball careers falls in the late 20s for most players. The Dodgers miss that entirely. Four of their starters are in their 30s - well into them in a couple of cases. Four others are on their first contract and are 25 or younger. It only makes sense that you are going to have an older team when you have a high payroll - young guys don't get rich in baseball. Still, you have to at least consider that the age range here is a contributing factor to the general lack of oomph the team has shown so far.
Manager change: It was definitely time to make a change at the top for this team, and I was never particularly a fan of Don Mattingly and the job he did. It can take a while for a new man to instill his beliefs and get buy-in, though - especially when the guy comes from outside the organization. It is far too early to judge Dave Roberts and the job he is doing with this team - the sample size is too small. It's not tough to argue, though, that the transition hasn't entirely taken yet, and that that is a factor in the outcome of the season so far.
Schedule: Winning the division is a massive advantage over a wild-card berth in the new playoff format. To win the division you need to take care of business in your division. On that front they are doing reasonably well - their 11-8 record is above their overall performance and is the best in the division by a sizeable amount. They also have a winning record against every team in the division except the Giants, and at 3-4 they are certainly within striking distance. The NL West is not out of the gate well this year, so the fact that the Dodgers are doing well is a promising sign - a bright spot amongst some generally underwhelming indicators for this team this year.
Betting performance: When you have a public team that is playing pretty flat you have a recipe for betting disappointment. The Dodgers are in the bottom quarter of the league in terms of moneyline performance on the year and are far from profitable on the runline, too. The only saving grace from a betting perspective is the "under" - they have gone under 19 times and "over" just 11. Hard not to make a profit with that kind of a split. In fact, that puts them among the most profitable totals teams in the league.
Read more articles by Trevor Whenham