MLB Handicapping: Reasons for New York Yankees Struggles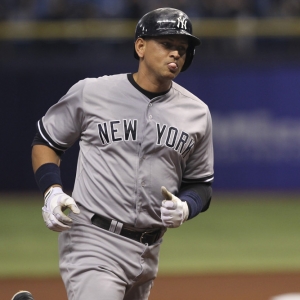 The Yankees have, for a long time, been the definition of a successful franchise. You can love them or hate them - and they have been very easy to hate - but you have to have at least begrudging respect for them. They've been fueled by endless buckets of money, but they had turned that cash into success.
Well, it's a different story right now. They still know how to spend money, but the results aren't there right now. They aren't terrible, but they aren't any good, either. They are two games under .500 as I write, and it sure doesn't feel like they are underachieving dramatically to get there.
Rotation issues: To be a major league team you need to have a major league rotation. Quite simply, the Yankees don't. The pitching has rarely been the true strength of this team, but this is bad even by their standards. Masahiro Tanaka has been solid, but that's about it. C.C. Sabathia is 5-5, and it doesn't look like he has the stuff anymore to be much better. Michael Pineda is a trainwreck. Nathan Eovaldi is not good enough to be a starter on a team in a market like this. Ivan Nova and Luis Severino aren't a good pitcher combined.
It's not the worst rotation out there, but it isn't one that is doing the team any favors, either. Even worse, it's hard to imagine a corner getting turned in a big way or that the rotation will drive a second-half surge. They could be a little better, but they are never going to be great as a unit.
Lack of an offensive stud: It used to be terrifying to play against the Yankees. They had multiple ways to beat you. They had endless swagger and the game to back it up. That just isn't there anymore. Carlos Beltran is having nice season, and there are a few others doing some good things, but there isn't a single guy that commands the respect that we used to see on this team.
Opposing fans used to watch this team with hushed awe. Now it's no different than playing against a dozen other teams in the league. There is no excuse for it to be like that in this market, and the lack of that aura hurts this team badly.
Management: Joe Girardi is not a bad manager. He has won a World Series and was named NL Manager of the Year in his prior stop. He has been here since 2008, though, and it sure feels like he is treading water.
The message of any manager starts to get old after a while, and I find it hard to believe that isn't the case here.
Combine that with a front office that has clearly lost their hot touch, and you have a team in a funk. That can wear on a team - and it obviously seems to be the case here. Until a change happens, I find it hard to get really excited about this team in a real way.
Road play: It's simplistic, but I have a general rule - I won't respect a team until they can play well on the road. This team doesn't. They are 16-21 away from home. Nine teams in the AL have more road wins. It doesn't mean anything by itself, but it is another indicator of what I have been saying - this just isn't a great team right now.
Division: The AL East isn't as strong as it has been in recent years, but it still presents more than the Yankees can likely overcome. The Orioles will likely take a step back at some point, but they have a nine-game lead on New York. The Red Sox and Jays are both four games up on the Yankees, too.
The big issue, though, is that the Yankees are a lousy 10-17 against the division so far. They will have plenty more chances, but it isn't a promising start. Another reason to be pessimistic.
Last year: This is not a great place to be, and it is worse than last year, but there are some parallels to draw. Last year the team was just a game above .500 at the end of May. They went on to be a wild-card team. This is a month later, and there is less to like about the team, but you would be mistaken to entirely rule out the possibility that they will contend. It's okay to be skeptical, but that's it.
Betting performance: What is striking here is not that the team has been a bad bet - that's a given for a team below .500 in most cases - but that they aren't worse. There are 10 teams that have been a worse bet so far. That's a clear sign that the team isn't nearly as public a team as they once were. If they had this kind of record five years ago when the public loved them blindly they would be setting records for the amount of money they had lost.
Yet more proof that this team is in a widely-viewed funk.
Read more articles by Trevor Whenham