MLB Handicapping: San Francisco Giants Getting Job Done at Betting Window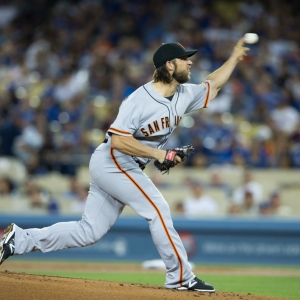 The Giants were expected to be good. They had the highest season win total when those numbers were first posted before the season. They certainly have not disappointed. Only the Cubs have a better record in the National League, and the Giants have a comfortable six-game lead in the NL West. It has been a solid season - both on the field and at the betting window.
For bettors, then, the questions are clear - how are they doing it, and can they be expected to keep doing it? Here's a look at seven factors to ponder:
Top three starters: You couldn't ask for much more from these top three starters. The team made a big financial commitment to two of the three this offseason, but the risk has paid off so far. Johnny Cueto has been spectacular - 11-1 with 13 quality starts in 16 outings. Jeff Samardzija seemed like a bad idea to me, but 8-6 with a 3.91 ERA is about what he is being paid to do. Then there is the old standby - Madison Bumgarner has a stellar 1.99 ERA and 14 quality starts in 16 outings. He is as good as he should be. These top three are championship-caliber and should stay at that level. They aren't the problem.
Bottom two starters: But then there is the rest of the rotation. This gets kind of ugly. Jake Peavy has been bad. Matt Cain, once so fantastic, has been much worse. Albert Suarez has been fine, but it sure doesn't feel like he's a real answer. They have all kinds of issues. It sure feels like this is a team that needs to go out and find a fourth starter if they want to take this all the way. Without a move here, or some dramatic improvement of some form from one or more of the arms on the roster, this would be a major concern heading into the playoffs.
Sharing the load: The thing I like about this team more than anything right now - and there is a whole lot to choose from - is that they share the heavy lifting offensively so nicely. A lot of teams are built around one or two guys who drive what they do offensively. That's not the case here - not to the same extent, anyway. Different guys do different things well, but no one is the clear leader. It makes the team much more immune to a potential slump than a squad that relies heavily on a guy or two. That, in turn, makes it much easier to believe that this team can sustain what they are currently doing.
Relatively balanced: The team has the fourth-best offense in the National League currently. They have the fifth-best defense. They aren't succeeding to the extent that they are because of a particularly dominant aspect of their game. They are just sound and mostly consistent - and that has been good enough as often as not. Again, it is easier to believe that this team can sustain what they are doing because of this balance than if it was because of one particularly strong aspect of their game.
Division: The Dodgers are fine but still find ways to disappoint, and they aren't any more mentally tough under new management than they were before. The Rockies have scored the second-most runs in baseball and still have a negative run differential. They can't play defense at all. It's a wasted year for the Diamondbacks and a waste decade for the Padres. The Giants are a very solid 24-13 against their division so far, and there is no reason to think that they can't keep up the success in the games that count most. If they do falter to some extent then the wild-card race isn't shaping up to be that tough - Miami and St. Louis are tied for the last spot with just a .526 record. At this point it would be tougher for them to fall out of the playoffs than it would be to stay in given even a reasonable level of play.
Betting performance: The Giants have been the third most profitable team in baseball to this point, behind only the Rangers and Orioles - two teams that have been more of a surprise than San Francisco. They have been profitable both at home and on the road but have produced more profits away from home - not at all surprising given their 25-14 road mark.
Experience: As you can tell, I believe in this team. The biggest reason for that is that they just know what they are doing because they have done it. The core has won it all - as many as three times. Cueto won last year. They have far more collective experience with winning than the Cubs or Nationals, and that certainly doesn't hurt.
Doc's Sports Handicapping Service would like to offer you $60 of member's baseball picks absolutely free - no obligation, no sales people - Free daily MLB picks here.
Read more articles by Trevor Whenham