MLB Handicapping: Toronto Blue Jays Quickly Falling out of Playoff Picture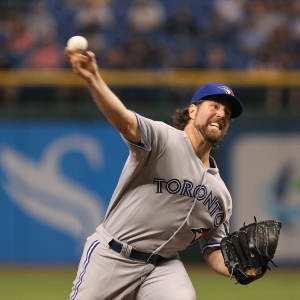 What a horrid start to September it has been for the Toronto Blue Jays. A month ago it seemed as if they were not only going to win the AL East for the second straight year but that they were going to run away from the competition. They were rounding into form and looked dangerous. Now, though, they have lost four straight series. They find themselves a game behind Baltimore, two games behind the Red Sox, and just a game up on the Tigers and two games up on the Yankees and Mariners in the wild-card race. They have gone from seemingly a sure playoff team to one that will soon find themselves on the outside looking in if they keep up their current level of poor play.
They are just 3-9 since the start of the month, and the issues have been compounded by the fact that all 12 games have been against divisional opponents. So, what is wrong with this team? And can they shake it off in time to get back in contention? Here are seven questions to consider when pondering this team:
Starting pitching: Before the all-star break the starting pitching for this team was the biggest story. Now it perhaps still is. The difference, though, is that before the break the talk was positive. They were among the top rotations in the league. Since then, though, they have struggled mightily.
Marcus Stroman has lost his mojo. Marco Estrada just doesn't have his stuff. J.A. Happ is suddenly inconsistent. R.A. Dickey looks done. Aaron Sanchez has been fine, but not what he was. It's just not pretty. You can't help but notice, either, that things went off the rails right when management tried to manhandle the rotation. Aaron Sanchez is on track to be an ace - the best kind of ace. This is his first year as a starter after coming out of the bullpen last year, so workload was and is a concern. Initially the front office announced that Sanchez, the best pitcher the team has had this year, would be pulled from the rotation and used in the bullpen. The players weren't thrilled with that decision, and the fans nearly revolted. The team backtracked and kept starting Sanchez but switched to a six-man rotation to give him more rest. They even sent him to Single-A for 10 days to skip a start and get rest. It has all been heavy handed.
Sanchez has been okay through it all, but the confusion and extra rest has seemed to disrupt the rest of the arms badly. They can get back on track - they were so good in the first half - but it is certainly no guarantee that they will.
Bullpen: Last year the bullpen was dominant. When it got into the late innings it was over. Brett Cecil, Aaron Sanchez and Roberto Osuna were a spectacular trio, and the added pieces were impressive as well. This year the bullpen has had some bright spots, but you just haven't had that same confidence. Osuna isn't as bulletproof, and they haven't truly and consistently found a cast of characters behind him that works. It's far from their biggest issue, but it is definitely an issue.
Bats: Last year the Jays just pummeled opponents into submission with their bats. They scored 5.5 runs per game - by far the most in baseball. This year they have dropped to 4.8 runs. That's not terrible - still fifth best in the American League - but they just aren't as dominant as they have been. Jose Bautista is having a truly ugly contract year. Defending MVP Josh Donaldson is dealing with an injury now and had forgotten how to hit this month before then.
We could go on and on, but the point is clear - far too often this team needs runs they aren't getting this year, and it has really changed things. Much of the same talent is in place as was last year, so there is a chance they can get back on track.
Killer instinct: Last year, especially after Troy Tulowitzki and David Price joined the team, this squad had a major swagger. They knew they were going to win, and down the stretch they mostly did. Now, as often as not, they seem beaten as soon as they find any adversity. The further they get into their current slump, the more they seem to feel sorry for themselves. They have lacked the ability to shake things off, and it has been a real struggle of late as a result.
Swagger can certainly return, but even when the team has been at their most successful this year they haven't looked or felt the same.
Schedule: The Jays play four in a row in Anaheim. That should be somewhat manageable. It's also the last potential rest they get down the stretch. After that things get brutal. First they head to Seattle for three games that suddenly have big wild card implications. Then it is three straight divisional battles to close things out - at home against the Yankees for four and then the Orioles for three and then at the Red Sox for the last three games of the year.
You can look at that schedule in a number of ways. If the team could quickly find their game - discover missing magic in the shadow of Disneyland - then they have the ability to control their fate and a schedule that could see them win the division. If they struggle like they have recently, though, then this schedule will be the final nails in their coffins.
At this point this squad needs to channel the 1993 edition of this team. They went on a similarly foul skid in early September, losing six in a row at one point after prior struggles. They were able to shake that off, though, qualify for the playoffs, and they went on to win their second straight World Series.
Read more articles by Trevor Whenham