2016 MLB Home Run King Futures Betting Odds and Expert Predictions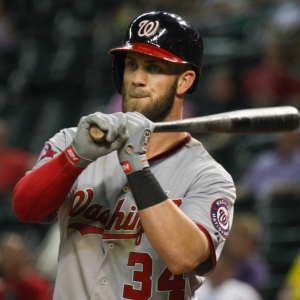 People love a slugger, and in this era we certainly aren't short of guys who can launch a ball into orbit. It isn't like the glory days of Bonds, Sosa and McGwire, but then the pharmaceutical usage isn't what it was, either. With so many good hitters out there, the race for the home run title couldn't be more competitive or wide open. That makes home run futures just fascinating. As we head into the start of spring training, here are some of the most interesting futures prices offered by BetOnline:
Giancarlo Stanton (+700): If all goes well then Stanton is unquestionably the deserving favorite here. After all, he hit more than 0.36 home runs per game last year - good enough for a total of 59 on a full season. Chris Davis led the majors with 47 home runs. The problem with Stanton, though, is that he is a durable as wet toilet paper. He managed to play just 74 games last year, and in two of the three previous years he was out for 39 and 48 games. Over his six-year career he is averaging just 118 games per season. At last year's pace he would hit 43 home runs in 118 games - not enough to win the home run title most years. So, if you are willing to bet that Stanton can stay healthy then you might like this price. For me, though, there is just too much risk involved for the potential reward to be attractive. No value here despite him being probably the best pure power hitter in the league.
Chris Davis (+1200): Davis led the majors in four-baggers last year and again in 2013. In between his two wins the champ was then-teammate Nelson Cruz. Obviously, then, Camden Yards is a good place for a home run hitter to play, and Davis is a proven commodity. Davis had an off year the season after his last title, though, so another big year is far from assured. His price is fair but nothing more - no value here.
Bryce Harper (+1200): The amazing thing about Harper is that he is still only just 23. His best years should be still ahead of him. He led all of baseball in slugging percentage and on base percentage last year, and he had 42 home runs last year, so he is very capable here. His health is something of a concern despite a good year last year, but if he can stay healthy he's a real contender. I really like him at this price - as long as he tones down his temptations to punch out teammates.
Mike Trout (+1200): In the last three seasons the 2014 MVP has seen his home run title climb from 27 to 36 to 41 last year. If he can keep up that trajectory he'd take the title this year. That's a big if, though. Trout is too much of an all-around talent to be singularly focused on the long ball - he doesn't need to hit a lot of home runs to have another huge year. On top of that, after a career without a significant injury it is quite possible that he could miss some time this year. I don't like the price.
Kris Bryant (+1400): Bryant is a remarkable talent coming off a remarkable rookie season. He played most of the season last year, though - 151 games - and had only 26 home runs. That means that he'll need to take a giant step forward this year to contend in this race. He has the talent, but it just feels like this is too soon for him. Not at this price.
Edwin Encarnacion (+1600): He has the second-most home runs in the majors since 2012, so he is consistently reliable. His best mark is just 42 home runs, though, and he's 33 and not the most physically sound. He also has a looming contract crisis that could weigh on him this year - he is looking for a long extension that the Blue Jays haven't yet given him. He'll be in the mix, but he sure doesn't look like a winner to me.
Nolan Arenado (+2000): In his third year in the majors last year Arenado had 42 home runs. In the two prior years, though, he had a combined 28 homers. Can he sustain his major step forward, or was he just a flash in the pan? He has the advantage of working in the thin air of Denver for half of his games, and he'll turn 25 in the first month of the season, so he has the potential to continue to improve. My gut doesn't love the price, but you could argue that he is relative value compared to some at lower prices.
Nelson Cruz (+2000): Two years ago Cruz led the majors in home runs with 40 for the Orioles. Last year he moved to Seattle, hit four more home runs, and finished second behind Chris Davis. It's a heck of a two-year run. His previous season best was 33, though, and he had exceeded 30 only once. Seattle isn't generally a home run paradise, and Cruz will be turning 36 midway through this season. There are more reasons to be skeptical than optimistic here.
Want free sports betting picks? Doc's Sports has you covered - get $60 worth of picks free from any of Doc's Sports expert handicappers. Click here for free picks (new clients only).
Read more articles by Trevor Whenham