2016 SEC Tournament Predictions and NCAA Basketball Odds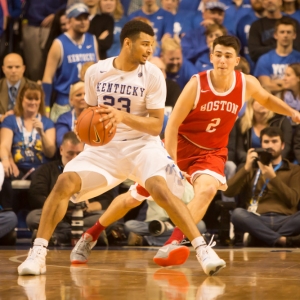 For the better part of the past decade the SEC has been a football-only conference. SEC basketball has been dominated by Kentucky and Florida, with the rest of the league simply serving as fodder to the two titans and as a novelty for Southern fans in between bowl games and spring practice.
But the SEC is in the opening stages in what could be a Renaissance for the league. The conference has seen a major influx of coaching and freshman talent. And while a lot of teams in this league are still a little too raw for this season's Big Dance, I think that this week's SEC Tournament will serve as the opening chapter in what is a dramatic and noteworthy era for several teams down in the Dirty South.
The SEC Tournament will take place at Bridgestone Arena in Nashville. It starts on Wednesday, March 9, and will conclude Sunday afternoon. Here is Doc's Sports 2016 SEC Tournament preview and predictions:
The Favorite: Kentucky (-200)
The Wildcats enter the tournament as the second seed, but there is no doubt that they are the favorites to win the title this weekend. However, for as dominant as Kentucky has been both nationally and in the SEC, they have won the SEC tourney just once in the last four years and "only" three times in the last 11 seasons. John Calipari has another young team, led by stud guard Jamal Murray, and they obviously have the talent to run the table in Nashville. However, the Wildcats have been incredibly shaky away from home this year, with all eight of their losses coming on road or neutral courts. It still takes a nearly flawless effort to beat Kentucky. And their path as the No. 2 seed actually looks easier than if they were the top seed in this tournament. So when all is said and done, Calipari's kids are still the team to beat.
The Contender: Texas A&M (+150)
Most teams are either young or experienced. Texas A&M might be the only team in the country that is both young AND experienced. The Aggies' starting five features four senior starters, including two, Dan House and Anthony Collins, that are fifth-year players. However, after that A&M relies on three freshmen and a sophomore that have never produced at the level the Aggies are ascending to. A&M survived a February swoon that saw them drop four straight and five of six games to become the top seed in this tournament. They have home wins over Iowa State, Kentucky and Vanderbilt in the last five weeks, and this team has Sweet 16 potential. The Aggies haven't been great outside of College Station, though, and they weren't able to win their lone preseason tournament.
The Sleeper: Vanderbilt (+900)
It is easy to forget that the Commodores were actually ranked in the Top 20 coming into the season and they made it as high as No. 13 in the Coaches' Poll in early December. They bumbled to a 0-3 SEC start that left them at just 8-7 and as an afterthought. But Kevin Stallings got this group going, and they have been solid at 11-5 since. Vanderbilt has beaten both Kentucky and A&M, and the Commodores will be motivated to secure an NCAA Tournament bid with a strong showing this week. Playing close to home doesn't hurt, either, and the key for Vanderbilt will be to continue playing strong defense (allowing just 67.1 points per game their last seven) and knocking down outside shots to relieve the pressure from their strong center combo of Damian Jones and Luke Kornet. Vandy should take down a weak opponent in their first game, and then they face a wobbly LSU squad in the quarters. As hot as they are, the Commodores should be a tough out this week.
The Spoiler: Georgia (+2500)
My first thought was the Ole Miss would be a dangerous team in this tournament. But a poor draw should do them in. So I'm looking at Georgia as a team to make a potential run. March is about guard play. And the Bulldogs have one of the best backcourts in the SEC. Seniors Charles Mann and Kenny Gaines work with 5-foot-10 junior dynamo J.J. Frazier to give the Bulldogs a trio of players that have played in and won a lot of big games for UGA over the years. If they take out a young Miss State team in the opening game the Bulldogs will face a South Carolina team that A) is struggling with success and B) they beat twice already this season. UGA's veteran guards would then wind up and take a big swing at Kentucky in the quarterfinals, and this is a team with boom-or-bust potential this week.
Early Round Matchup To Watch:
No. 8 Florida (-3.5) vs. No. 9 Arkansas (7 p.m., Wednesday, March 12)
This should be a really good opening game for these teams, and the winner will definitely have a chance to take down top seed Texas A&M in the quarterfinals. Arkansas is barely above .500 (16-15) but has won four of five heading to Nashville. The Razorbacks have three overtime losses and five other losses by four points or less, so their record doesn't reflect just how tough this team is to knock out. Florida is a team playing for its NCAA Tournament life, and they are looking to shake off a disastrous 1-4 stretch stumble. But a closer look shows that all four losses came to top teams in the league. The Gators have talent and athleticism; they just struggle to make shots. But senior Dorian Finney-Smith is one of the most versatile players in the league and is capable of singlehandedly leading this team to a couple wins. The Gators won the only meeting this year, an 87-83 barnburner down in Gainesville on Feb. 3, and they haven't lost to the Razorbacks since 2013. I expect a tight game throughout, and whoever makes the most free throws (both teams are shaky at the line) will have the upper hand.
2016 SEC Conference Tournament Predictions: I think that Kentucky actually benefits from not having the No. 1 overall seed. While they are the favorites, I think that Coach Cal will bring his guys to Nashville with a little chip on their shoulder because they aren't the top dogs (or, er, cats). I expect several upsets in this bracket. The margin between the No. 3 seed (South Carolina) and the No. 9 seed (Alabama) is razor thin, as evidenced by Alabama's 23-point win over the Gamecocks earlier this season! But Kentucky should overwhelm their first two opponents, putting them in the championship game against whoever survives the top half of the bracket. By then the Kentucky faithful would have swarmed this "neutral" site, and I think if Kentucky makes it to the finals they will be impossible to beat.
Robert Ferringo is a member of the Basketball Writer's Association of America and a professional sports handicapper for Doc's Sports. He is considered one of the best college basketball handicappers in the country and he is on an unbelievable run right now, more than doubling his clients' bankrolls in the last six weeks while earning $11,800 in profit! Robert has banked 10 straight winning college basketball regular seasons and his $100-per-Unit bettors have taken home over $40,000 in winnings so far this decade. There is no better moneymaker in the nation and Robert is looking forward to another amazing March Madness. Click here to get two days of college basketball picks for free - no hassle and no credit card needed.
Read more articles by Robert Ferringo