Super Bowl Betting and Handicapping: How Public Bias Influences Lines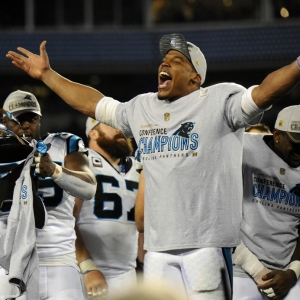 There is no higher-profile game to bet on than the Super Bowl. It's as big as it gets. When you are betting on any game you need to be aware of the biases that the public could have in perceiving how the game turns out and what impact that could have on how the lines are set and how they move. In the Super Bowl we need to be far more aware of public biases because the number of casual bettors who bet on this game is exponentially higher than normal. By understanding what the major public biases can be we can understand what oddsmakers have to contend with when setting a line and adjusting it, and we can get a better picture of where value may be found. Here are three major public biases that are going to have an impact on the way this game is perceived and the way we need to handicap it.
Peyton Manning: There are at least three factors at play here, and they all have a chance to significantly affect how the public is feeling about this game. Of course it can't be simple - they aren't all negative or positive.
First up is his play this year. It has been widely talked about that he is a shell of his former self. You don't need to be an x and o genius to see that for yourself. His passing numbers have fallen off a cliff, he can't throw deep balls, and the offense has clearly been changed significantly to adapt to his shortcomings. The most ferocious passer in the league has pathetic passing numbers of all of a sudden. He's a different guy entirely. The public knows it, and there is a good chance that they could overreact to it. After all, despite his issues he is still in the Super Bowl.
Second, there is the issue of how he has performed in the past. The last time he was in the Super Bowl, just two years ago, it was a humiliating experience. He was bad and his team was destroyed. It wasn't pretty. Aside from the year he won it all, the prevailing story of his playoff career has been underachievement and crushing disappointment. The public knows this and they will react accordingly - especially coupled with his recent form.
Finally, though, there is the fact that this is quite possibly his last game. You could even argue that it is probably his last game. While the first two factors will have a negative impact on the public, this one could be quite positive - especially if the media makes that possibility a focus of their pre-game coverage, which is a good bet barring major breaking news.
Cam Newton: Newton will almost certainly be named the MVP of the league days before the Super Bowl. He has already won every other award out there this year. He has been dominant in both playoff games and has about a million touchdown passes and just two interceptions in the last couple of months (it's actually 24 touchdowns and two picks in his last 10 games, but you get my point). He struggled for a couple of years, but now he is fully the superfreak he was drafted to be. The public loves offense, and they have fallen in love with what he is doing and what he is capable of. It also doesn't hurt that Steph Curry, the most popular athlete in the country who doesn't play football right now, has a serious bromance going with the guy. The public loves offense, and they love a big story - especially a slightly controversial one like Newton and his dancing. They are almost certainly prone to giving Newton more credit than he deserves. It's not that he isn't a great player, or that he isn't capable of having a big day. It's just that he is facing his biggest defensive test of the season on the biggest stage he has ever seen, so it is no lock that he will be able to do what he is capable of.
Offense: As I said earlier, the public loves offense. That means that the tendency of many casual bettors will be to compare the offenses here, see the massive disparities, and bet accordingly. You can almost be certain that that has been a big part of what has happened early given the strong early line movement we have seen making Carolina more of a favorite. To say that offenses will define this game, though, only tells part of the story. We also have a very elite defense that one offense will face, and a pretty decent one on the other side (Carolina allowed the fifth fewest points in the regular season). And we have one team with significantly more institutional experience in the Super Bowl than the other. And we have two coaches making their Super Bowl debut as head coaches - though both have won Super Bowls in other roles. And you can go on and on.
Offenses will play a big role in this game, but they are far from the only factor - even if they are the only factor that many casual bettors will consider.
Read more articles by Trevor Whenham