Super Bowl Handicapping and Betting: Analyzing the Quarterback Battle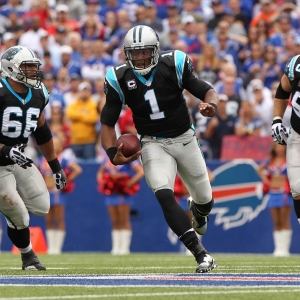 When I look at the quarterbacks set to match up in Super Bowl 50 I can't help but be left with one thought above all others - this sure would be more fun if both guys were in their prime instead of just one. Cam Newton and Peyton Manning are warriors, though, and while they have definitely gone about it different ways, they are the only two quarterbacks still standing. Handicapping the Super Bowl requires a whole lot of thought about the two quarterbacks, so it will hopefully be helpful that we have broken down the matchup by seven different criteria:
Age: The gap in age between the two starters here is huge. In fact, at more than 13 years it's the biggest it has ever been in the Super Bowl - breaking the record Manning set two years ago against Russell Wilson. Manning turns 40 in March, which means he is the oldest player in the game by a wide margin - Carolina corner Charles Tillman is next at 35. Newton is 26 - four years younger than Manning was when he appeared in his first Super Bowl and a year younger than Manning was when he won his first MVP. He's only getting started.
Big game experience: Manning has an obvious edge here - a big one. Manning is playing in his fourth Super Bowl, having won once with the Colts and losing once each with Indianapolis and Denver. Newton is making his Super Bowl debut. Manning has played 26 playoff games - with a 13-13 record - while Newton has gone 3-2 in just five playoff games. The closest experience Newton has outside of the NFC Championship game this year is his National Championship win at Auburn.
College: Lots to like on both sides here. Newton started out at Florida, but he got in trouble and was kicked out after two underwhelming years. He spent a year at community college getting his life back on track before heading to Auburn where in one year he won the national title and the Heisman Trophy. Manning stayed for four years at Tennessee - hard to believe given how often top players leave early these days. He never won a title or a Heisman, though he was second in voting to Charles Woodson as a senior in 1997. He was a full-time starter for three years and had 36 touchdowns in 12 games as a senior. Both were exceptional college players.
Draft: They were both so good in college, and so obviously and massively talented, that both were first overall picks in their draft year. That means that this is the first time that first overall picks have ever faced each other in the Super Bowl (as an interesting aside, this is also the first time that the top two picks in a draft have played each other in the Super Bowl, as Newton was picked one spot before Denver's Von Miller in 2011).
Chemistry: Peyton Manning threw 11 touchdown passes between the regular season and the playoffs. That alone is amazing - that's less than one per game. Of those 11, though, five were to tight end Owen Daniels and four were to wide receiver Emmanuel Sanders. That leaves just two to every other option out there. Since Oct. 4 he has only five touchdowns - remember, he was not starting for long periods, and only Sanders and Daniels have them. Given the limits of his arm, it only makes sense that he would find guys he can trust - and that one would be a tight end. Newton was much more widespread in his targets - he had seven receivers who caught at least two passes. Greg Olsen was clearly his favorite target, and Ted Ginn Jr. was who he looked for in the endzone, but he was very democratic in his receiver selections for the most part.
Relationship with coach: Newton clearly has the edge here. Ron Rivera is the only head coach he has ever had. Offensive coordinator Mike Shula has been in that role for three years and was QB coach before that. Ken Dorsey has been QB coach for three years now. It's impressive stability, and it is obviously a group that works very well together. Peyton Manning has had Greg Knapp as his QB coach for three seasons, but this is his first year with both head coach Gary Kubiak and offensive coordinator Rick Dennison - a long time Kubiak ally. Kubiak isn't entirely loyal to Manning at this point - if he was he wouldn't have started Osweiler when Manning could have played. It's obviously not a bad relationship, but coach and player don't have the trust and chemistry that Newton and his coaches do.
ATS performance: For bettors this is all that ultimately really matters. On the season, Newton was 11-5 ATS during the regular season and 2-0 ATS in the playoffs. He has been very kind to bettors. Manning wasn't as impressive but wasn't a disaster - he was 5-4 ATS in games he started during the regular season and 1-0-1 ATS so far in the playoffs.
Doc's Sports has been successfully handicapping the NFL for years - more than four decades in the business - and wants to give new clients a chance to try our service for free. Click here for the hassle-free sign up and get $60 in free NFL picks today . Also, get three handicappers for the price of one when you sign up for a full-season football package! Click Here for details.
Read more articles by Trevor Whenham