Handicapping the 2017 Super Bowl Coaches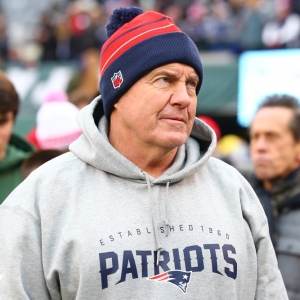 The head coaches are always one of the most interesting aspects of the Super Bowl. This year's matchup is a very good one. Not quite as good as Bill Belichick against Pete Carroll a couple of years ago, but it's still an interesting one. Belichick is the gold standard of head coaches in this league - there has never been any better. Dan Quinn is in only his second year, but it has been two very good years. Coaches have a massive impact on how Super Bowl games turn out, and their impact on this game is more significant than many because of the extra week of preparation and all of the distractions they have to navigate their players through. It only makes sense, then, to break down the coaching matchup from a few different angles heading in the game on Feb. 5.
Career: There are obvious and massive differences here. Belichick is 64 years old and Quinn is 46, so on the time frame alone the differences make sense.
First, Belichick. This is his 17th year with the Patriots, and prior to that he ran the show in Cleveland for five years. Those Cleveland years were unremarkable - he had just one playoff appearance. Since coming to New England and uncovering Tom Brady, though, he has had remarkable success. He has won the AFC East in 14 of his 17 seasons, including the last eight. This is his seventh Super Bowl appearance, and he has four wins. He has played in the AFC Championship Game 11 times, including each of the last six. I could go on and on, but it would only further prove the obvious point - he is a very good coach who is a master at molding this roster. You can't just say that he has benefitted from strong rosters, either. Brady is the only guy who has been with him for four Super Bowl wins, and no player on the current roster has more than one. Only 22 players on the active roster have a Super Bowl, and none have one for another team, so about 60 percent of this roster has turned over since the last victory in 2015. He just gets guys to play in his system.
Now, Quinn. His record takes much less time to discuss. He is in his second season with the Falcons, and this is his first head coaching job at any level. He worked with the Dolphins, Jets and Seahawks on his way up, went back to college to be defensive coordinator at Florida for two seasons, and then returned to Seattle to lead the defense that won one Super Bowl and was robbed of a second by the moronic play calling of the team's offensive staff.
While the differences in careers are many at this point because of their ages, what they do have in common is a background. Belichick started out working with special teams and receivers, but he eventually found his way onto the defensive side of the ball and was a defensive coordinator for both New York teams at one point - much more successfully for the Giants. Quinn, meanwhile, has always been on the defensive side, working as a defensive line coach for several years before becoming a coordinator for a major program for the first time at Florida.
Super Bowl experience: Belichick has the obvious edge here as well. He has coached New England in six, having won four. He also won two more as defensive coordinator with the Giants. So, this is his ninth Super Bowl and his seventh as a head coach. There will be nothing he sees this week that he hasn't seen before.
Quinn has been to this game twice as we talked about - his two years as defensive coordinator in New England. That is his total experience with the Super Bowl, so he is at a deficit. However, since this is his third trip to the game in four years, he isn't a rookie by any means.
Familiarity with each other: This one is simple - as head coaches they have never met. Quinn, of course, likely has nightmares as a result of losing the Super Bowl to New England after coaching a pretty good defensive game. They have met other times as well with Belichick as head coach and Quinn as an assistant. This is obviously a whole new ball game, though.
Public affection: Now this is interesting. I don't think the public has much of an opinion of Quinn one way or the other, and what they do have is probably mostly positive - no reason for it not to be. Belichick, meanwhile, is the most divisive coach in all of sports right now. I see an interesting contrast with Gregg Popovich, for example. Both have been around forever and are clearly masters of their craft. Unless you don't like his politics recently, though, it's hard to feel negatively towards the San Antonio coach. With Belichick, though, you either really like and admire him or you hate everything he does and stands for. There is no grey area on this front. His reputation, and by extension the reputation of his team, has more of an impact on how the public will view this game than any other active coach in any sport could. By a whole lot.
Assistants: There is a big edge for New England here as well. Offensive coordinator Josh McDaniels has been with the Patriots for all four Super Bowls wins and, most notably, has been in a different role for each. He was the OC in 2015 as well. Defensive coordinator Matt Patricia is also a long-timer under Belichick, having won the last two Super Bowls with the team - the first as an offensive assistant and the last as defensive coordinator. Offensive line coach Dante Scarnecchia won the first three Super Bowls with Belichick, retired in 2013, and then returned this year. And other assistants - like Belichick's son Steve - were around last time they won. This is a loyal and experienced staff.
Atlanta has much less experience. Neither offensive coordinator Kyle Shanahan nor defensive coordinator Richard Smith have been in a Super Bowl before. There are some assistants with some experience, though. Running back coach Bobby Turner, who has been coaching since 1972, won two Super Bowls under Kyle's dad Mike in Denver. Tight end coach Wade Harman was a long-time Baltimore assistant, winning two Super Bowls there. DB coach Marquand Manuel came with Quinn from Seattle. Defensive line coach Bryan Cox doesn't have a title as a coach, but he played on Belichick's first Super Bowl team in New England.
Doc's Sports is offering new clients free NFL picks from any handicapper on our Advisory Board. This special offer does not require a credit card, and you will never have to deal with a salesman. Click here to get your free $60 NFL picks credit today .
Read more articles by Trevor Whenham