MLB Betting Advice: Cubs Championship Repeat Worth a Bet?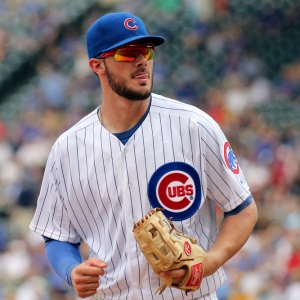 Last year the Chicago Cubs pulled off the seemingly impossible by winning the World Series. Luckily, the fabric of space and time was not ripped open when it happened. Now they face another significant task this year - doing it again. Repeating is tough, but so is this team. So, the question is simple - can the Cubs repeat? We will, of course, look at both sides:
Yes…
1. The lineup is ridiculous: Kris Bryant may already be the best player in the National League, and he's only 24 so there is plenty of upside. And it's not like he has to do it all himself. Anthony Rizzo on the opposite corner of the infield from Bryant is darned good, too. Kyle Schwarber should be back from injury and ready to go, and guys like Addison Russell and Ben Zobrist are completely legitimate. This is a deep and talented team with no clear holes.
2. The top of the rotation: There are individual pitchers better than Jake Arrieta, Kyle Hendricks and Jon Lester. As a trio, though, no team can offer more at the top of a rotation. It's just scary for opponents on a day-to-day basis. The back end rotation, with pitchers like Mike Montgomery and John Lackey, isn't as good but is still respectable.
3. Solid bullpen: They lost Aroldis Chapman and gained Wade Davis. I'm good with that. This is a team that can get guys out consistently when the starters pass the ball over.
4. Toughness: There was all sorts of pressure on this team last year as they found their success during the regular season. They never really faltered. In the playoffs they got in trouble against the Dodgers and found their way out. Against the Indians it was so close to being over that Cleveland was planning the victory parade, yet the Cubs just kept fighting. Talent isn't as important as grit, and there is no shortage of grit. The concern, of course, is that success will inflate the heads of the team and dampen their hunger. We'll know early on if that's the case, but I have my doubts.
5. Joe Maddon: If you were building a team completely from scratch tomorrow and you could have anyone, how many guys would you take before Maddon to be your manager? I don't think there is anyone I would, and even the harshest critic couldn't come up with a list of more than four or five guys. He's the real deal, and he obviously meshes very well with this roster as it is built.
6. Who's going to beat them?: The first concern when it comes to winning a World Series title is winning your division - that makes everything easier. That's all but certain for the Cubs. The Pirates and Cardinals are fine, but nothing more than that. The Brewers aren't great. The Reds are actively bad. Not only do the Cubs not hugely have to worry about being surpassed by one of those teams, but they also get to play those teams more than any other - which means they have an easier divisional test than most other top contenders.
But…
1. Health luck: Last year the team lost Schwarber, but for the most part they were very healthy. The rotation stayed intact all year for the most part, and the key pieces offensively were able to contribute all year. So, what happens this year if that luck runs out? What if Lester goes down for six weeks? Or Bryant misses two months? Or Davis wrecks his elbow and is lost? They have more talent than most teams - okay, all teams - but even they would be vulnerable if they suddenly were forced to make due without the biggest pieces of the puzzle.
2. How important was David Ross?: This is a young team at the core. Ross certainly wasn't young - he was 39 last season. He can be made up for behind and at the plate without too much concern, but he was obviously revered for his experience and leadership in the clubhouse. You can never really tell how much a guy like that will be missed. Chemistry is so important, so someone has to fill up that hole. He's not the only big piece from last year missing, either. Dexter Fowler is gone among others as well.
3. Repeating is really freaking hard: The Yankees won back-to-back titles in 1999 and 2000. That's it. We haven't seen another in the last 17 years, and in that time we have had some exceptional teams and very good champions. To win two in a row you need to maintain your focus at a very high level for two straight 190ish-game runs while managing the egos, injuries and personnel changes. Meanwhile, every team is out to get you every time out, crowds are more hostile, and media demands are more significant. Plus, anything can happen in any playoff series, so you need to be not just the best team but also the luckiest in six straight playoff series. Very good teams can fall short through no fault of their own.
Read more articles by Trevor Whenham