MLB Betting Advice: Milwaukee Brewers Challenging for Division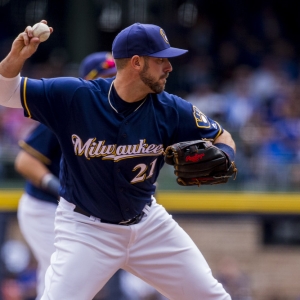 Eleven. That is, I would wager, the number of people who actually thought that the Milwaukee Brewers would be in first place in the AL Central on June 27. All 11 of those people were probably from Milwaukee, and, as is often the case there, they were probably well into the beer when they made the prediction. It just didn't make sense at all that the Brewers would be contenders. Frankly, the only thing that made sense in the division was that the Cubs would all but have it clinched by now. But the Cubs have struggled, and the Brewers have shocked, and so here we are.
Free $60 in Member MLB Picks No Obligation Click Here
Milwaukee is a game up on Chicago as I write this. So, how in the world have we gotten to this bizarre place? Can it last? And what does it all mean for bettors? Here are five factors to consider as we ponder those three questions:
Recent form: The team is 41-37 right now - good enough to be in front of a weak (for now) division, but way, way outside of wild card consideration if they were to get passed by the Cubs. They are all or nothing as division winners at this point. The problem, though, is that they have not been playing like division winners for a long time now. They beat the Cubs on May 19 to move to 25-18. It doesn't take a mathematical genius, though, to figure out that they have gone a much less impressive 16-19 since then. Replicating a 41-37 record would likely not be enough to be playoff bound. Going 16-19 again would almost certainly be fatal. This team has not been good for more than a month now, but they have been flattered by a Chicago team that has consistently looked lousy. In the shorter term they have lost five of nine, so they haven't turned a corner recently. They have had some pretty regrettable performances against teams they can't afford to lose to in June as well - they have lost two each to the lowly Mets, pathetic Giants, eternally rebuilding Braves, and dead flat Pirates. Teams that want to be playoff contenders can't play like that against teams like that.
Home performance: People who have read a lot of these team breakdowns of mine recently know that I put a lot of stock in a team's home record. If a team can't win at home then they aren't much use to me as things get more intense. This team is just 21-22 at home - better than the Indians, who lead the AL Central, but a long way from good enough for this team to be taken seriously - another cause for concern for a team that already has more than their share.
Pitching: If you had guessed before the season that Jimmy Nelson, and especially Chase Anderson, would be having the season that they are at this point in the year, people listening would have assumed you were having a fever dream. Anderson has been a dramatically different pitcher than he was last year in his first year in Milwaukee, or for two years before that in Arizona. It has been very impressive, but it's tough to believe it is totally sustainable. The Brewers absolutely need him to keep it up, because this is not a great rotation. Third and fourth starters Matt Garza and Zach Davies are not as good as they need to be for a team to contend, and they have tried too many things for the fifth starter - and haven't had a whole lot of success. The good news is that this group matches up okay with the mess that the Cubs have had on the mound this year. That's not an ideal measure, though you would be hard pressed to get too excited about this group heading into the second half.
Eric Thames: Thames, the slugger who has returned from Japan, was one of the major stories of the early season, and he jumped out of the gate with 11 homes runs in April. He was hitting .345 with a 1.276 OPS in that month as well. Obviously that wasn't sustainably, and he has come back to earth in a big way since. His 20 home runs are still second in all of baseball, though, and his is in the Top 15 in OPS, so it's a decent year. He needs to make sure that his performance doesn't continue to slide - if he drops further he'll be a liability. For now, though, he's still a positive, and he's worth attention. Luckily for the Brewers, Travis Shaw is having a very solid year, and Jesus Aguilar, Manny PIna and Domingo Santana are all being productive as well, so Thames is not the sole driving force that makes things work for the team.
MLB Betting performance: This team is far ahead of expectations even with the rough last month, so it is no surprise that they have been kind to bettors. They are the fifth-best team in the league on the moneyline, producing a surplus of more than 10 units on the season. The "over" has gone 42-32 on the year as well, so there are plenty of profits to be had from this team to date. I would personally be very surprised if they can replicate that next year.
We would like to give you $60 worth of member's baseball picks absolutely free - Sign up for free baseball picks today. Get free baseball picks today at Doc's Sports baseball predictions page .
Read more articles by Trevor Whenham