MLB Betting Advice: What to Make of Chicago Cubs Slow Start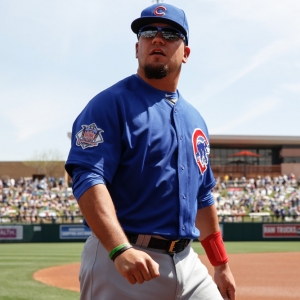 Things are not playing out according to the script. The Cubs were supposed to only be getting started last year. They won a World Series that seemed inevitable - even for the most cursed team in sports - and it felt like they were going to be a dominant power for years to come. And that may still very well be the case. But they have learned the hard way that defending a title isn't as easy as it seems. As of Thursday afternoon they are a mere two games over .500 and a half a game out of the division lead - behind Milwaukee, of all teams. They haven't been terrible by any means, but they sure aren't scaring anyone with their play right now. They are perfectly mediocre, and that is not what this team is supposed to be.
Free $60 in Member MLB Picks No Obligation Click Here
So, what's going on in Wrigleyville? How long will it last? And what does it means for bettors? Here are five factors to consider when pondering those questions:
Addison Russell: This situation is just developing as I write this, and it is exactly what a team that already feels a little fragile doesn't need. The team's young star is at the center of a storm of controversy after his wife posted on Facebook that her marriage was over after she had been cheated on, and then a friend posted that she had been abused. The posts have since disappeared, but Russell is forced into a defensive situation. He is away from the team for at least one day as facts are gathered and he gets his life in order, and it could easily turn into a bigger issue - especially if the claims turn out to have any truth to them. Russell is already struggling mightily, hitting just .209. He already hits more like a traditional shortstop, so productivity isn't his thing, but these numbers are a sharp dip from his already only okay offensive numbers last year. This is a situation to watch closely.
Kyle Schwarber: Remember last year during the playoffs how we heard that it was amazing that this team was doing this without Schwarber, who was injured? Well, it seems much less amazing now. Schwarber is hitting just .175. He showed so much promise as a rookie in 2015, but he looks lost this year after his lost season last year - he played just two games. These kinds of numbers would be a problem no matter where he played, but he is a left fielder, and that isn't a position where a team can typically afford to have a sure out.
Kris Bryant: Bryant's numbers are solid. By any mortal measure they would be good. The guy set such ridiculous standards in his rookie of the year and MVP, though, that when he has taken a step back in some key statistical categories it really stands out. It hasn't been a disaster by any means. He leads the team in several statistical categories, and he's on track to have solid numbers - and with a hot streak they will be better than that. A team needs its MVP and leader to play like one, though, and Bryant hasn't led the team like the team needs to be led yet. His season isn't nearly like Bryce Harper's season last year after he won the MVP, but it needs to be better. He needs to lead the team offensively. Because the team, which was third in all of baseball last year in runs scored, is now just eighth in the National League this season, he needs to be better.
The rotation: Last year the Cubs had the best team ERA in baseball by a wide margin at 3.15. This year that ERA is 4.00, and they are 22nd in the league. There isn't a guy in the rotation that is as sharp as he was last year, and that is a big part of the story here. I'm not pointing fingers at anyone in particular, but they just need to be better.
Road play: Last year the team was 46-34 on the road - second only to St. Louis in all of baseball. This year they are just 11-16 on the road. You can decide for yourself whether that is a symptom or a cause, but the fact of the matter is that teams that play like this one is on the road aren't going to be any good. Or at least not good enough. And this certainly isn't getting better - they have lost their last eight road games, including two in St. Louis and three each in L.A. and San Diego. They are a strong 12-3 in their last 15 at home, but that doesn't matter if they can't win away from home.
Betting performance: You take a team that was favored to win it all heading into the season and you have them play lackadaisical ball for the first 58 games of the season, and it should surprise no one that knows anything about betting that they have been an absolute disaster for bettors. Last year they won 103 games and were solidly profitable despite the massive expectations they faced all year. This year they are pace to win less than 90, and they have burned money at a serious rate. They sit 26th in the league in moneyline production, ahead of only the truly awful Phillies and the massive disappointments in San Francisco and Cleveland. They have gone "over" the total 32 times and "under" just 24, so at least they have produced modest profits for over bettors - though that is thanks more to their pitching woes than their offense, and that's an issue.
How about $60 worth of member's baseball picks absolutely free? - You can use this $60 credit for any of our top MLB handicappers. Get on board now. Get free MLB picks daily at Doc's Sports baseball predictions page .
Read more articles by Trevor Whenham