MLB Betting and Handicapping: Lousy Teams with Promise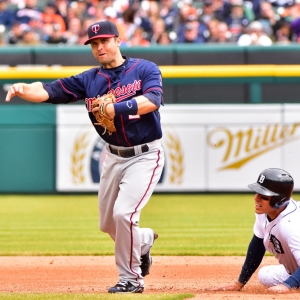 In baseball there are two types of really bad teams. They are those like San Francisco this year that are just plain awful, and that's all the more shocking because you couldn't have seen their stink coming. And then there are those like Philadelphia and Oakland who are every bit as bad, but you would have to be stuck in a time warp if you expected anything other than exactly what you are getting from them. I love baseball, but I can't imagine anything worse than being an Oakland fan - and that comes from a guy who has been a fan of the perpetually underachieving Mariners for 35 years. For some fanbases of really, predictably unimpressive teams, though, this season has brought real signs of hope. You need to work harder to find it with some squads than others, but they are there. Here are two squads for which the darkness may finally be lifting:
Free $60 in Member MLB Picks No Obligation Click Here
Minnesota Twins: We start with the most glaringly obvious one on the list. They have hit rougher times lately to finally fall out of first, and it seems like all hope of winning the AL Central have disappeared now that Cleveland is showing a pulse again. At 36-34 through 70 games, though, they have at least a look at .500 on the season, and you never could have convinced anyone that that would have been possible heading into the season. They have been in the midst of a long and uncertain rebuild, but they are clearly showing signs that it is paying off.
It isn't all without concerns, of course - they are still the Twins. They are a ridiculously dismal 16-25 at home this year. Optimists would point out that that means that they are very strong on the road and that their 20-9 road record is second best in the AL behind only Houston. That is both true and fine, but it just doesn't matter. Teams need to win at home to thrive. They have no excuses - new park, decent fan support, and so on. This has to change before this team can be taken even remotely seriously.
The roster still has some real issues, too. Two players really show that off and in very different ways. Byron Buxton was the second overall pick in 2012, was minor league player of the year the next year, and carried the weight of expectations for a whole franchise on his shoulders. It's too early to label him a bust - he's still only 23 - but in his third season of significant major league appearances he has yet to show any sign at all that he will be capable of hitting like he needs to. It has been a massive disappointment in general, and especially when you consider that he showed small steps forward last year and looked like he could be ready for at least a bit of a leap. Instead, he has regressed significantly.
And second is Ervin Santana. He has cooled significantly since a start that put him in the Cy Young discussion, but he leads this staff in almost every way and is the biggest single reason the team is where it is. And that's a real problem. The guy is 34, hasn't been good in a couple of years, and is far from the kind of guy who should be leading the way for any team. His success helps to mask a real lack of depth and consistency in this rotation right now. Only Oakland and Baltimore have allowed more runs in the American League right now, and neither is exactly a model franchise on the mound right now. Seeing a guy like this shine is exactly what you don't want for a young team trying to rise.
Still, there is more to like than not here, and brighter days seem clearly ahead.
Atlanta Braves: The Braves won the division as recently as 2013 but have really torn things to the ground since, and they averaged an ugly 67.5 wins per season the last two years. While they still aren't anywhere near the glory days of Glavine and Maddux, they appear to be on the right track and can hopefully avoid the prolonged slide of squads like the A's. Their division is really awful, but they sit in second, and at 34-38 are really flirting with respectability. They still give up far too many runs - their 374 are fourth worst in the NL. But Ender Inciarte in centerfield is a young star, Freddie Freeman is playing great, and Johan Camargo is showing a whole lot to like at third base for a young player. They still rely on veterans more than is ideal - Matt Kemp has been great, for example, but he isn't a part of too much more of the future of this team. Nick Markakis is being asked to do more than he should at this stage in his career, too. On the plus side, they have a very strong farm system now, so many of those old guys aren't going to be asked to lead the way for too long.
On the mound age is a bit of an issue currently, too - R.A. Dickey is nothing more than a placeholder, though personally I'll always root for an increasingly rare athlete who is older than me. They are a dying breed - almost literally, sadly. Jaime Garcia has been really good but is not going to be around forever, either. I really like the trajectory guys like Julio Teheran and Mike Foltynewicz are on, though, and they are benefitting from the experience. They have a wealth of young pitching on the way, too, so this is another area for optimism.
Mostly, what I like about this team right now is that though they are in the midst of developing new talent they are playing hard, staying focused, and getting as much as can be expected out of the roster. As the youngsters are plugged in and grown it only seems like they will continue moving forward.
Doc's Sports MLB handicapping team is offering $60 worth of member's baseball picks absolutely free - no obligation, no sales people - Claim your free MLB picks here now. Also, for a limited time only get three MLB handicappers for the price of one. Click here for details . Get free MLB picks daily at Doc's Sports baseball predictions page .
Read more articles by Trevor Whenham