MLB Betting Trends: Totals Report for Hot Over and Under Baseball Teams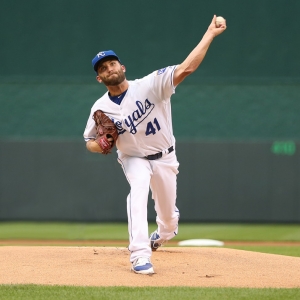 The World Series hangover has been intense for both the Cubs and the Indians. The Cubs are 32-33 and the Indians are 32-31. They were widely expected to be the best teams in baseball again this year. I suggest keeping an eye on the public betting percentages for these teams in the coming weeks. Will the public continue to back these teams or will they tire of laying the big price with teams that are underachieving?
Doc's Sports has done an MLB Totals Trends Report in the past, and we'll be doing it again this year. This will be a bi-weekly article here on the site. We'll highlight the Top Five 'Over' and the Top Five 'Under' teams of the past couple weeks in each article. Because the baseball season is a long grind, there can be some impressive streaks inside the season, and catching one of these can boost your bankroll. The statistics in this article are for games from June 1 through June 15.
Free $60 in Member MLB Picks No Obligation Click Here
The over has been dominant this year. For the season as a whole, the over is 500-443 (53.02 percent overs). In the past week, the over is 53-39.
Top Five "Over" Teams (Over Listed First)
1. San Diego Padres (9-2-1) The San Diego Padres offense has been very good in the last couple weeks. Jose Pirela and Franchy Cordero have been terrific at the top of the lineup. These are guys who just recently got a shot in the big leagues, and they are taking advantage in a big way. San Diego's starting pitching staff is one of the worst in baseball, and they are going to keep giving up runs in bunches. If this team hits decent, they will continue to be a good over team.
2. Oakland Athletics (9-2-2) It surprises me some to see the A's this high on the over side of the report. Oakland has allowed at least six runs in six of their last eight games. The oddsmakers are quickly adjusting Oakland's totals higher, so I'm not sure there will be value here for long. Oakland hosts two of the best teams in baseball on this homestand (Yankees and Astros). Keep an eye on this team's totals at home, because this is still a pitcher-friendly park.
3. Kansas City Royals (9-3-1) The Royals had the lowest batting average on balls in play through the first 40 games of the season. That bad batted ball luck has been turning of late, which has led to a lot of games going over the total. Kansas City has won five straight games. The Royals are nearing the .500 mark. I do believe this is a team that will switch back to the other side of the report fairly soon.
4. Tampa Bay Rays (8-4) Are the Rays facing a lefty or a right-handed starter? That's something you need to keep a close eye on when betting totals with this team. Tampa Bay is hitting only .220 as a team against left-handed pitching. The Rays are hitting .263 against right-handed pitching. The over is 21-12 in the Rays 33 road games so far this season.
5. Arizona Diamondbacks (8-4) The over is 21-12-2 in the Diamondbacks 35 home games so far this year. The under is 21-11 in Arizona's 32 road games so far this year. I think there are multiple signs that Arizona will come back to earth in the long run. This team is constantly getting two-out hits with guys in scoring position, and their current rate in those spots is unsustainable. Additionally, this is a bullpen that isn't good enough to keep them at the top of the division.
Top Five "Under" Teams (Under Listed First)
1. Texas Rangers (7-3-1) The Rangers have been a great under bet when they are facing a left-handed starting pitcher. Texas ranks dead last in the majors in weighted on base average against lefties this year. I do think they'll improve in that category with Adrian Beltre now healthy, but I still wouldn't be excited to bet overs with them against a lefty.
2. New York Mets (8-6) The New York Mets offense was bound to regress. This is something I've talked about in recent articles, and I still believe this is a team to look for spots to play the under with in the next few weeks. The Mets have had great luck with runners in scoring position, and there are several guys who are overachieving in this lineup.
3. Philadelphia Phillies (7-5-2) It's hard to know what to do with Phillies totals. On the one hand, this is an offense that struggles to string together hits. On the other side, this is arguably the worst bullpen in baseball, and that can pile a lot of runs onto their games late. The Phillies are a team I'll look to avoid altogether when it comes to totals, at least for the time being.
4. Colorado Rockies (7-5-2) The Rockies now sit atop the National League West. This team just continues to prove people wrong. They weren't supposed to be this good. I believe Colorado is starting to get a little overvalued in the betting market, and I'll be looking for spots to go against the Rockies. They still have young pitchers who are likely to regress in a negative way (Senzatela and Freeman for example). As far as totals, keep an eye on the weather when they are at Coors Field. The ball really carries well when it is hot at this park.
5. Toronto Blue Jays (6-5-1) One of the most underrated aspects of the Blue Jays improved performance of late has been their bullpen. Toronto has the sixth-best bullpen ERA in the majors in the past month. The key to whether Toronto can make a run is the starting rotation. The Blue Jays need guys like Marco Estrada and J.A. Happ to be consistently good. Toronto has a relatively easy schedule in the next couple weeks, so this is a time where the Jays need to make a move in the standings.
How about $60 worth of member's baseball picks absolutely free? - You can use this $60 credit for any of our top MLB handicappers. Get on board now. Get free MLB picks daily at Doc's Sports baseball predictions page .
Read more articles by Aaron Smith