MLB Handicapping and Betting Help: Disappointing Pitchers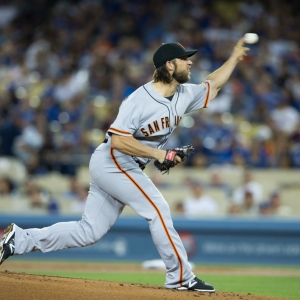 Pitching in the major leagues is extremely tough. The more guys you watch try to do it, the more you realize how impressive the guys who have sustained success are. To win consistently, and produce moneyline profits , you need to play at a very high level and get the help from your team as well. Every year we see guys who were good one year, and who have solid reputations, struggle the next year. It's early this year, but there are six guys who really stand out because their performance for bettors have been just plain awful - and bettors would have been right to expect more from them:
Madison Bumgarner, San Francisco: This isn't really that surprising - Bumgarner was far from profitable last year as well. If you asked the average guy on the street, though, Bumgarner would be viewed as an elite ace, and profit expectations would manage that. Through three starts, though, Bumgarner has burned more money than any other starter in baseball. It has to be frustrating for him because he hasn't been bad by any means. He has pitched 21 innings in the three starts and has allowed just eight runs. That is a 3.43 ERA - not ideal, but it shouldn't be fatal for a pitcher on a serious contender. Yet he has had just one run of support in two of the three starts and has lost both of them to go with a no-decision in the first game.
J.A. Happ, Toronto: Last year Happ was one of the biggest surprises in baseball. He went 20-4, and the team won 24 of his 32 starts. He was a Top 10 profit producer in the league. So far this year he has been better for moneyline bettors than only Bumgarner. He had a decent outing in the opener that was foiled by a lack of run support - the regular occurrence in Toronto these days. He was lousy in his second outing, and he left his third start with elbow tightness that will cost him at least a start. Everything is awful in Toronto right now, and Happ is no exception.
Josh Tomlin, Cleveland: Tomlin had a career year last year, going 13-9 and breaking into the Top 15 in the league for moneyline profits. Expectations were high for the Indians last year, and they were even higher this offseason. They are a disappointing 6-7, and Tomlin has not carried his weight. He has been strongly favored in both starts and has allowed six and seven earned runs in those starts. He has been really lousy and is matching Bumgarner for money burned per start.
Cole Hamels, Texas: Hamels was fourth in the league last year, producing nearly $1,500 in moneyline profit on the season as the team went 24-8 in his starts. This year the Rangers are off to a bleak 5-8 start, and Hamels shoulders some of the blame. He hasn't been terrible by any means, but he also hasn't done enough to win in any of the three starts he has had. The team has given him 6, 5 and 9 runs of support in his three outings, so he should not have lost all three outings. To be fair, the bullpen has failed him in all three starts, but that's only part of the story. He doesn't have a decision yet, and the team needs more from a guy like him if they want to contend.
Jered Weaver, San Diego: Weaver wasn't great last year, so his struggles this year for bettors aren't a huge surprise. I put him here mainly because he is a fine example of how hard it is to maintain performance at a high level. Weaver has won at least 16 games four times and was 18-9 as recently as 2014. Now he's a bit of an afterthought on a team that no one cares about. He has a loss and two no-decisions in three starts, is among the 10 worst moneyline performers in the league, and just isn't worth much thought. Last year bettors made more than $400 on the moneyline betting on him, so he might get better. Then again, he plays for the Padres, so he might not.
Adam Wainwright, St. Louis: Last year Wainwright went 13-9, but the team went 22-11 in his starts and he was 16th in the league in moneyline profitability. And the guy has won 19 or more games four times, so he is no stranger to producing profits. The Cardinals are out to a bleak 4-9 start this year, though - a recurring trend on this list - and Wainwright has struggled along with his squad. His ERA is an awful 7.24 through three starts, and he has yet to make it through the fifth inning. He has been bad, but it hasn't totally mattered in the last two outings - the team has allowed 9 and 14 runs in his last two. He'll turn 36 this summer, and we can't help but start to wonder whether the end is much nearer than it seemed to be just last year.
Doc's Sports has had a winning tradition for more than four decades. Don't believe us? Try us out for free, and we are convinced you will be a believer. Get $60 worth of free sports picks - members' picks just like our paying clients get - here .
Read more articles by Trevor Whenham