MLB Handicapping: Washington Nationals and the Road to World Series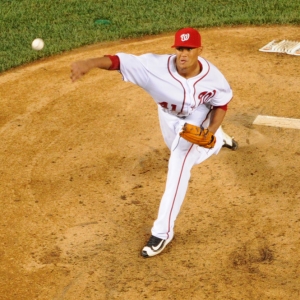 There are no prizes for winning June in Major League baseball, and the Washington Nationals had better remember that. They have a ridiculous 11.5-game lead in their division, have all but clinched a playoff spot already, and seem like the clear class of the NL at this moment. They need to remain sharp, though, because surely by now there isn't anyone who cares about what this team does in the regular season. There must be something in the water in the nation's capital, because like the Washington Capitals this team has become very good at dominating on the road to the playoffs and the cratering when the games actually matter.
Free $60 in Member MLB Picks No Obligation Click Here
So, is this year going to be different? How have they gotten here? And what does it all mean for bettors? Here are five factors to consider when pondering those questions:
Harper and Zimmerman: Bryce Harper followed up his 2015 MVP award with a pretty rough season last year - at least by his standards. But he's back with a vengeance this year and is again the favorite at this point to be named MVP. He has been phenomenal. And it's easy to forget that he won't even turn 25 until mid October. One of the biggest threats to a second MVP crown, though, is teammate Ryan Zimmerman. Zimmerman actually leads Harper in all major categories except on base percentage and is hitting a ridiculous .362, but his role isn't as impactful overall at times. Both guys have been sensational and can sustain it - at least to some extent. It really helps that, unlike some teams, they don't have to do it alone. They are two of four guys hitting at least .325 on the team, and their .273 team average and .813 team OPS are both the best in the National League. This team is built to do exactly what they are doing, and we know they can keep doing it - at least in the regular season.
Pitching: The starting pitching is doing about what was expected this year. Max Scherzer and Stephen Strasburg have both been very good and are leading the way, eating innings and consistently delivering quality starts. Gio Gonzalez and Tanner Roark are both a big step back from the top two in quality, but they have solid numbers and are doing well; they are certainly good enough to put up strong numbers behind an offense like this. And the team doesn't really have a fifth starter to write home about. They've tried a few things, with Joe Ross being the most frequent, but nothing is really working right now. This isn't a horrible issue - they obviously are able to win plenty of games without consistency in that spot, and it's not like those guys would get starts in the playoffs anyway. Where it is a concern, though, is if one of the top four, and especially the top two, were to get hurt for an extended period. That could have a meaningful impact.
Division: We only need to spend a couple of seconds discussing this. Atlanta, at 26-32, is the second-best team in the NL East right now. And none of the other four teams besides Washington are underachieving in a way that is going to change in any hurry. This is a really, really bad division. Washington has an 11.5-game lead and has functionally clinched already. That's a good thing as long as they don't get complacent - and this doesn't feel like a team at risk of that.
Run differential: This is a bit of a lazy stat because it tells us more what has happened than it is a useful predictor of what will happen. It is powerful in a sense, though. Simply put, teams with high run differentials tend to be more successful. If the playoffs started today, for example, the teams with the eight highest run differentials in the league would all be in the playoffs, and that includes all five playoff teams in the NL. Last year there were 14 teams with positive run differentials, and all 10 playoff teams were among them. The Nationals are taking care of business this year. Only the Yankees, Astros and Dodgers - all current playoff teams - have a higher run different than Washington's +77. And the Nationals have the formula in place to stay among the elites all season - they have scored the most runs in the National League and have allowed the third fewest runs behind Arizona and the Dodgers. Both categories seem very sustainable, so it seems likely that this team will continue at a solid pace and be playoff bound. Not that that comes as a surprise.
Betting performance: Washington has been a very solid team to bet on this year on the moneyline, which is striking given that everyone on the planet expected them to be pretty much as good as they are. They are currently the fifth-most-profitable team in baseball on the moneyline. They are less useful on the totals, where they have gone "over" 29 times and "under" 26. That means that the over has essentially just broken even. With an offense this good and a defense this solid, that is about what you would expect.
Check this out! $60 worth of member's baseball picks absolutely free - no obligation, no sales people - you don't even have to enter credit card information. 2 minute sign up for free baseball picks here. Get free baseball picks today at Doc's Sports baseball predictions page .
Read more articles by Trevor Whenham