MLB Handicapping: What to Make of Poor Start from Blue Jays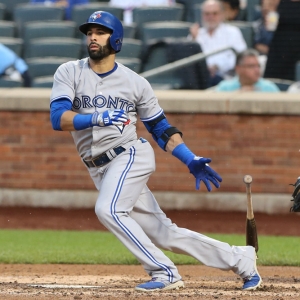 I basically make predictions for a living - thousands per year. Some are right and some are wrong. That's just how it goes. Every so often, though, one comes along that you make and then soon wish you could take back. One so terribly wrong that it leads you to question… well everything. I'm a couple of weeks removed from one such prediction - that the Toronto Blue Jays were handily going to be a playoff team. I even said that they could threaten the Red Sox for AL East supremacy. It made some sense at the time - I still think that. Only 12 games into their season, though, the wheels have fallen completely off, and things are grim.
There are still 150 games left, so it's not like we have to throw dirt on the graves just yet. Undeniably, though, this is far from the ideal start to a season - and it doesn't really feel like a collection of issues that are going to go away in a hurry. The team is a league-worst 2-10. Ugh.
So, what's going so very wrong north of the border? And what does it mean for bettors? Here are four factors to consider as we ponder those somewhat depressing questions:
Rotation: The easiest thing to like about the Jays coming into the season was the rotation. It felt very deep and talented - as good as any in the league. Even the best rotation is fragile, though, and so far things have not gone well. Ace Aaron Sanchez is on the DL with a blister on his finger - an injury that can really linger and cause issues for a pitcher. J.A. Happ is also on the DL. He felt a pull in his elbow in his last start. The MRI was negative, but you still have to be nervous about this going forward. So, 40 percent of the rotation has faced issues already. And Francisco Liriano isn't hurt, but he allowed five runs in a third of an inning in his first start, so he hasn't been ideal, either. Marcus Stroman has been solid, and Marco Estrada has been fine, but the rotation hasn't been the strength it was expected to be - and needs to be. There isn't ideal depth behind the top five starters, so continued issues here are very concerning.
Donaldson: Josh Donaldson was MVP two years ago and was a contender for the award again last year. He's the most important offensive player on this team, and it's not even close. One of the scariest injuries for any player - especially one who needs speed and mobility to thrive - is a groin injury. It's an issue that can linger and can easily recur even after it seems like it has gone away. Donaldson has had this issue flare up several times already, and even though he's out for two weeks now it's hard to trust that this will be the last we hear of it. Weeks and even months could easily be lost to this problem. The margin for error for this offense is slim, and they just can't afford to be without Donaldson for any significant time. Rarely has a single groin meant more.
Offense: Just two seasons ago this team was setting records with their offense. Now that seems like a world away. Right now the Jays' offense is the most anemic in baseball. There are almost countless issues we could point to - and the moronic jettisoning of Edwin Encarnacion in the offseason is far from the least of them. There are a couple of guys who really stand out for blame this year, though. At the start of last year, Jose Bautista talked big about how he was going to become very rich after the season and how he wasn't going to give Toronto a hometown discount. Then he had a disastrous season, and he wound up back in Toronto on a one-year deal when no one else wanted him. This year he was red hot in the World Baseball Classic, but he has been horrible since. The slugger doesn't have a home run and is hitting just .136 in 44 at-bats. Awful. Even worse, catcher Russell Martin, who is supposed to be a reliable source of solid offense, has just three hits in 31 at-bats - a dismal .097 average. They aren't alone - Steve Pearce, Jarrod Saltalamacchia, and Devon Travis have all been terrible, too. Bautista and Martin are veterans who need to drive this team, though, so their problems are significant. If they can't get much better in a real hurry then this team has real issues.
Sell?: The questions have already started about if and when this team should start selling assets. People are obviously panicking when thinking about this already, but the issue is real. Marco Estrada, Francisco Liriano and Jose Bautista are all due to be free agents after this season, and Josh Donaldson and J.A. Happ will have their freedom after next season. The Jays very likely won't be re-signing all five players, and all five have some value in the trade market - from a little bit for Liriano to massive amounts for Donaldson. The team doesn't want to give up on the season too soon - they have sold a ton of tickets this season already, and that could have a hugely negative effect on the city's love for the team. But at some point they will have to decide if the future matters more than the present, and they will have to consider some moves. That would have an obvious and potentially significant impact on the team in the short term.
Even if they don't make moves, though, the impact is already going to be felt. With every loss the hope dims for the season, and the more these players and others will be aware of rumors and concerned about what fate awaits them. And the more they lose the more the media and fans will be advocating for change, which makes it harder for guys to pretend it isn't happening. The team isn't likely to embrace a full overhaul, but unless things turn around in a hurry and this bad start becomes a distant memory then it will be very difficult for them to ignore the chance for a potentially impactful tweak or two.
Doc's Sports has a great offer for new clients. You can get $60 worth of picks from any Advisory Board handicapper for any sport he handicaps. All with no obligation and no credit card needed. Claim your free picks today .
Read more articles by Trevor Whenham