MLB MVP Odds for the 2017 Race with Expert Betting Predictions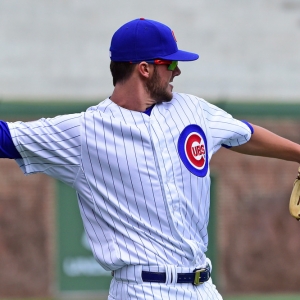 We are, in round numbers, a third of the way through the baseball season. I don't know about you, but that milestone has kind of snuck up on me. This is a good time to look at the MVP race in both leagues. Nothing is close to decided yet, but the obvious contenders have emerged in both leagues, and there is a good mix of the usual suspects and the surprise candidates. Here's a look at both races, with 2017 MLB MVP odds from BetOnline .
Free $60 in Member MLB Picks No Obligation Click Here
AL MVP
Aaron Judge, Yankees (+200): At this point Judge is the runaway leader for Rookie of the Year, and if he stays strong he'll also be a Top 3 MVP finisher. I certainly don't like him as the favorite here, though. He has been spectacular and remarkably consistent so far. It's a long season, though, and I don't yet have faith that he can maintain it. Pitchers are going to have more and more tape on him, and they are going to start doing a better job of figuring him out. And I also don't have faith yet that this team is for real - or at least for real enough to win their division. If he or his team fade down the stretch it would quickly become a fatal blow for his candidacy. No value here.
Carlos Correa, Astros (+350): While the Astros' rotation concerns me a bit, and I don't expect them to stay as hot as they are, it's pretty clear that they are a very elite team this year. And after a rough April Correa has been just tearing the cover off the ball lately. He's a machine at the plate, and he does it in a way that feels very sustainable. If I had to bet on just one player it would unquestionably be Correa, so I have no issue with this price.
Mike Trout, Angels (+600): The MVP race changed fundamentally when Trout was injured. He was well on his way to another win. Now he could miss as much as two months. While this price doesn't make any sense, it would be a mistake to rule Trout out entirely. His surgery is reportedly one that s fairly easy to come back from, and he's young. If he comes back quickly and healthy, and if Correa and Judge haven't run away with things, then with a strong close he could get back in the race. The biggest issue he faces, though, is that his team is awful and stands almost no chance of being competitive. I wouldn't bet on him, but I wouldn't sleep on him, either.
Mookie Betts, Red Sox (+900): This is an interesting case at this price. Betts hasn't yet really caught fire like last year, and his team is struggling. If he and the Red Sox can catch fire, though, it would be easy for one to win the division and the other to get right back into this race. His numbers are a long, long way from MVP caliber right now, but as Correa has shown a hot month can erase a lot of early damage.
NL MVP
Bryce Harper, Nationals (+275): Harper is Harper, so we don't need to spend too much time here. He has won it before, and he has rebounded very nicely from a rough season last year to put up some strong numbers. He has name recognition in a big way, and his team has essentially clinched their division already. The biggest thing he has working against him - other than the fact that he hits dramatically better at night than during the day, which could be more of an issue during the summer - is that teammate Ryan Zimmerman is having a whale of a season, too. Harper would beat Zimmerman if the two had similar seasons, but they will split some votes and could let someone come right up the middle.
Paul Goldschmidt, Diamondbacks (+350): The NL West is so odd because I don't really understand how either Arizona or Colorado is doing what they are doing. Goldschmidt is a big reason for the success in the desert, though. He's rediscovered his power of a year ago and is on track for a 30-30 season, which we haven't seen for a while. He's an elite first baseman as well. His candidacy probably depends on Arizona remaining relevant because Washington sure isn't likely to fade. His start has been very impressive, though, and he's no flash in the pan.
Kris Bryant, Cubs (+650): This is another interesting one at this price. Bryant hasn't been great so far, and his team has been very flat. His numbers aren't actually that far behind last year's pace, though, and if he and the Cubs can catch fire - which seems likely at some point - he could pull back into the race. The Cubs, despite their start, are right in the mix for the division lead and should be able to put the Brewers away without an issue. Bryant has been really weak the last week or so, but an explosive month - which he is obviously capable of - and he could be a factor. There could be a little value in this price.
Zack Cozart, Reds (+800): Cozart was absolutely incredible at the plate in April. It seemed like a fluke, but then he basically went and recreated the effort in May. Who knows how long he can keep it up for, and the Reds are struggling just to get to .500. If he keeps up this pace, though, people are going to start to take notice. He'll need Harper and Goldschmidt - and likely Zimmerman, too - to fade if he wants to have a chance, but it's possible. No value at this price, but he's fun to watch.
Doc's Sports MLB handicapping team is offering $60 worth of member's baseball picks absolutely free - no obligation, no sales people - Claim your free MLB picks here now. Also, for a limited time only get three MLB handicappers for the price of one. Click here for details . Get free MLB picks daily at Doc's Sports baseball predictions page .
Read more articles by Trevor Whenham