Overrated MLB Betting Teams: Minnesota Twins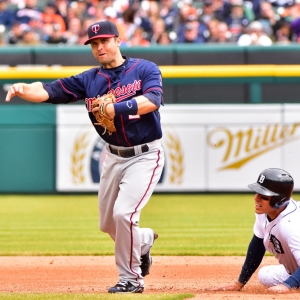 People keep trying to convince me that this Minnesota Twins team is a contender. What a joke. I will be frank. I hate this team. I don't mind them in the long term, but as a team that is trying to contend right now they just don't measure up in any key way. They are only where they are - a game and a half in first place as I write - because the division can't get out of their own way. They just aren't good enough. Not yet. Here are six reasons why I hate these Twins:
Free $60 in Member MLB Picks No Obligation Click Here
Home record: This team is 12-18 at home. Just think about that for a second. People want to pretend that this is a contending team, but they have played 30 games in the comfort of their own new, shiny stadium, and they have just 12 wins. That is truly pathetic. They are 20-9 on the road, which is equally bizarre, but they can't rely on road performance to mask home struggles all season. This alone is a reason to count this team out. Good teams play well at home. Period. That has had a big effect on betting success, too. Somehow they are slightly profitable overall, but only because big road profits are slightly larger than massive home losses.
Run differential: Every single team that made the playoffs last year had a positive run differential - they scored more runs than they allowed. It is tough to take a team seriously with a negative differential. Heading into Monday night action the Twins were at -28. And the biggest issue causing that was the defense, which is defined by some pretty questionable pitching as we'll discuss soon. Just three teams in the AL have allowed more than the 299 runs that Minnesota has, and none of those teams are any good. This is a real problem. It's a problem that has plagued the division - Cleveland is the only team with a positive run differential, and they are only at +15.
Ervin Santana: Santana is off to a strong start and is getting some fringe Cy Young hype at this point in the season. It's a great story. It's also completely ridiculous. I mean, let's be serious. The guy is 34, he has had one season above .500 since 2010, and his current ERA is nearly half of his career mark. The team has dropped three of his last five decisions, so he isn't as sharp as he has been. And he has been getting every break to fall his way all season. I just plain don't trust him to maintain this level of play, and that is going to have an impact on this team. At this point he shouldn't even be an ace on a staff, never mind one putting up numbers like this. And beyond that the rotation isn't inspiring. Jose Berrios has been strong, but he only has six starts so the sample size is small, and he was not nearly as good last year as a rookie. And beyond that there isn't much. Hector Santiago and Kyle Gibson aren't much to look at. Phil Gibson, too. And they haven't shown off a lot of depth. This is not a contending rotation.
Bullpen: You could look past the rotation's shortcomings to some extent if the bullpen was great. And they do have a great closer - Brandon Kintzler already has 17 saves to sit fourth in baseball. Beyond him, though, the excitement factor dims considerably. This is a bullpen that has been slapped together. They do have a bizarre number of relievers in the minors, but that won't help in the short term. This is not a contending bullpen.
Division: The Royals are better than they have been playing and have heated up to some extent lately - they are 6-4 in their last 10 games. The Tigers are showing the same flickers of life, though I'm not sure what the real upside is there. And, of course, the Indians are much better than they have been playing so far, and at some point they will figure that out. The Twins have done their job and gone 16-12 against the Central so far, but things are likely to get harder going forward, and I don't like their chances of maintaining this pace in divisional games - or anywhere near it, for that matter.
Lack of an alpha: Miguel Sano is putting together a great year, and he is a budding star. He's only 24, though, and doesn't yet have the complete offensive game that intimidates other teams and forces them to make decisions to avoid him. He might get there, but he's not quite there yet. In the absence of a player like that a team needs to have a whole lot of depth, and I don't love what is here. There is promise from young players, and there is overreliance on an aging Joe Mauer. This is not a roster built to match up against the most elite of teams. They can't match the Indians, for example, if those guys ever get their act together.
Doc's Sports MLB handicapping team is offering $60 worth of member's baseball picks absolutely free - no obligation, no sales people - Claim your free MLB picks here now. Also, for a limited time only get three MLB handicappers for the price of one. Click here for details . Get free MLB picks daily at Doc's Sports baseball predictions page .
Read more articles by Trevor Whenham