Ranking the Super Bowls: Top 10 Games of All Time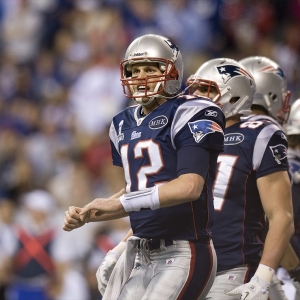 It's time for another of our annual Super Bowl traditions around here - ranking the best Super Bowls of all time. Here's an early spoiler - the games are in the same order as last year, because last year's dud of a contest certainly did not break into the list. When the winning team has less than 200 total yards of total offense, the game certainly isn't a classic by my eyes. Really, this list has stayed mostly the same for quite a while. Just one game has broken into the Top 10 since Super Bowl XLII back in 2008. We can only hope that this year's edition can breathe new life into this list:
10. Super Bowl XXXVIII - Patriots 32, Panthers 29: Don't remember which game this was exactly? One word will change that - nipple. This was when Janet Jackson cemented her place in history. That wasn't the best part, though. The game got really crazy late - the teams scored a combined 37 points in the final quarter. Ricky Proehl tied it up with an outstanding catch, but Adam Vinatieri played hero for the second time in three years with a winning field goal as time ran out.
9. Super Bowl XXIII - 49ers 20, Bengals 16: I was a teenager for this game in 1989, so I'll remember this game most for an impossibly lame gimmick that I was so excited about at the time. You had to buy a Coke to get 3D glasses for the halftime show. It was a total mess - a fake Elvis, and a 'magic' trick that couldn't have fooled anyone. Just terrible. Luckily, the game was great. This was the game of "The Drive" - when Joe Montana drove the ball 92 yards late in the game to win it all and stake his claim forever as an all-time great.
8. Super Bowl XXIV - 49ers 55, Broncos 10: This is Joe Montana showing off again. The Niners were favored by 12 points, so we all but knew they were going to win. What we couldn't have known in advance, though, was just how stunningly dominant Montana was going to be. He threw for five touchdowns and could have thrown for about a dozen more - or so it seemed. It was as close to a perfect performance as we have ever seen, and it was incredibly fun - unless you are a Broncos fan.
7. Super Bowl XXXIV - Rams 23, Titans 16: Kurt Warner once stocked groceries to make ends meet. After this game he never had to worry about paying for a drink again. He was the MVP of this game in a very strong performance capped by 407 passing yards. The game was close and was nearly closer. Tennessee looked like they had tied it up on the final play, but with 'The Tackle' Mike Jones actually stopped Tennessee on the one-yard line to end the game. The Rams were favored by seven, so the books had to give back all of the money bet on the spread.
6. Super Bowl XXV - Giants 20, Bills 19: Poor Scott Norwood. Everyone wants to be known for something, but not like this. The Bills had this game won. All they needed was for Norwood to kick a 47-yard field goal as the game ended. He had a strong leg and was certainly capable. But he missed, pushing it wide and become infamous. Some guy named Bill Belichick was the defensive coordinator for the Giants, winning his first of seemingly about 20 Super Bowl rings.
5. Super Bowl XLIX - Patriots 28, Seahawks 24: This is the game to break into the list in the last eight years. It was a good game from start to finish, but it will be remembered always for how it ended. All the Seahawks had to do to win their second straight title was hand it off to Marshawn Lynch to score the clinching touchdown. Everyone knew that they were going to do that and he was going to score - even the Patriots. Instead, though, the Seahawks committed one of the biggest brain freezes ever. They went for a pass, Malcolm Butler picked it off, and history was made.
4. Super Bowl XXXII - Broncos 31, Packers 24: John Elway finally got a Super Bowl after a career of disappointments. It was against stiff odds, too - the Packers were favored by 11 points. Brett Favre scored early to set what seemed to be an inevitable tone. But then Terrell Davis took over, running for 157 yards and scoring three times. Incredibly, Davis missed the second quarter with a migraine or he could have been even more of a factor.
3. Super Bowl III: Jets 16, Colts 7: I wasn't born when this game was played, but I have heard so much about it that I feel like I was there. The Colts were 18-point favorites, but Joe Namath did what only Joe Namath did. He guaranteed victory, got laughed at for it, and then backed it up - and won MVP to boot. Oddly, the QB was MVP without a TD pass. No one has been cockier than Namath, and no one could pull it off better.
2. Super Bowl XXXVI - Patriots 20, Rams 17: The Patriots were in a rare situation as an underdog here. A big one. St. Louis and their "Greatest Show on Turf" was favored by two touchdowns. Kurt Warner did his thing with 365 passing yards, but he had two interceptions that were very costly. The Patriots opened up a shocking 17-3 lead and then hung on for dear life, and Adam Vinatieri ultimately won it at the end with a final field goal. Tom Brady became the youngest QB to win a title in this spot, and he locked down the starting job he still holds for good with the win.
1. Super Bowl XLII - Giants 17, Patriots 14: This is the fourth time that Tom Brady appears on this list and the fifth time for Belichick. They would gladly forget this game ever happened, though. The Patriots were unbeaten and very heavily favored. The Giants were a wild-card team. It seemed like a mismatch. New York played great defense, though, and then David Tyree happened. His nearly-impossible catch helped to seal the deal and made him much more of a legend than his career would otherwise have led him to be.
Doc's Sports has been established as the best in the business for well over 40 years. We want you to see why! That is why new clients can get $60 worth of member's picks free by clicking this link for a no-hassle signup .
Read more articles by Trevor Whenham