2017 SEC Conference Tournament Predictions with College Basketball Betting Odds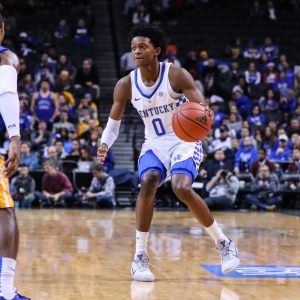 I listened to an interview of an SEC athletic director on Wednesday morning. He was lamenting the fact that the ACC is projected to get nine or even 10 teams in the NCAA Tournament. While the SEC, probably the worst of the major conferences in basketball, was looking at earning four or five bids at most.
The AD's response as to why he thinks the ACC is consistently getting more than twice as many bids to the NCAA Tournament as the SEC: "I don't know. I just think they are winning the PR battle."
We live in a world of "alternative facts" and a place where obliviousness and ignorance is considered acceptable. But this SEC stooge's cluelessness struck me as both sad and pathetic. If he had just given the real answer - "Hey, they can have basketball; we are more of a football conference" - I don't think anyone would've argued or minded. But instead he tried to blame the SEC's spotty March track record on an image problem.
I suppose the SEC does have an image problem. But that's because the truth is that the SEC is a horrible, horrible basketball conference. It has been for a long time. One only needs to turn on an Alabama-Ole Miss or an LSU-Mississippi State game to figure that out. And because of that, each year the SEC Tournament has the aesthetic beauty of a slow-moving car crash, and the only two teams that seem to emerge unscathed are either Kentucky or Florida.
The SEC Tournament will take place at Bridgestone Arena in Nashville, TN. It starts on Wednesday, March 8 and will conclude Sunday afternoon. Here is Doc's Sports 2017 SEC Tournament preview and predictions:
The Favorite: Kentucky (-200)
Kentucky won the regular season title by two games but, trust me, it wasn't nearly as easy as it looked. The Wildcats won eight straight to close the year, including a decisive 76-66 home win over Florida on Feb. 25, and benefitted from the Gators and Gamecocks faltering down the stretch. For the second year in a row the Wildcats are leaning on one of the nation's youngest, but most talented, backcourts. Malik Monk and De'Aaron Fox can be unstoppable when they get rolling down hill. And with plenty of big bodies to bang in the post this Wildcats team can run past teams - or through them. But it is key to note that Kentucky wasn't nearly as dominant down the stretch as the Wildcats we've come to know. Just one of their wins during this eight-game winning streak was by more than 10 points and Kentucky went just 3-7 ATS in its last 10 games.
The Contender: Florida (+200)
A late season injury to center John Egbunu, one of the best post presences in the SEC, has forced the Gators to change their style on the fly. It has also put a lower ceiling on what this team can probably accomplish this March. That said, the Gators guards are still formidable. Kasey Hill and KeVaughn Allen have been exceptional and senior transfer Canyon Barry has made a major impact off the bench. But Florida is still figuring out how to play small without Egbunu. And outside of a monster effort against Auburn Florida hasn't looked good on the road without him. They swept Arkansas, their likely semifinal opponent, this year. But beating the Razorbacks at their own fast, small-ball game - earning a third win over them on the season in the process - will be a tall order.
The Sleeper: South Carolina (+700)
I am a big fan of this South Carolina team, which I think still hasn't reached it full potential. At 9-1 the Gamecocks found themselves leading the SEC in early February. But they had trouble handling success, losing five of their last eight games. So which team will we see in Nashville? The Gamecocks win with stifling defense and the big play ability of wings Sindarius Thornwell and P.J. Dozier. They need both to play at their best and they need their big men to play beyond their experience level. But if they are going to be a surprise team this weekend they will need to get over the hump against Kentucky, a team that has beaten them four straight times by an average of 23 points per game.
The Spoiler: Vanderbilt (+1000)
Bryce Drew has done an excellent job coaxing a potential NCAA Tournament bid out of this team. Now Vanderbilt wants to seal their postseason deal with a big run in the conference tournament. The Commodores play a style of basketball - a lot of D-and-3 - that could be dangerous. Add in somewhat of a home court edge playing in nearby Nashville and they could be dangerous. Vanderbilt will have to stomp out a young Texas A&M team in the second round and then they will take on Florida, a team they've already beaten twice (including last weekend). But if Matt Fisher-Davis, Riley LaChance and Nolan Cressler can knock down their threes and if Luke Kornet can play like the league's best center there is a lot of blue sky ahead of this hot, motivated squad.
Bubble Team To Watch: Arkansas (+1000)
Arkansas hasn't gotten a lot of bubble talk because, at the moment, it looks like they are pretty comfortably in the field. The Razorbacks have 23 wins and are 6-1 in their last seven games heading into the tourney. That run includes three wins, which is big for a team that has traditionally been a mess away from home. Arkansas has one of the most experienced teams in the league, with their top eight guys all juniors and seniors. Arkansas can get a little frantic. But they had actually had the fewest turnovers in the league. As long as they maintain that rate and knock down some jumpers this is a team that could bull its way to the finals and a rematch with Kentucky.
Early Round Matchup To Watch:
No. 1 Kentucky (-7.5) vs. No. 8 Georgia (1 p.m., Thursday, March 9)
There is no guarantee that the Bulldogs will be able to work their way past feisty Tennessee in their opening game. But if they do they will take a third shot at the Wildcats. Georgia played Kentucky tougher than anyone in the league, taking them to overtime in Rupp Arena and then falling by just five points at home in the rematch. Georgia is getting back its top scorer and rebounder, Yante Maten, from injury and this is a team that is desperately in need of an upset to bolster their fledgling NCAA Tournament resume. Kentucky's young guards will be making their first-even SEC tournament appearance and if they aren't ready to play UGA could push them to the limit again.
2017 SEC Conference Tournament Predictions: Either Kentucky or Florida has won the SEC Championship in 10 of the past 14 years. One of those two teams has played in the title game in 12 of the 14 seasons. I think it is a pretty safe bet that form will hold on both accounts. I think that Arkansas has a great opportunity to pull the upset over Florida in Saturday's semifinals. And I also think that South Carolina can push Kentucky to the limit on the other side of the bracket. But I will call for an Arkansas-Kentucky final with the Wildcats once again cutting down the nets.
Robert Ferringo is a member of the Basketball Writer's Association of America and a professional sports handicapper for Doc's Sports. He is considered one of the best college basketball handicappers in the country and has a streak of 10 straight winning regular seasons. Robert's $100-per-Unit clients have banked over $8,300 in profit over the last three weeks and took home $16,900 in profit for his clients last year alone. There is no better moneymaker in the nation.
Read more articles by Robert Ferringo